The Sunday News Recap! 5.8.05

The Sunday News Recap: Eating kittens is just plain…plain wrong. And no one should do it, ever.

by

Ryan Arthur



Sanity, you're a madman! Oh, hi. Happy Mother's Day, and welcome back to the Sunday News Recap. You know what we're all about: we've got the last seven days worth of reviews and features at HBS/eFC, as well as casting news, writer/director/producer attachments for a number of upcoming projects, box office numbers for the weekend, and a preview of films, DVDs and features for the week ahead. I'm Ryan, and isn't sanity really just a one-trick pony anyway? I mean all you get is one trick, rational thinking, but when you're good and crazy, oooh, oooh, oooh, the sky is the limit. Let's get started.

R.I.P. Greg Muskewitz: Film Critic, Writer, Friend
Greg's Reviews
Greg's Features
Donate to The American Cancer Society in Greg's name

In The Platter: What I'm Watching
A Bug's Life (commentary)
Finding Nemo (commentary)
Monsters, Inc. (commentary)
The Incredibles (commentary)

---

"Skull cracked...brains leaking out...Can't wait to see the new Chevy Chase movie..."

Reviews from our crew over the last week:

Lybarger
Kung Fu Hustle
House Of Wax (2005)
Kingdom Of Heaven

Robert Flaxman
Ray
The Outsider (2005)

Abhishek Bandekar
Kaal
Kingdom Of Heaven

Brian McKay
Dead Birds
Deathwatch (2004)
November (2005) (Screened at the 48th San Francisco International Film Festival)
Layer Cake (Screened at the 48th San Francisco International Film Festival)
Crash (2005)

Jay Seaver
The Future Of Food (Screened at the 2005 Independent Film Festival Of Boston)
The Hole Story (Screened at the 2005 Independent Film Festival Of Boston)
The Animation Show 2005
Eros
Wild Safari 3D
Criss Cross

J.K. Radtke
And Starring Pancho Villa As Himself
At Close Range

Charles Tatum
Battlefield Baseball
Elektra

PaulBryant
Enron: The Smartest Guys In The Room

Video Store Guy
Corpses Are Forever

David Cornelius
Go Further

Mark Rodger-Snelson
The Edukators

MP Bartley
Road To Utopia
Vertigo

Peter Sobczynski
Don't Move
Jiminy Glick In La La Wood
House Of Wax (2005)
Kingdom Of Heaven

Jason Whyte
Crash (2005)

Erik Childress
Jiminy Glick In La La Wood
House Of Wax (2005)

EricDSnider
Crash (2005)
Dirty Love (Screened at the 2005 Sundance Film Festival)
house Of Wax (2005)
Kingdom Of Heaven

Uri Lessing
House Of Wax (2005)

Scott Weinberg
House Of Wax (2005)

The Ultimate Dancing Machine
Horror 101

Laura Kyle
Crash (2005)

Want more reviews from a particular author? Click on his or her name. Want more reviews, regardless of author? Check out the database. Don't know what you want? Try searching the database.

On the feature front this week:

David Cornelius
Natasha Theobald
Erik Childress
The Ultimate Dancing Machine
Robert Flaxman
Jason Whyte
Snarky Remarks And Unfounded Grumblings: A 2005 Summer Movie Preview

Michael Collins
Sonic Death Monkey Soundtrack Reviews – That Song From 8 Women
(More Sonic Death Monkey Soundtrack Reviews)

Natasha Theobald
2005 Beverly Hills Film Festival Shorts
(More Retrospectives)

Peter Sobczynski
DVD Reviews For 5/6: Things That Go Hump In The Night
(More DVD Reviews)

Ryan Arthur
The Sunday News Recap! 5.1.05
(More Sunday News Recaps)

Want more features from a particular writer? Click on his or her name. Want more features, coverage, interviews and the like? Click on the More option. Want more features, period? Check out the database. Don't know what you want? Try searching the database.

---

Shameless Self-Promotion: Radio Ga-Ga

Our staff of writers frequently makes appearances outside of our sites, including regular gigs on radio.

Erik Childress, Collin Souter and Scott Weinberg are regular guests on Nick Digilio's Nick At Night on WGN 720 AM in Chicago. The show airs every Sunday night, 11:00pm to 2:00am, Chicago (Central) time.

Scott Weinberg is also a regular guest on JD Balart's American Radio Journal on WMET 1160 AM in Washington, DC. Scott's segment airs every Friday afternoon from 1:30pm to 2:00pm, DC time (Eastern).

Chris Parry, Erik Childress and Scott Weinberg are guests on Gaalen Engen's Fellini Is King on CJSF 90.1 FM in Vancouver, British Columbia, Canada. The show airs every Sunday from 11:00am to 1:00pm, Vancouver (Pacific) time.

Ryan Arthur does entertainment news on Gary O'Brien And Friends on WDWS 1400 AM in Champaign, Illinois. I'm on Monday through Friday from 2:40pm to 3:00pm, Central time.

Listen to us, if you get the chance!

Shameless Self-Promotion Part Deux: The Pimp Section

Dan Lybarger, one of our HBS/eFC film critics in Kansas City (we've got, like, more there than my entire graduating high school class) would like to draw your attention to IFC this week, where the channel will be running the Xan Cassavetes documentary Z Channel: A Magnificent Obsession. It premieres Monday, May 9, and then May 14 and 15 is "Z Weekend," featuring additional airings of the film as well as Z Channel classics as Orson Welles' F For Fake, Michael Cimino's director's cut of Heaven's Gate and Nicolas Roeg's Bad Timing. You can see the IFC schedule here, and make sure you check out Dan's Fate And Miracles: An Interview With Xan Cassavetes On Z Channel: A Magnificent Obsession.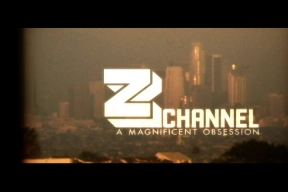 ---

Awards Update

Here are your nominees for the 2005 MTV Movie Awards.

BEST MOVIE
Kill Bill Vol. 2
Napoleon Dynamite
Spider-Man 2
Ray
The Incredibles

BEST MALE PERFORMANCE
Jamie Foxx, Ray
Will Smith, Hitch
Brad Pitt, Troy
Matt Damon, The Bourne Supremacy
Leonardo DiCaprio, The Aviator

BEST FEMALE PERFORMANCE
Uma Thurman, Kill Bill Vol. 2
Lindsay Lohan,
Hilary Swank, [site=/review.php?movie=11345]Million Dollar Baby
Rachel McAdams, The Notebook
Natalie Portman, Garden State

BEST COMEDIC PERFORMANCE
Antonio Banderas, Shrek 2
Dustin Hoffman, Meet The Fockers
Will Ferrell, Anchorman: The Legend Of Ron Burgundy
Ben Stiller, Dodgeball: A True Underdog Story
Will Smith, Hitch

BEST ON-SCREEN TEAM
Lindsay Lohan, Rachel McAdams, Lacey Chabert & Amanda Seyfried,
Craig T. Nelson, Holly Hunter, Spencer Fox & Sarah Vowell, [site=/review.php?movie=11123]The Incredibles
Will Ferrell, Paul Rudd, David Koechner & Steve Carell, Anchorman: The Legend Of Ron Burgundy
Vince Vaughn, Christine Taylor, Justin Long, Alan Tudyk, Stephen Root, Joel David Moore & Chris Williams Dodgeball: A True Underdog Story
John Cho & Kal Penn, Harold & Kumar Go To White Castle

BEST VILLAIN
Tom Cruise, Collateral
Ben Stiller, Dodgeball: A True Underdog Story
Rachel McAdams,
Jim Carrey, [site=/review.php?movie=11348]Lemony Snicket's A Series Of Unfortunate Events
Alfred Molina, Spider-Man 2

BREAKTHROUGH MALE PERFORMANCE
Jon Heder, Napoleon Dynamite
Tim McGraw, Friday Night Lights
Zach Braff, Garden State
Freddie Highmore, Finding Neverland
Tyler Perry, Diary Of A Mad Black Woman

BREAKTHROUGH FEMALE PERFORMANCE
Rachel McAdams,
Ashanti, [site=/review.php?movie=11449]Coach Carter
Elisha Cuthbert, The Girl Next Door
Bryce Dallas Howard, The Village
Emmy Rossum, The Day After Tomorrow

BEST KISS
Rachel McAdams & Ryan Gosling, The Notebook
Natalie Portman & Zach Braff, Garden State
Gwyneth Paltrow & Jude Law, Sky Captain And The World Of Tomorrow
Jennifer Garner & Natassia Malthe, Elektra
Elisha Cuthbert & Emile Hirsch, The Girl Next Door

BEST ACTION SEQUENCE
Destruction of Los Angeles, The Day After Tomorrow
The Subway Battle, Spider-Man 2
Beverly Hills Plane Crash, The Aviator
The Moscow Car Chase, The Bourne Supremacy
The Desert Terrorist Assault, Team America: World Police

BEST FIGHT
The Battle of the News Teams, Anchorman: The Legend Of Ron Burgundy
Daryl Hannah vs. Uma Thurman, Kill Bill Vol. 2
Brad Pitt vs. Eric Bana, Troy
Ziyi Zhang vs. The Emperor's Guards, House Of Flying Daggers

BEST MUSICAL PERFORMANCE
Jennifer Garner & Mark Ruffalo, "Thriller Dance," 13 Going On 30
Will Ferrell, Paul Rudd, David Koechner & Steve Carell, "Afternoon Delight," Anchorman: The Legend Of Ron Burgundy
John Cho & Kal Penn, "Hold On," Harold & Kumar Go To White Castle
Jon Heder, "Election Dance," Napoleon Dynamite

BEST FRIGHTENED PERFORMANCE
Cary Elwes, Saw
Sarah Michelle Gellar, The Grudge
Jennifer Tilly, Seed Of Chucky
Mya, Cursed
Dakota Fanning, Hide And Seek

BEST VIDEO GAME BASED ON A MOVIE (awarded on pre-show)
Spider-Man 2
Van Helsing
Chronicles of Riddick: Escape From Butcher Bay
Harry Potter And The Prisoner Of Azkaban
The Incredibles

The MTV Movie Awards will be presented on June 4 and broadcast on June 9. Jimmy Fallon is your host.

(source: MTV.com)

---

"They took the idols and smashed them, the Fairbankses, the Gilberts, the Valentinos! And who've we got now? Some nobodies!"

Casting!
* * * * * * * * * * * * * * * * * * * * * * * * * * * * * * * * * * * * * * * * * * * * * * * *
"You should never underestimate the predictability of stupidity."
It's official: Vinnie Jones is confirmed to star as the unstoppable Juggernaut in Matthew Vaughn's X-Men 3, which starts filming later this fall. Jones and Vaughn have worked together before; Vaughn produced Lock, Stock And Two Smoking Barrells and Snatch, in which Jones appeared. Jones next appears in Submerged, a direct-to-video action movie that stars…Steven Seagal. Oof. (source: Vinnie Jones.co.uk)
* * * * * * * * * * * * * * * * * * * * * * * * * * * * * * * * * * * * * * * * * * * * * * * *
"Mischief managed."
Relax, 14-year-old girls: Dan Radcliffe is coming back as the title character in Harry Potter And The Order Of The Phoenix, which starts filming next year. Radcliffe was 12 when the first film was released; by the time Harry Potter And The Order Of The Phoenix hits theaters, he'll be 18. Still no word on whether he'd return to star in the movie version of Harry Potter And The Half-Blood Prince (the book version arrives this July) or the seventh and final film. The latest Potter film, Harry Potter And The Goblet Of Fire, opens November 18. (source: USA Today)
* * * * * * * * * * * * * * * * * * * * * * * * * * * * * * * * * * * * * * * * * * * * * * * *
"I'm sorry, just give me a moment to redefine my girlish notions of romance."
Actor/director Todd Louiso (Love Liza) finally has folks to star in his long-planned take on MacBeth: Jennifer Connelly and Philip Seymour Hoffman. Hoffman starred in Love Liza, which was Louiso's feature film directorial debut. Filming will start at the end of the year. Connelly will next be seen in Dark Water, opening July 8. (source: Variety)
* * * * * * * * * * * * * * * * * * * * * * * * * * * * * * * * * * * * * * * * * * * * * * * *
"Supergreen."
Supergreen, indeed. Christ Tucker, who has only appeared in the Rush Hour movies since 1998, will sign a $40 million, 2-picture deal with New Line, and will finally get the ball rolling on Rush Hour 3. Tucker finally signing off on the deal guarantees a $20 million payday for Jackie Chan and a $7.5 million payday for director Brett Ratner. Filming starts in late fall for release in the summer of 2006. Jeff Nathanson, who wrote Rush Hour and Rush Hour 2, will write the script for the third film as well. (source: Variety)
* * * * * * * * * * * * * * * * * * * * * * * * * * * * * * * * * * * * * * * * * * * * * * * *
"I brought a shovel."
Saw 2 began production this past week, and Donnie Wahlberg, Eric Knudsen, Franky G., Beverly Mitchell, Glenn Plummer, and Emmanuelle Vaugier have joined the cast of the horror sequel. Shawnee Smith, Dina Meyer and Tobin Bell return from the first film. Darren Lynn Bousman, who co-wrote the film with Leight Whannell, is making his feature film directorial debut on the film, which will be out October 28. Wahlberg next appears in Marilyn Hotchkiss' Ballroom Dancing And Charm School, out this September. (source: Variety)
* * * * * * * * * * * * * * * * * * * * * * * * * * * * * * * * * * * * * * * * * * * * * * * *
"I'll see you in Vancouver. Don't be late or call me sweetheart."
Melissa George will star with Josh Duhamel in Turistas, a dramatic thriller about college students backpacking through Brazil who get stranded and imprisoned by dangerous military group. John Stockwell directs, with filming starting May 25 in Brazil. George is in theaters now with The Amityville Horror. (source: Variety)
* * * * * * * * * * * * * * * * * * * * * * * * * * * * * * * * * * * * * * * * * * * * * * * *
"Ahh, uncomfortable silences and alcohol. Just like Thanksgiving at home…"
Zach Braff and Amanda Peet are in talks to star in Fast Track, a comedy written by David Guion and Michael Handelman. Braff would play an underachiever who is forced to take a job he doesn't want (working for his father-in-law) after his wife becomes pregnant and quits her high-paying job. Jesse Peretz will direct, with filming starting in July. Braff is close to finishing season four of Scrubs and voices the title character in Chicken Little, opening November 4. (source: Hollywood Reporter)
* * * * * * * * * * * * * * * * * * * * * * * * * * * * * * * * * * * * * * * * * * * * * * * *
"Tater Nuts! Tater Nuts!"
That '70s Show's Laura Prepon is joining Tim Blake Nelson and Diane Ladd in Come Early Morning, the feature film directorial debut of actress Joey Lauren Adams, who also wrote the script. The plot deals with "a woman in her 30s who is beginning to come to terms with her selfish and prickly relatives, her own self-worth, and her search for meaning." Principal photography began this past week. Prepon's in her seventh season of That '70s Show, and next appears on the big screen in Deadly, opening in October. (source: Hollywood Reporter)
* * * * * * * * * * * * * * * * * * * * * * * * * * * * * * * * * * * * * * * * * * * * * * * *
"I suppose I do have one unembarrassed passion. I want to know how it feels to care about something passionately."
Meryl Streep is set to star in The Devil Wears Prada for Fox 2000. Based on Lauren Weisberger's bestselling novel, the story follows a young woman who goes to New York to work for an all-powerful magazine editor named Miranda Priestly (Streep). Weisberger worked as an assistant to Anna Wintour, and editor for Vogue. Aline Brosh McKenna wrote the screenplay, and David Frankel will direct. Streep was last seen in Lemony Snicket's A Series Of Unfortunate Events, and has Prime awaiting release. (source: Hollywood Reporter)
* * * * * * * * * * * * * * * * * * * * * * * * * * * * * * * * * * * * * * * * * * * * * * * *
"Zero hour, Michael. It's the end of the line. I'm the firstborn. I'm sick of playing second fiddle. I'm always third in line for everything. I'm tired of finishing fourth. Being the fifth wheel. There are six things I'm mad about, and I'm taking over."
Another gig for Arrested Development's Will Arnett: he's joined the cast of Barry Sonnenfeld's R.V.. Arnett will play "Todd, slave-driving boss to Bob (Robin Williams) at the Sparkle Beverage Co., who tells Bob that if he wants to keep his job he can't go on vacation but instead has to take a meeting in Colorado. Bob opts to load his family into an RV en route to Boulder, hoping they won't realize the real reason for the trip." Arnett appears in Monster-In-Law, opening Friday. (source: Variety)
* * * * * * * * * * * * * * * * * * * * * * * * * * * * * * * * * * * * * * * * * * * * * * * *
"Word."
The future Mr. Cameron Diaz, Justin Timberlake, is joining the missus in the voice cast of Shrek 3. "Timberlake will play a young King Arthur, or "Artie," King Harold's rebellious nephew who has no interest in being king, according to producer Aron Warner. It's up to Shrek to teach Artie how to act like royalty." Timberlake next appears in Edison, opening later this year. (source: USA Today)
* * * * * * * * * * * * * * * * * * * * * * * * * * * * * * * * * * * * * * * * * * * * * * * *
"Man, you've got some fucked up friends, I'm tellin' ya. Limber, though..."
It'll be another go-around for director David Fincher and Brad Pitt: Pitt and Cate Blanchett are in discussions to star in Benjamin Button, based on the F. Scott Fitzgerald story. The plot centers on an elderly man who gets younger as time passes. He encounters complications when, at age 50, he falls in love with a woman who is 30 years old. Fincher is directing from an Eric Roth script. Pitt is currently filming Babel with Blanchett, directed by Alejandro González Iñárritu. He's got Mr. And Mrs. Smith opening June 10. (source: Variety)
* * * * * * * * * * * * * * * * * * * * * * * * * * * * * * * * * * * * * * * * * * * * * * * *
"I was just thinking what an interesting concept it is to eliminate the writer from the artistic process. If we could just get rid of these actors and directors, maybe we've got something here."

Some script, production and direction notes:

* Warner Bros. has picked up the screen rights to Nick Hornby's upcoming novel A Long Way Down. Graham King, Johnny Depp and David Heyman will produce. The book was released in the United Kingdom this past Monday and follows four people who meet on New Year's Eve and form a surrogate family to help themselves weather the difficult holiday period. The novel will be published here in the States this June. (source: Variety)

* Chuck Leavitt will adapt Dave King's The Ha-Ha: A Novel for Warner Bros. The book is written from the perspective of a brain-damaged Vietnam veteran who can't speak or write. His high school sweetheart, whom he still has feelings for, dumps her 9-year-old son on his doorstep so she can enter drug rehab, and the vet is forced to break out of his sheltered routine. Producer and screenwriter Akiva Goldsman will make his feature film directorial debut on the project. (source: Hollywood Reporter)

* Looks like Bryan Singer will be following up Superman Returns with The Mayor Of Castro Street, based on the Randy Shilts book about the life and assassination of San Francisco supervisor Harvey Milk. Milk was the first openly gay man elected to any substantial political office in the United States. He was assassinated, along with San Francisco Mayor George Moscone, by supervisor Daniel White. Brandon Boyce (Apt Pupil) will adapt the book for the screen. Singer will also produce the film, along with Craig Zadan, Neil Meron and Tom DeSanto. (source: Variety)

* Gear up for even more Spider-Man films: Sam Raimi revealed that Sony Pictures would like to make a total of six Spidey films, and also said he'd be up to directing not only the upcoming third installment, but also the remaining three. At the Saturn Awards in Los Angeles this past week, Raimi told Sci Fi Wire that "I've heard Amy Pascal (chairman of Sony's motion picture group) say she wants to make six Spider-Man pictures. So I think she's a woman of her word. And if she says there'll be six, there'll be six…If they were to ask me, and if I felt as passionate as I feel now about the character and had this great hunger and desire to tell the story, which I really do now, you couldn't keep me away from it." Raimi is currently in pre-production on Spider-Man 3. (source: Sci Fi Wire)

* Screenwriter William Monahan (Kingdom Of Heaven) will write Marco Polo for Warner Bros., with Matt Damon expected to star as the traveler in the historical epic. The film will be based on Polo's autobiography Travels. Polo "ventured farther into Asia than any Westerner before him. His journey took 24 years, during which Polo became a confidante of Kublai Khan and witness to many technological advances of China and Mongolia." He also invented the swimming pool game that bears his name. (source: Variety)

* Another project for Richard Linklater: he'll direct Fast Food Nation, based on Eric Schlosser's nonfiction book. The bestseller is an expose of junkfood companies, but Linklater's film will be a fictionalized thriller. Catalina Sandino Moreno (Maria Full Of Grace) will star, with film ing getting underway this fall. A fictionalized thriller about junkfood? Is Morgan Spurlock gonna off the Hamburglar? Because that'd be pretty cool. Linklater's take on The Bad News Bears opens July 22. (source: Variety)

* It seems like we say this every week, but I think Hollywood is out of ideas. New Line Cinema is planning to remake All Of Me, with Brent Goldberg and David Wagner handling writing duties. The original starred Steve Martin and Lily Tomlin, and New Line is intent on signing Wanda Sykes to play the Tomlin role of a dying heiress who tries to transfer her soul to a young woman but instead finds herself possessing the right side of the body of her lawyer, who was played by Martin in the original. Goldberg and Wagner plan on keeping the premise and spirit of the original, but update the technology (and comedy) to make it a little hipper. (source: Variety)

* Screenwriter Gary Goldman (ooh, Navy SEALS!) has sold his pitch based on Curt Siodmak's 1959 sci-fi novel Skyport to Warner Bros. The plot of the book follows a scientist's plans to build an orbiting space city, but Goldman has reworked to plot to be "a disaster movie along the lines of The Towering Inferno." In space. Huh. (source: Variety)

* J. Mills Goodloe will adapt Bleachers, John Grisham's high school football novel, for Revolution Studios. The story deals with a high school football star returning to his small-town Southern home to join a vigil for a dying coach, who was both loved and feared by his players. (source: Variety)

* Like it or not, there will be a sequel to last year's Alien Vs. Predator. 20th Century Fox Film Co-Chairman Tom Rothman confirmed the project at the Saturn Awards in Los Angeles this past week, saying "We will do another one of those for sure. It was a big success. In the new Alien Vs. Predator they will finally actually really come to our world." Meh. (source: Sci Fi Wire)

* The rights to Jennifer Cox's memoir Around The World In 80 Dates have been picked up by Universal Pictures. Jeff Rake will write the script, with Reese Witherspoon's U-based Type A production company and Mike De Luca Productions producing the film. Witherspoon gets first crack at starring, if she likes the script. The plot follows a British travel writer's attempt to find her soulmate. She sent her profile and her specs for a soulmate to contacts around the world and traveled the globe, going on dates with the top 80 candidates in 16 countries. (source: Variety)

* Shawn Levy is set to direct an untitled comedy for Warner Bros. about a selfish bachelor who wakes up to discover he has a biological clock, and it's ticking. Nick Kurzon pitched the idea and will write the script. Levy's got The Pink Panther opening August 12. (source: Hollywood Reporter)

---

"Great movie, huh? So refreshing to see something like this after all these...cop movies and, you know, things we do. Maybe we'll do a remake of this!"

Here's the preliminary top ten for the weekend. Estimates are taken from Box Office Mojo.com and are rounded up, where applicable. Final figures will be released Monday.

1. Kingdom Of Heaven $20.0 million
2. House Of Wax (2005) $12.2 million
3. The Hitchhiker's Guide To The Galaxy $9.12 million ($35.1 million total)
4. Crash (2005) $9.10 million
5. The Interpreter $7.5 million ($54.1 million total)
6. XXX: State Of The Union $5.4 million ($20.8 million total)
7. The Amityville Horror (2005) $3.15 million ($60.1 million total)
8. Sahara $3.10 million ($61.3 million total)
9. A Lot Like Love $3.0 million ($18.8 million total)
10. Fever Pitch (2005) $2.0 million ($39.0 million total)

Opening May 13 (wide release):
Kicking And Screaming
Mindhunters
Monster-In-Law
Unleashed

Opening May 13 (limited release):
Crazy Like A Fox
Kings And Queen
Layer Cake
Ma mere
Mad Hot Ballroom
Tell Them Who You Are


---

"Can we agree that from now on, films have to be made by FILMMAKERS?!"

Previewing the week ahead...

On DVD This Tuesday (theatrical/DTV):
12 Monkeys (Special Edition)
Alone In The Dark (2005)
Appleseed
Assault On Precinct 13 (widescreen and fullscreen)
Bad Apple
Bear Cub
Funky Monkey
Hair Show
Hoop Dreams (Criterion Collection #289)
In Good Company (widescreen and fullscreen)
Kart Racer
Kim Possible: So The Drama
The Last Shot
The Life And Death Of Peter Sellers
The Life Aquatic With Steve Zissou (Criterion Collection #300; single and 2-disc editions)
The Longest Yard (1974) (Lockdown Edition)
The Merchant Of Venice (2004)
Racing Stripes

We've got additional DVD recommendations in our Upcoming DVD Release Schedule.

Natasha Theobald has another edition of Sonic Death Monkey Soundtrack Reviews on Wednesday.

Peter Sobczynski will have some new DVD Reviews on Friday.

Erik Childress will have updates and additions to Criticwatch on Friday, as well.

Make sure you visit our Contest page for your chance to win cool stuff from HBS/eFC.

We'll have some additional features and editorials throughout the week, and I'll have your Recap on Sunday.

---

The Recap's finished. Done. Kaput. Finis. Brace yourself while Corporate America tries to sell us its wretched things, and while you're waiting, please check out our previous Recaps and visit our forums while you're here, too. Thanks for reading, and as always, your feedback is appreciated.




link directly to this feature at http://www.efilmcritic.com/feature.php?feature=1469
originally posted: 05/09/05 11:31:33
last updated: 05/16/05 10:39:39

printer-friendly format