The HollywoodBitchslap/EFilmCritic Hall of Fame #8
by

Matt Bartley



Welcome to the Hollywood Bitchslap Hall of Fame. This is the place where, we, the critics of this site induct a person - be they actor, actress, director or other - into our own Hall of Fame for their outstanding contribution to the cinema that we know and love. The criteria is simple: we are not bound by volume or era, so anyone from the 1920s to the present day, anyone with a career of 80 films or 8 films can be inducted. All we ask is one thing: that they have provided we critics, who are film lovers above all else, another reason to keep going to the cinema week after week.

This months inductee - The Hammer studio.

The British film industry realistically speaking, has little outstanding success that it can count on. Sure, over the years it has produced the likes of David Lean, Ridley Scott and Alfred Hitchcock, whilst at the minute, its saviours seem to be the likes of Danny Boyle, Neil Marshall, Edgar Wright and Simon Pegg. Even the Working Title studio only produces a film every two years or so. Other than that, British film success comes on a strictly one-off basis which makes the success of the Hammer studio all the more considerable. For a near thirty year period, the Hammer studio consistently kept Britain on the cinematic map, as well as launching the careers of such people as Christopher Lee, Peter Cushing, Ingrid Pitt and Oliver Reed. Over the years they have perhaps been unfairly saddled with the reputation of a one trick studio, but that is a clear falsity. As our own Ultimate Dancing Machine points out, "I've always had the impression that Hammer spent too much time riding the Dracula/Frankenstein gravy train, but a quick look at a list of their productions reveals that those films comprise a smaller portion of their output than I had thought. I still wish they had done more modern-day horror, though it's worth pointing that their efforts in this direction, like the infamous Dracula A.D. 1972, often didn't add up to much. "




The birth of Hammer then, is often attributed to their adaptation of the BBCs Quatermass television serials, and the Quatermass trilogy is a sadly overlooked strong starting point for anyone remotely interested in the Hammer output, and a whole world away from the gore and guts horror that they would later be famous for. 1955s The Quatermass Experiment starred Brian Donlevy as the titular American professor assigned to the British Rocket Group for research purposes. The first film sees Quatermass trying to track down an astronaut who has been infected with an alien spore, and is slowly mutating into a lethal creeping fungus. It sounds silly, yet Val Guest's assured direction never lets the outdated special effects damage the story too much. It is set in a London still recovering from the Blitz, and the film has an almost verite feel at times, as the infected astronaut stumbles across ruins and rubble, unable to comphrend the changes occuring to him. There's a cold, sinister feel throughout The Quatermass Experiment, such as the discovery of a ruined shuttle that has crashlanded, or the fungus creature prowling through a zoo at night, terrifying the animals, yet there's still room for heart, as the infected astronaut is treated with sympathy. The Quatermass Experiment 2 relocated to the wilds of the countryside for an alien invasion, yet retained the paranoid and uneasy tension of the first.




Quatermass and the Pit came 12 years later, and saw Andrew Keir take over the role, and more importantly, took Quatermass into colour, for one of the Hammer studio's inarguable classics. Here is a film that forty years on, is still genuinely scary, as the discovery of an ancient Martian spacecraft in the London underground causes the city to nearly tear itself apart in fear. Squaddies are dragged screaming out of tunnels after seeing 'something', their superiors blister to death as an ancient evil awakens, an alien intelligence lurks on a desolate and haunted street, and in a chilling finale London's inhabitants turn on each other in a feral rage. 28 Days Later owes a clear debt to Quatermass and the Pit, and Hammer regular Roy Ward Baker's direction is superb, with his depiction of a shimmering devil rising up above London, being an image that manages to retain a power far outstripping its budgetary limitations.




Colour is clearly important to Hammer's legacy, as now we had horror that was now full blooded and very very red. Italian horror may have taken up the gauntlet and ran with it, but for a great deal of British and American audiences, it was Hammer that first showed us the bloody face of horror. As our own Marc Kandel notes, " Hammer was ready to shock and awe with the full color spectrum at its disposal, though they'd been out there since 1935- by the 60's their offerings were of the Grand Guignol sort- sanguine, sexy, lurid and frenetic- the mist covered forests and cobweb strewn castles weren't doing it anymore- this wasn't about atmosphere, it was about action- Dracula and Van Helsing were professional wrestlers of the highest order- a werewolf wasn't just cursed by a bite, he was a product of brutal rape and human vice- there wasn't one trick Hammer was above pulling out to grab their audience (just check out any one of those Ingrid Pitt films- holy crap- I think that started me on the long road of girl on girl appreciation- let me tell you, Vampire Lovers has scenes that would put even the most garish porn to shame in terms of truly lustful, sexy buildup and execution).

I'd say that Universal was the first to continuously pull their creatures back from the dead into endless and gradually more ludicrous sequels and scenarios (so don't be blaming Friday the 13th or Wes Craven)- until Bud Abbott and Lou Costello killed them all for good, but Hammer perfected the formula churning out a dizzying amount of horror material - many misses, some hits, but all good for some entertainment value."





The werewolf film that Marc mentions there is Curse of the Werewolf, the film that launched Oliver Reed's career. And it's one of the key films in Hammer's legacy, not just because it's one of the best (check out the werewolf transformation scene in the jail cell, as Oliver Reed terrifies a fellow inmate), but because it showed us that horror should be horrific. As pointed out, this werewolf isn't a haunted romantic, borne out of a gypsy curse, this is a werewolf birthed by the traumatic rape of a servant girl by a disease ridden beggar. This refusal to back away from the grisly detail of horror, was sometimes distasteful and unpleasant, but more often than not, was thrillingly adult and shockingly scary. Marc also points out "For me Hammer was one of those things you discover on Saturday afternoons on TBS after the cartoons are over- an acquired taste for sure, those who get bitten by the Hammer bug will always have the fondest remembrances of Christopher Lee and Peter Cushing scrambling over sofas and staircases, women with Marge Beauvier Hairdoo's that can't wait to let it spill down their backs as they are victimized by the undead or cursed. Man, there wasn't a subject Hammer wouldn't tackle. I mean, Konga? Who the fuck saw that coming? I just like to say it out loud sometimes. Try it: Konga. Its even better if you can do a Michael Gough impression of him trying to calm the cheaply manufactured ape: Konga! KONGA! Ok, enough fun.

The first Hammer remembrances I have are of "Dracula Has Risen from the Grave", and like most, the pacing is a tricky beast with long segments of peasants and townspeople gabbing on and on about nothing in particular- characters that could bore the hell out of you even as they lit themselves on fire and of course, by now we have Christopher Lee barely speaking despite being the title character- this one interestingly has him spitting a few lines, after he infamously refused to speak another word, instead playing Dracula as a malignant silent presence whose withering stare is enough to guess his wishes and intent- and guess what, he don't need to say a thing. This Dracula is a cruel, uncompromising animal, and whatever attention the buildup might have lost immediately grabs you back as Hammer films have some examples of the most nasty, mean kills I can recall- a barmaid thrall Lee has set to task fails him and he basically slaps her down and beats her to death- you see the slap, he moves towards her, eyes ablaze, the rest happens off camera, but then we see her corpse, slashed, eyes open (Hammer's a big fan of the dead stare- another trick I remember seeing from them first) - and then Lee pushes the body into the coal oven. Its so shocking, so horrifying- this isn't a minion doing Dracula's bidding- its the man himself, and he's not afraid to get his hands dirty. Great stuff- and by now, they've executed so many undead, that for this film nothing less that impalement on a gigantic gold cross will do for the finish- these folks strive to top themselves. "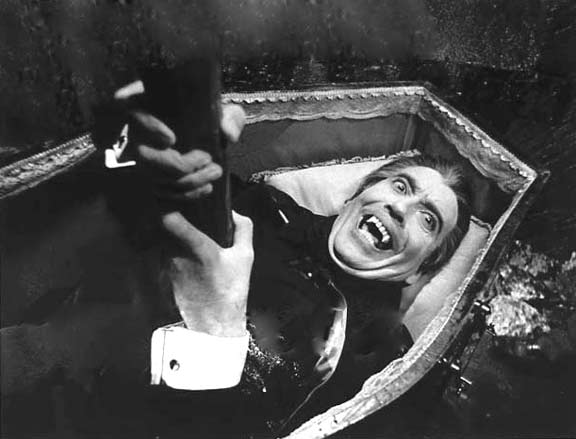 Hammer also made The Curse of Frankenstein, which while it may lack the sheer iconography of James Whales Universal creation, has a grisly power all of its own. Here was a creature, that arguably had more realism to it - if you were to construct a creature from dead bodies, it would probably look more like Christopher Lee's monster than Boris Karloffs. It doesn't have the grace of the original, but a gruesome and horrifying detail to it. This is one monster you don't feel sorry for - you feel horror, just like the climax where Frankenstein is chillingly led to the gallows for his experiments. The best of Hammer horror all work on this gut level, such as The Brides of Dracula. Despite the fact that it doesn't actually feature Dracula, it's one of Hammer's best vampire efforts directed by veteran Terence Fisher, featuring the undead and effeminate Baron Meinster (David Peel) against Van Helsing (Peter Cushing). It has plenty of powerful, memorable scenes such as a grief crazed husband having to painfully stake his beloved, and newly vampirized, wife and Meinster being thwarted when he is caught in the shadow of a burning windmill whose sails have been arranged into the shape of a crucifix. Best of all is the scene where the newly bitten Van Helsing uses a red hot branding iron to rid himself of the vampires bite. It's scenes like this that make you realise what poor vampire films the Blade series really are.




Let's be clear however - not every Hammer film is a classic or an undiscovered gem. The latter Dracula and Frankenstein films were boring retreads with a surfeit of gore covering up for a lack of imagination. Yet, when they were good, they were as good as anything Universal produced. As our critic Doug Bentin remembers, "Favorite Hammers? Curse of the Werewolf. Hound of the Baskervilles. The Devil Rides Out. The Phantom of the Opera. The Vampire Lovers. Brides of Dracula.

Hound of the Baskervilles was the first one I saw in a theater. Cushing was a damn good Holmes. That obsessive intensity he did so well was just right. I'd still rather watch this version than any other. Curse of the Werewolf was another one I saw on the big screen. I couldn't explain what its mix of sex and violence did for me, but it was fun. I think the Herbert Lom Phantom of the Opera was the only other one from this list I saw when it was new. After the Chaney silent, this is the best, and when I say someone played a role better than Claude Rains played it, that's saying a lot.

As for the others, Lee works without Cushing in The Devil Rides Out, and is even the good guy. Good stuff. Brides of Dracula played with the bondage thing and with Vampire Lovers, well, Cushing, Ingrid Pitt, vampires and lesbianism. What more needs to be said?"




Peter Sobczynski also favours The Devil Rides Out, but one of Hammer's best, and ironically least remembered is 1965s Plague of the Zombies. Set in a Cornish town, with the zombies as a slave force working in a tin mine, it has the gore that you expect from Hammer, but it also has a creepy atmosphere that compares well with the best of Romero. Of particular note, is a sequence where our hero (Andre Morell) finds himself stuck in a graveyard as zombies pull themselves out of the ground to feats upon him. It falls back on the hoary old cliche of being a nightmare, but it has an intensity almost unparallelled in Hammer's long and illustrious history.




Hammer is not so much associated with directors, as it is with its two main stars: Christopher Lee and Peter Cushing. Lee has gone on to the greatest success, taking hugely villainous roles for the likes of Tim Burton, George Lucas and Peter Jackson. It may be a controversial statement, but he's also the best Dracula by far. Sure, Lugosi has his fans and rightly so, but the theatricality of his performance is more to be admired than feared. Lee however, makes Dracula just damn SCARY, with that dead eyed stare saying more than a whole script of "I don't drink...wine" could ever do. It goes without saying that Peter Cushing is still the definitive Van Helsing (Hugh Jackman can go swing) and the Hammer version of Dracula is superior to the Universal version in almost every way (heresy I know). Just take the climax - in the Universal Dracula is unforgiveably dispatched with a stake offscreen, whilst sleeping in his coffin. For Hammer however, Dracula and Van Helsing brawl throughout the castle before Van Helsing leaps onto the curtains, transfixing Dracula with both daylight and a crucifix, before he crumbles to dust in an effects sequence that is still breathtaking to this day. Lee and Cushing make most Hammer films worth watching just for their performances alone,as Jack Sommersby notes in his review of The Satanic Rites of Dracula, "it affords us those old pros Cushing and Lee squaring off in a battle for the survival of mankind and looking like they're having the time of their lives to the point where their joie de vivre easily spreads onto the audience."





Ultimately, economics would put the stake though the heart of Hammer, as their small budgets could simply no longer complete with the relative sophistication of horrors being produced elsewhere. The fact the films endure on however, and that insistent rumours still circulate about how the studio is about to resurrect itself, is testament to how fondly the studio is remembered, but more importantly, just how good they could be.

So, for bringing us guts and gore that we had never seen before, for showing us the deep red of blood, and for becoming an integral part of British life throughout the 1960s and 1970s - Hammer Studios, we salute you.

Welcome to the HollywoodBitchslap/EFilmCritic Hall of Fame




link directly to this feature at https://www.efilmcritic.com/feature.php?feature=2151
originally posted: 03/30/07 19:32:53
last updated: 03/30/07 19:46:48

printer-friendly format