The HollywoodBitchslap/EFilmCritic Hall of Fame #9
by

Matt Bartley



Welcome to the Hollywood Bitchslap Hall of Fame. This is the place where, we, the critics of this site induct a person - be they actor, actress, director or other - into our own Hall of Fame for their outstanding contribution to the cinema that we know and love. The criteria is simple: we are not bound by volume or era, so anyone from the 1920s to the present day, anyone with a career of 80 films or 8 films can be inducted. All we ask is one thing: that they have provided we critics, who are film lovers above all else, another reason to keep going to the cinema week after week.

This months inductee - James Stewart



There's a good likelihood that if the question "who is the greatest American icon in cinema?" was posed, that it would come down to a few contenders. Henry Fonda and Gregory Peck perhaps, or Gary Cooper. John Wayne would also have a tremendous fanbase that would push him forward. But James Stewart would be hard to beat, because Jimmy (see how much he's loved? We all feel so casually acquainted with him that we skip his formal name) sums up the best of what America wishes to be - hardworking, decent, kind and intelligent. Yet America shouldn't be so greedy, as what Stewart embodied was the best of humanity, what we all could and should achieve. But this is also slightly detrimental to Stewart, as it tends to obscure the fact that he's not just everyone's favourite everyman, he's a chameleonic, multi faceted actor, whose subtle readings of roles is sadly overlooked. He's as skilled and as complex an actor as the likes of Pacino, DeNiro or Brando. Our own Rob Gonsalves calls him the Great American actor and goes on to further say, "The man was magic, what can I say? We were just dissing that pompous film critic with his list of Movies You Must See, and I usually don't take a rigid position like that, but I will say that anyone who doesn't have room in his or her heart for at least one James Stewart performance has no business calling him/herself a film lover."




Indeed, and the interesting thing about Stewart is that he has such a varied career, it's hard not to find at least one performance that you are completely enraptured by. The prewar Stewart, if we want to crudely bisect his career, is arguably where we find Stewart at his lightest and his most fun. Natasha Theobald mentions two of her favourite performances from this period, "You Can't Take it With You - young Jimmy in romantic comedy mode, bemused by the people around him, full of lust and verve, dancing and cracking jokes.

Mr. Smith Goes to Washington - able to renew your faith in government even at times like these - so many breathtaking moments from D.C. at first blush to his speech on the senate floor and the scenes at the Lincoln memorial - perfect for the political idealist languishing in all of us".




It is in this period that Stewart's reputation as a man of honour, reputation and unshakeable ethics really took foot. Stewart was invariably a man who fought on behalf of everyone, not just the privileged, not just the heroic, but the unremarkable and the ignored. Indeed, Stewart's performances would often find the heroic in the ordinary and the everyday, helping to cement his popularity with just about everybody. It is probably for this quality that he found himself a favourite of Frank Capra, as Stewart's unashamed and unforced sincerity helped to sell Capra's wholesome lessons on life. Alex Paquin is not a particular fan of Mr Smith Goes to Washington, but still finds Stewart the best thing about it: "he makes the whole film enjoyable despite the cookie-cutter moments (the relationship with Jean Arthur, a copy and paste from "Mr. Deeds") and all the aforementioned Capra-corn. The last thirty minutes of the film, when he struggles to denounce graft going on in the Senate, brings together all Stewart's great qualities as an actor -- his sophistication and his sense of drama without overdoing it (like, say, Olivier). A great actor".




It was in this period that Stewart picked us his best actor Oscar for The Philadelphia Story, a particular favourite of David Cornelius, "which is about as perfect a comic performance as one will ever find on film. It helps he had the perfect cast to work with - he bounces off two of the very best. It's like a dream team of classic stars, and Stewart's twisted playfulness reigns supreme". It's strange that over the years, The Philadelphia Story has actually became one of Stewart's less regarded performances. But as David points out, there is much to savour here. It's a comic performance, but underscored with just a little bit of sleaze and a bit of sourness as Stewart's reporter intergrates himself with the rich and privileged Hepburn and Grant. It's there in the way he slinks around the fabulous rooms, only to be spied upon by a suspicious butler. As Stewart exits, he opens his jacket in a sarcastic gesture to show that he hasn't stolen anything. It's a wordless scene, yet Stewart shows us the comedy of the scene all tied up with a little bit of class bitterness. Perhaps the highlight of the film however, is Stewart's drunk discussion with Cary Grant. Most actors overact badly when portraying a drunk - particularly in comedy - but Stewart gets the mannerisms perfectly. The slightly overdeliberate body movements, the glassy stare desperately trying to focus, the voice that's just a tad too loud...it's just wonderful to watch, particularly when he combines his dialogue with a regular interruption of belches. But it's never crude, it flows along brilliantly. It's a notion that our own Doug Bentin also highlights: " I'd like to mention a pair of western JS made with John Ford--The Man Who Shot Liberty Valance (a very dark, bitter film) and Two Rode Together, which shares some themes with The Searchers. There's one scene in TRT that I truly love. Stewart and Richard Widmark are on the trial of a boy kidnapped by Indians. They stop by a river to water themselves and their horses, squat down and talk about nothing. But it's wonderful talk--two old pros being a sheriff and a cavalry officer squabbling like an old married couple. The line between acting and reality vanishes completely. It's certainly half Widmark's moment, but it is a dream."




This points us to a particular quality of Stewart's, that Marc Kandel highlights: "There was never a line that came out of Jimmy Stewart's mouth that wasn't unerringly sincere. Its amazing to me- the man could get out dialogue that would cripple just about any actor out there today or yesterday- even in an era of extremely stylized dialogue. Stewart, like Bogart unconsciously mastered a cadence, a rhythm to their languages that enabled them to find their balance no matter what the text had them utter. Bogart most oftentimes could get away with his locomotive delivery, chugging through his missives and fuck you if you didn't like what he or the writer had to say, cuz it was getting said now and said right. With Stewart, not a word was spoke that didn't have trust behind it- the language almost didn't matter because he would put his whole body into the line- the commitment of sincerity. The most sugar-crusted, syrupy prose cascaded from his mouth like fine polish on leather and there was a quiet trust that the man radiated through those watery eyes and pursed lips- if Stewart said something, he said it because it was the truth. You didn't have to buy into it, but you knew that this man was a believer and incapable of chicanery". This is why he could make any film work - because he believed and you believe with him. This can be seen in a little known work that EricDSnider brings up: "One role of Stewart's that many people are unaware of was in a 1980 short film produced by the Mormon church called "Mr. Krueger's Christmas." Stewart plays the title character, a kindly old man with no family or friends to speak of, a little lonely at Christmastime. He has fantasies where he conducts the Mormon Tabernacle Choir for their Christmas concert. It's unabashedly a religious film (baby Jesus, true-meaning-of-Christmas and all that), but Stewart's performance is just so sweet and gentle that it will make you cry no matter how many times you watch it"



As well as mastering the ability to sell any dialogue sincerely (note Natasha Theobald's praise for Harvey: "Harvey - sweet and goofy, stories flow out of his mouth in such a spontaneous and believable way that the viewer is absolutely spellbound, caught up in the fantasy"), Stewart was just a pleasure to listen to. His voice had the honeyed charm of your favourite uncle who told the best stories EVER, and has the feel of a warm fuzzy liquid nestling in your ear. Take a look at The Man Who Shot Liberty Valance and Stewart's little speech where he berates Valance as he recovers from his injuries. He calls him a great many things, but doesn't let the anger out until the final quivering "THIEF!" in his tirade. It's a masterful delivery showing just what command Stewart had over language.



The Man Who Shot Liberty Valance came in the period after Stewart's war service, when he came back a changed man. As with any war veteran he had seen horrific things, had lost good friends, and the world - while free - was that little bit blacker. The heroes he portrayed were now more likely to die mysteriously (The Glenn Miller Story) or to be people falsely living on others achievements (The Man Who Shot Liberty Valance). As Rob Gonsalves says, "Hitchcock and Anthony Mann saw darkness in him that nobody else did. For me, Stewart's crowning performance is the obsessive, fetishistic Scottie in Vertigo. I don't care how much everyone wants to caricature him as aw-shucks Jimmy cajoling you into eating Campbell's soup — the man had balls. When he came back from the war, he didn't especially want to do fluff any more. He did anyway, of course, for his more tender-hearted fans, but his resume started being long on gritty fare like Anatomy of a Murder.

No film fan ought to miss the five westerns Stewart did for Anthony Mann: Winchester '73, Bend Of The River, The Naked Spur, The Far Country, and The Man From Laramie. More often than not, Stewart plays grizzled, cut-off, cold-hearted bastards in these movies.

And if you never thought you'd think of James "Merry Christmas, moviehouse!" Stewart as a bad-ass, check him out in Bend of the River when Arthur Kennedy screws him over and then takes his leave with a dismissive "I'll be seein' you." Stewart responds, "You'll be seein' me. Every time you bed down for the night, you'll look back in the darkness and wonder if I'm there. Some night I will be. You'll be seein' me." Quentin Tarantino would kill to have written that, and Stewart delivers it with a grim relish that spreads a chill across the remainder of the film".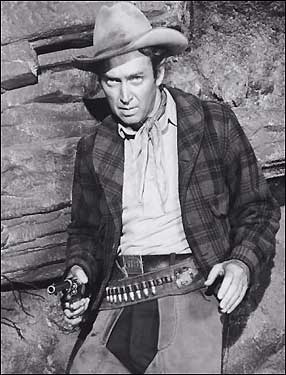 This darkness that was newly detected in Stewart, brought fresh ground for him and saw some of his most affecting and uncompromising performances. Take note of his mental breakdown next to a river in The Naked Spur or his perfomance as a voyeur in Rear Window. Not only does Stewart convince us that any red-blooded heterosexual man would have difficulty deciding whether to settle down with Grace Kelly or not, but he also makes the act of spying on one's neighbours agreeable. It never occurs to us what a nosey, creepy person he is, because it's Stewart. And Stewart's sincerity makes us just as much a culprit as he is. Hitchcock had tremendous fun subverting Stewart's persona. Sure, he's the heroic family guy in The Man who Knew Too Much, but that's not where the interesting stuff lies. Marc Kandel has a preference for Rope: "I like my Stewart a tad more wry and worldly. Rope has to go down as one of my favorite Stewart performances – He is extraordinarily charming and likable as Rupert Cadell, but there is an intellectual cruelty that comes to the fore very quickly and his keen-edged wit is not something one would enjoy being the brunt of - a great departure from the kind man we are used to in other more lauded performances. Stewart uses his vast intelligence like a cudgel, cushioned by a smile that's just left of a sneer only to have his amused dalliances with Nietzschean principles thrown back in his face by his protégés who have taken his teachings and turned them to disturbingly practical application- an act for which he must carefully consider his culpability. It's not an overt struggle nor a lengthy introspection, but the internal conflict over how his attitude and teachings have influenced others sweeps across his face, tighten his throat, and adds another fine layer to a stimulating performance as he fences with his former students, knowing the answers but taking terrible care as he unearths them"




But the greatest example of the new, dark Stewart is still Hitchcock's Vertigo. As David Cornelius states, "Stewart was great as the nice guy, sure, but that's what made his darker side so much more powerful - we want to keep rooting for him, even when the bottom would fall out. Vertigo's the perfect example: such a charming fellow at the start, and then he starts rumbling, bit by bit, always keeping us on his side despite his insanity because, hey, he's Jimmy Stewart!"

I'd respectfully disagree that even from the start, Scotty is a haunted character. He awakes drenched in sweat from a nightmare, with a wild-eyed stare that Stewart had previously used to great effect during the Pottersville section of It's A Wonderful Life. But, as David says, we're still onside with Scotty, because Jimmy Stewart can't be all that bad, can he? We stay onside with him even when he starts stalking Kim Novak, we stay onside even when it becomes clear he's a pervert obsessed with a dead woman, and we're onside even when he's dragging Novak up a belltower in a deranged, murderous rage. We're onside because we can't quite believe that this is James Stewart - George Bailey - doing this. But it is, and Stewart is simply revelatory in Vertigo. With a blank eyed gaze from dead eyes, he's a stumbling, psychologically ravaged man one step away from the asylum, and it's testament to Stewart's skills, as well as Hitchcock's direction, that by the end we have no choice but to follow him to the dark, dark end. We want him to be alright - but Stewart just wasn't interested in that anymore.




But let's leave the best til last. I'll nail my colours to the mast and state my belief that Stewart's performance as George Bailey is the greatest performance in film that's ever been seen. As our critic Ryan Arthur states, "For me, It's A Wonderful Life is the very essence of a Jimmy Stewart movie, in that I can't imagine anyone else - then or now - inhabiting the role of George Bailey and making it work. It didn't really matter what the role was - he made it his own, put his own stamp on it...even if the role was very slight, he could give it a richness and weight that very few actors could do", and it's a point Natasha Theobald concurs with, "complex emotion, a character with many layers of life experience, well-deserving of its classic status".




The interesting thing about It's A Wonderful Life is how complex George Bailey is. It's a role that asks Stewart to play slapstick - his awkward hoofing on the dancefloor before an unexpected bath - comedy (look at his face and the twirling of his hat when he visits Mary to her mother's exclamation: "George Bailey - what's he want?"), and romance. The scene where he wallks Donna Reed home is just delightful, and again shows his knack for selling dialogue such as the "You want the moon Mary? Just say the word...". With lines such as "...and it'll shoot all out of your fingers", it's actually a pretty silly scene on the page, but Stewart plays it just beautifully. Yet, it's Stewart layering of the drama that makes it such an accomplished performance. At the beginning, his young George Bailey is a goofy treat, bounding around on those long legs of his with a spring in his step. Yet as the film, and the years progress, his posture and body language becomes more stooped, slower and more of a weighed down amble. It's almost imperceptible, but it's there in all its riveting subtlety. George has many setbacks in life, but Stewart keeps the anger and bitterness simmering, never boiling over until absolutely necessary. When his father dies, and he has to face down Potter, George's voice is trembling with choked emotion, but Stewart catches himself at the end- almost shamefacedly - to stop himself screaming at Potter. It's the same restraint he shows when his younger brother reveals he can't take over George's job to set him free (look at his face when he walks away from the train in that scene - a lifetime of regret and a lifetime of more to come all etched on Stewart's face in a few seconds), and when he finds out that his old pal Sam Wainwright has become a millionaire - in a career move that George passed up.




That's why it's just so scary when George finally vents at his uncle Billy for losing their money. It's so scary that the camera can't look at him. And when George returns home to trash his house and his children's christmas decorations, it's both terrifying and heartbreaking. It's a transformation from Jekyll to Hyde and Stewart has built the groundwork so brilliantly, it feels like the culmination of years of bitterness, and not just the result of a particularly bad day. And that's also why it's just so uplifting and so emotional to see George return from Pottersville, thankful for life (note how this is also the first moment where he runs as free and as joyfully as a young man again). There's a lovely bit of trivia that says Stewart was so genuinely overcome in the bar scene when he prays to God, that he began to sob - a moment not scripted, and one that Capra reframed specifically to capture in a close up. And that's why George Bailey is Stewart's finest performance, if not the finest performance of all time. Stewart really lived in this film as George, and showed us the life of a man. Not just excerpts, but the true life of a man. It's an accomplishment unlikely to be ever repeated or bettered.




As with all icons, Stewart's career gracefully wound down as he entered retirement and eventually passed on. Yet he left behind a legacy of superb films, and terrific performances. As Scott Weinberg says, "He was that most important thing. A trait that can't be taught, learned, practiced or faked. He was likeable. Talented and versatile to be sure, but above all else, Jimmy Stewart was likeable. Lovable, even, and that's why he worked so often and why we remember him so fondly".

So, for leaving behind an untouchable legacy, for a multitude of varied and nuanced roles, for having a control over the craft of acting that he isn't credited for as much as he should, and for simply inspiring millions of people to be that little bit nicer to everybody - James Stewart, we salute you.

Welcome to the HollywoodBitchslap/EFilmCritic Hall of Fame




link directly to this feature at https://www.efilmcritic.com/feature.php?feature=2166
originally posted: 04/19/07 23:43:21
last updated: 04/20/07 06:30:58

printer-friendly format