Criticwatch 2008 - The Whores of the Year
by

Erik Childress



How does a whore decide what he or she likes? More to the point, what they like more than the other? Seems the appropriate question to ask at this time of the year, while critics are making up their best lists and voting awards to those deemed most worthy. While the average critic can at least reduce the year in movies to maybe a fifth of the year's releases even close to being mentioned on their Top 10 list, what in the hell does someone like Peter Travers do? Providing more heavy praise on films than most reviewers barely found positive, does he have to go back and look at his blurbs to qualify his Best-of-2008 list? After all, he doesn't want to slip up and pull a Ben Lyons, calling a film one of the greatest ever made and then not realizing that maybe it should be #1 and not #2 on his list. While #2 couldn't be a more appropriate labeling for I Am Legend, that was last year and this is now. Who will become 2008's Peter Travers Whore of the Year? It was a tight race with many worthy candidates. So many that we've even created another new award. But first, a shout-out to the whore that made this all possible.

The Whore of the Year Award isn't named after him for nothing. Rolling Stone's Peter Travers was one of the initial "critics" who helped to found and shape Criticwatch into what it is today. Since being taken out of the running for the award that now bears his name, Travers' verbage has usually found its way into the overall collective of overused adjectives and general dumbass-ery. But this year, before we get to the countdown let us take one last look back at the whore so many wannabes somehow aspire to become.


PETER TRAVERS IN 2008

Charlie Bartlett is…a winner! (Charlie Bartlett)
It's a winner! See it now before a Hollywood remake ruins it. (Let the Right One In)
Hugely entertaining! There's magic in it. Rickman is droll, dazzling perfection. Be on the lookout for Bottle Shock, it's a winner. (Bottle Shock)
Hugely entertaining! Jason Bateman never makes a false move and a stellar (Hancock)

***1/2! Magic! A French knockout! (A Christmas Tale)
A knockout of a comedy that keeps you laughing constantly. (Tropic Thunder)
…Harris and Mortensen make a knockout team. (Appaloosa)
Keira Knightley scores a knockout…Impurely delicious… (The Duchess)
There is something delicious about Anne Hathaway. (Get Smart)
Seth Rogen and Elizabeth Banks are both terrific and bring out the sweet and spicy best in each other. (Zack and Miri Make a Porno)
I love it. Sexy, built to thrill. (Wanted)

****! A masterwork. Grips you in a vice of suspense… (4 Months, 3 Weeks and 2 Days)
Appaloosa is gripping entertainment that keeps springing surprises (Appaloosa)
Pitch-perfect...Goes for the jugular! (Nobel Son)
Just watch and hold your jaw up with both hands. (Savage Grace)
Kickass! (Rocknrolla)
Get ready to have the rug pulled out from under you! (In Bruges)
The Visitor is a heartfelt human drama that sneaks up and floors you. (The Visitor)
It's power sneaks up and floors you. (The Boy in the Striped Pajamas)

A crazy-quilt comic thriller! (Burn After Reading)
Zack and Miri is hysterical! Let the laughs begin! (Zack and Miri Make a Porno)
The fall movie season achieves comic liftoff with Ghost Town! (Ghost Town)
Comedy heaven! (Hamlet 2)
Hellishly hilarious! (Religulous)
A rowdy, ramshackle funfest! (Vince Vaughn's Wild West Comedy Show)
Clooney throws us a rowdy party of a movie. (Leatherheads)
Think of all the ways you can hurt yourself laughing, as in fall down, split your sides, bust a gut, blow your mind. You get it all in Tropic Thunder. (Tropic Thunder)
This is like if Superbad met Midnight Run and they had a baby, and then Pulp Fiction and True Romance met Freaks and Geeks and Undeclared and they had a baby, and by some miracle those babies met – this would be the funny movie they birthed. It slaps a big, fat, goofy smile on your face that lasts for days. You'll go limp from laughing! (Pineapple Express)

Hot and hilarious. It's rip-roaringly fun and surprisingly touching. (Forgetting Sarah Marshall)
Brimming with stinging laughs and tears, and swirling healing music. A funny, touching, vital script by Jenny Lumet. (Rachel Getting Married)
Snap out of it, guys, you just might learn something. Sarah Jessica Parker is funny, touching and vital. (Sex and the City)

Role Models is killer funny. (Role Models)
It's also killer smart, lacing combustible action with explosive gags. (Tropic Thunder)
A combustible spy thriller. Gritty action laced with simmering drama. DiCaprio's in top form. Crowe is a live wire. (Body of Lies)
A powder keg with no agenda except the human one. (Stop-Loss)
…A slice of celluloid dynamite! (4 Months, 3 Weeks and 2 Days)
The two leads are dynamite (Let the Right One In)
Brad Pitt is dynamite. (Burn After Reading)
***1/2 Explosive! Full-out, in-your-face rock & roll. (Shine a Light)
**** Expect fireworks! It is explosive. (Doubt)
A total triumph! An American classic! Explosive. It will pin you to your seat. (Milk)
Indelible! Will pin you to your seat! (Trouble the Water)
...director Alfredson knows to to pin you to your seat. (Let the Right One In)
Doubt will pin you to your seat. The actors could not be better. Meryl Streep is unmissable and unforgettable. (Doubt)
An extraordinary film. Truly unmissable. (The Class)
An experience you won't forget…Benicio Del Toro gives a magnificent performance. No one who cares about organic film acting will want to miss it. He keeps you riveted. (Che)
You'll be totally riveted. (American Teen)
***1/2 Stop-Loss is the first major movie of the year that touches greatness. Directed with ferocity and feeling by Kimberly Pierce…it's raw and riveting. (Stop-Loss)

David Mamet is on his game, and that is a sight to see. At the center of this quiet storm of a movie, Chiwetel Ejiofor confirms his status as one of the best actors anywhere. (Redbelt)
Angelina Jolie plays the role like a gathering storm, moving from terror to a fierce resolve. (Changeling)
Fierce, funny, and moving. (The Class)
Spectacular…Iron Man kicks off summer on a blazing high note and practically dares the competition to measure up. It's been years since a movie superhero was this fierce and this funny. You can feel the exhilaration. (Iron Man)
Hellboy II is a surprise package of fun and untamed imagination. (Hellboy II: The Golden Army)
The haunting and visionary Dark Knight soars on the wings of untamed imagination. (The Dark Knight)

I'm giving top props to George A. Romero's Diary of the Dead! (George A. Romero's Diary of the Dead)
Props to the freshly Oscar-ed Tilda Swinton. (Burn After Reading)
Major props to Ben Stiller. (Tropic Thunder)

Julianne Moore's tour de force performance is unforgettable. (Savage Grace)
Anne Hathaway delivers an acting tour de force. (Rachel Getting Married)
Frank Langella gives the performance of a lifetime as Nixon in a bone-deep tour de force. (Frost/Nixon)

John Malkovich has never been funnier. His slow burn is priceless. (Burn After Reading)
A mesmerizing film that burns in the memory. (Changeling)
…There's a fire in her eyes that won't be extinguished. (The Duchess)
As for Will Smith, he's on fire. There's nothing like a star shining on his highest beams. You follow him anywhere. (Hancock)
Steve Carell and Anne Hathaway spark off of each other. (Get Smart)
Josh Brolin is truly electrifying. (W.)
A thunderbolt is about to rip into the blanket of bland we call summer movies. Just hang on for a shock to the system. (The Dark Knight)
A stellar Charlize Theron springs her own bolts from the blue… (Hancock)

Savagely moving. (Savage Grace)
A master director shining his light on the best rock band on the planet. (Shine a Light)
It would be no country for movie lover without the Coens. (Burn After Reading)
Odds are you're going to like this lively spin on the true story of six MIT mathletes who broke the Vegas Bank. It's a kick to watch Kevin Spacey and a gifted young cast use smarts to deal audiences a winning hand. (21)
You may have doubts about which side to choose, but there's no doubt about this mind-bender. (Doubt)

Rachel Getting Married holds you spellbound! (Rachel Getting Married)
It's a you-are-there spellbinder. (Shine a Light)
Soul Men is a chance to salute these masters of mirth and music. Take it! (Soul Men)

Visually the movie is a powerhouse. (Speed Racer)
Hang on for an emotional powerhouse. (Rachel Getting Married)
A potently acted powerhouse that sticks in the mind and the heart. (Appaloosa)
The film takes us inside the minds and hearts of soldiers… (Stop-Loss)
A different kind of thriller, one with a mind and heart. (Nothing But the Truth)
Searing, heartfelt and brutally honest. (Pride and Glory)
Heartfelt and hilarious! It's more than a movie, it's a gift. (Happy-Go-Lucky)
The Dukes is a gem, hilarious and heartfelt… (The Dukes)
Hilarious and heartfelt! A potently witty look at Giuliani Manhattan circa 1994. (The Wackness)
Hilarious! Heartfelt and achingly true. (Then She Found Me)
Hardcore hilarious and the movie also has a heart. (Pineapple Express)

How 'bout that guy, huh? A marketer's wet dream with a mustache to boot. But now onto those seeking his glory.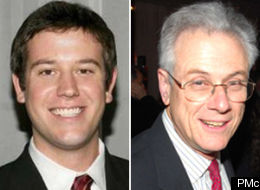 10. THE LYONS'
I tend to hate year-end lists that bunch-up and combine choices. Always seems like cheating to me as every film deserves its own slot. Man-up and make a decision. The father/son team of Jeffrey and Ben Lyons each made Criticwatch's top 10 in 2007. This year, according to our calculations, there was something a little off on either of them being included as individuals. Beyond their being no individuality amongst them whatsoever, it was still a necessity to show them off on the list. After all, they were together responsible for 75 blurbs and that's quite a bit when none of them put any of their thoughts into print of any kind. How sad is it that film criticism on television is represented by these two dopes? And with Junior Lyons dominating much of Criticwatch's time with his own spinoff Quote of the Week (plus the recent LA Times burial), it would be an absolute crime not to prove the ol' axiom that the rotten apple doesn't fall fast enough from the tree.


This is what going to the movies is all about. (Cloverfield) - Ben Lyons
You can't ask for more! (Bonneville) - Jeffrey Lyons
Splendid! Dignified, powerful and everything any fan of a great movie would expect! (Brideshead Revisited) - Jeffrey Lyons
Horton is hilarious! Brilliant from top to bottom. Finally, Dr. Seuss as it was meant to be seen. The first movie to truly capture the magic of 'The Seuss Imagination.' (Horton Hears a Who) - Ben Lyons
Now this is the way to make a crime thriller! It's slick, it's lightning-fast, it's the real deal! (The Bank Job) - Jeffrey Lyons
An intelligent thriller. (Traitor) - Jeffrey Lyons
A thrilling look at Spain's most passionate art! (The Matador) - Jeffrey Lyons
Amazing! Prince Caspian is a thrilling adventure. (The Chronicles of Narnia: Prince Caspian) - Jeffrey Lyons
A thrill-a-minute blockbuster! (Iron Man) - Jeffrey Lyons
It's about as good as a summer action, thrill-a-minute adventure movie gets. (The Mummy: Tomb of the Dragon Emperor) - Jeffrey Lyons
Brilliant! Bravo Scorsese! One of the most thrilling films of the year. (Shine a Light) - Jeffrey Lyons
A beautifully-conceived and superbly-written and acted thriller! It manipulates you in a sly way you'll love. The performances are perfect! (Roman de Gare) - Jeffrey Lyons
Mesmerizing! An intense, top-notch thriller! Tom Cruise gives one of the best performances of his career. (Valkyrie) - Jeffrey Lyons
Very compelling! Andy Garcia is a terrific villain! It's the best work Sarah Michelle Gellar has done! (The Air I Breathe) - Jeffrey Lyons

Quirky, off-beat and shocking. Wonderfully acted. (Stuck) - Jeffrey Lyons
Sick. Twisted. Disturbing. (The Happening) - Ben Lyons
Superb. (Doubt) - Jeffrey Lyons
A beautiful movie! Colin Firth and Jim Broadbent are superb. One of the warmest and gentlest films in years. (When Did You Last See Your Father?) - Jeffrey Lyons
A superb family adventure! (Journey to the Center of the Earth) - Jeffrey Lyons
A superb, witty look at Hollywood. DeNiro is perfect; Bruce Willis portrays himself hilariously. (What Just Happened?) - Jeffrey Lyons
An intense, superbly acted, and riveting police drama. (Pride and Glory) - Jeffrey Lyons
Astonishing! (Constantine's Sword) - Jeffrey Lyons
Astonishing. (The Fall) - Jeffrey Lyons
An astonishing, true-to-life crime-drama with bravura performances. (What Doesn't Kill You) - Jeffrey Lyons
An intelligent, tender, true-to-life drama, the kind we almost never see nowadays. A movie for adults with attention spans! (Then She Found Me) - Jeffrey Lyons
Intense, an intelligently-written and directed crime drama with Woody Allen and the cast turning in top drawer work. (Cassandra's Dream) - Jeffrey Lyons
Gritty, intelligent story. (Righteous Kill) - Jeffrey Lyons
Gritty, powerful, slice of life film! (Sleepwalking) - Jeffrey Lyons

One of Woody Allen's finest films with bravura performances from its incredible cast. It's sure to be one of the best films of the year. (Vicky Christina Barcelona) - Jeffrey Lyons
Sure to be one of the best films of the year. (Mongol) - Jeffrey Lyons
One of the best documentaries of the year…An eye-opening experience. (Bra Boys) - Ben Lyons
It's one of the best films of the year. (The Boy in the Striped Pajamas) - Jeffrey Lyons
One of the best pictures of the year! (The Reader) – Ben & Jeffrey Lyons
One of the best films of 2008. (Miracle at St. Anna) - Ben Lyons
A terrific Disney film for everyone. It's one of the best animated films I've seen in years. (Bolt) - Jeffrey Lyons

A great, fun family experience. I really love this movie. (Madagascar Escape 2 Africa) - Ben Lyons
The coolest kids comedy of the year. (Kung Fu Panda) - Ben Lyons
One of the coolest films of the year! It explodes off the screen. (Rocknrolla) - Ben Lyons
A modern day Breakfast Club that will make you stand up and cheer. (American Teen) - Ben Lyons
The dancing will knock you clear out of the theater! (How She Move) - Jeffrey Lyons

The perfect way to kick off the summer! (Kung Fu Panda) - Jeffrey Lyons
Hands down the funniest movie of the summer. Nothing's even close to Tropic Thunder. (Tropic Thunder) - Ben Lyons
The surprise comedy of the summer! (The Rocker) - Ben Lyons
Hang on for a carload of laughs. (Sex Drive) - Jeffrey Lyons
A hilarious comedy from an all-star ensemble cast! Smart, funny and original. Everything you want from the Coen Brothers. (Burn After Reading) - Ben Lyons
An all star cast that delivers one tremendous performance after another. (Battle In Seattle) - Ben Lyons
Riveting! Miss Jolie shows why she is one of the great actresses of her generation in this terrific true story, sure to be an Oscar contender. (Changeling) - Jeffrey Lyons
Completely original, this is Adam Sandler doing what he does best. The most bankable comedic star in Hollywood strikes again. (You Don't Mess with the Zohan) - Ben Lyons

The Rocker is a delight! Rainn Wilson is hilarious and young Emma Stone gives of the best supporting performances in any comedy you'll see all year. She's a star to watch. (The Rocker) - Jeffrey Lyons
Absolutely enchanting! A witty delight! (Priceless) - Jeffrey Lyons
A great story everyone will love. A delight. (Hats Off) - Jeffrey Lyons
Delightful and surprisingly poignant. It's witty and yes guys, you'll love it too! (Sex and the City) - Jeffrey Lyons
A poignant love story. Enormously entertaining. (Last Chance Harvey) - Jeffrey Lyons
Poignant! (The Year My Parents Went On Vacation) - Jeffrey Lyons

It's a definite must-see. (Eagle Eye) - Ben Lyons
Absolutely incredible…A film to seek out. (Bra Boys) - Jeffrey Lyons
An extremely powerful experience. (Standard Operating Procedure) - Jeffrey Lyons
A wonderful, dramatic and powerful saga of the dangers of absolute power. The cast is impeccable. (The Other Boleyn Girl) - Jeffrey Lyons
Stop-Loss has the next generation of great actors. Intense and inspirational. (Stop-Loss) - Ben Lyons
One of the most inspiring films I've ever seen. (Blindsight) - Jeffrey Lyons
One of the best films of 2008. A classic of epic and scope. Honest, powerful and inspiring, it's one of Spike Lee's best, and most important films. (Miracle at St. Anna) - Ben Lyons
More than just a movie about football. It's an emotionally charged, inspiring story of a forgotten American hero. (The Express) - Ben Lyons
Terrific film…with surprising emotions. (The Visitor) - Jeffrey Lyons
Amazing, deeply absorbing. (The Guitar) - Jeffrey Lyons
An absorbing, deeply moving film. (Henry Poole Is Here) - Jeffrey Lyons
A film everyone should see. A remarkable, sweeping, deeply-absorbing epic. A true story of incredible courage. (The Children of Huang Shi) - Jeffrey Lyons
A special film with a big heart. (The Secret Life of Bees) - Ben Lyons
As beautiful and touching a movie as you're going to see this year! The performances are carefully nuanced, and this is a rare spiritual journey. (Fugitive Pieces) - Jeffrey Lyons
One of the most powerful, deeply emotional, and romantic dramas of this or any year. Oscar-worthy performances from Penelope Cruz and Ben Kingsley. (Elegy) - Jeffrey Lyons

An instant classic! Jack Black is hilarious. (Be Kind Rewind) - Ben Lyons
A classic of epic and scope. (Miracle at St. Anna) - Ben Lyons
Zohan is a classic comedy character that audiences will love for years to come. (You Don't Mess with the Zohan) – Ben Lyons
This is a movie that will remain with you for the rest of your life! (The Boy in the Striped Pajamas) - Ben Lyons
9. CARRIE KEAGAN
Carrie Keagan, of the appropriately named No Good TV, caught our eye officially on the Chicago ads for the release of Zombie Strippers. "So hot, it hurts," she said. Didn't hurt quite as much as her previous recommendations for 27 Dresses and 10,000 B.C., but it hurt all the same. Miss Keagan hasn't been quoted since late August, but is going to be on the red carpet sucking up to the moviestars finagled into attending the Broadcast Film Critics Association awards show. That, plus the beginning of a beautiful friendship with Warner Bros. and Fox (getting quoted three times for each) and the fact that the best movie she got quoted for was Get Smart (53% at Rotten Tomatoes), she earned a place on this year's list.

Steve Carell is hilarious. (Get Smart)
It's Superbad meets School of Rock! (The Rocker)
27 more reasons to love Katherine Heigl! (27 Dresses)
X-cellent! (The X-Files: I Want To Believe)

It's the coolest thing I've seen. (Speed Racer)
So hot, it hurts. (Zombie Strippers)
10,000 B.C. rocks!! It's an adrenaline rush from start to finish. (10,000 B.C.)


8. STEVE OLDFIELD
Moving up two spots from last year is this dope from Cincinnati who was also a part of the one-word offenders on Roland Emmerich's 10,000 B.C. (9% approval on Rotten Tomatoes. NINE!) Oldfield was another who was out in force early in 2008. Only one of his seven quotes came post-April, but unlike Miss Keagan, he spread the wealth around to different studios. The only thing they had in common was how bad most of them were. Yes, Miss Pettigrew Lives for a Day was a fine film and I enjoyed Street Kings even if 69% of my brethren did not. (I easily take that over Traitor.) But when you see the rest of his recommendations and particularly what he had to say about Keanu's cop thriller, you can see why he's heading the wrong way if he's looking for legitimacy.

Sweet and clever and wickedly funny! Amy Adams gives a perfect performance! Lee Pace is one to watch! A delight in every way! (Miss Pettigrew Lives for a Day)
Laugh-out-loud funny. (Semi-Pro)
Hilarious. Laugh out loud funny. (Welcome Home Roscoe Jenkins)

Stunning! (10,000 B.C.)
Traitor is this year's Bourne Ultimatum. (Traitor)
Very cool…in the spirit of Seven and all the other great, creepy, intense movies. (Untraceable)

An intense, riveting thriller! Keanu Reeves and Forest Whitaker give powerhouse performances. (Street Kings)
An intense…riveting…adventure. (28 Weeks Later)
A powerful film! A riveting story, expertly directed by Peter Berg (The Kingdom)
Chris Cooper and Ryan Phillippe give powerhouse performances. A first-class movie. (Breach)
…a smart, compelling film with powerhouse performances. (Black Snake Moan)
Powerhouse performances! (Georgia Rule)


7. PAUL FISCHER
Rejoining his colleagues in the Top 10 this year is Australia's own. 11 of his 13 quoted recommendations came up rotten. Six of them were 33% positive or lower. Fischer has never been afraid to recycle his words. Hopefully his garbage will equally be in the front row of the screening rooms at Sundance in January. Of course by garbage we mean his reviews.

A joyous, positive film. (Henry Poole Is Here)
A must-see! Powerful, passionate and stunning! (Brick Lane)
Unexpected. Ferociously erotic. Crowd pleasing. (The Guitar)
Tea Leoni is fabulous, touching and gracefully funny. (Ghost Town)
Hilarious! (What Happens In Vegas)
Outrageous, sexy fun. (Zombie Strippers)
Seth Green and James Marsden are priceless. Outrageous fun. (Sex Drive)
Pitch-perfect. A comic gem. (Smart People)
A deliciously funny film. A completely adorable and satisfying gem of a comedy. (The House Bunny)
…Deliciously romantic, a wonderfully funny date movie that is both irresistible and charming. (Made of Honor)

PAST YEARS
An exquisite gem of a film. (Opal Dream)
A wonderfully funny comic gem. (The Pink Panther)
A funny, moving, and wonderfully entertaining gem! (Mambo Italiano)
LaPaglia gives another superb performance in this beautifully realized gem. (The Architect)
A totally laugh-out-loud comic gem. (Scary Movie 3)
An absolute gem. (Eagle vs. Shark)

A deliciously sardonic and witty screenplay by Harold Pinter. (Sleuth)
Here is a wonderfully wise, deliciously subversive and smart comedy for anyone craving acceptance. (Accepted)
...as deliciously funny and sexy as it is warmhearted, real and a total charmer. (Spanglish)
…a deliciously funny yet honest, poignant and irresistible romantic comedy. (Little Black Book)

BACK TO 2008
Stunningly original and exhilarating! (Repo! The Genetic Opera)
Magnificent. Heart-pounding, thrilling. Exquisite. (Australia)
A thrilling roller coaster ride. (The Day the Earth Stood Still)

AND BACK AGAIN
Stunning. Exhilarating. (Night at the Museum)
Exhilarating, enthralling and one of the best films of the year. (Harry Potter and the Goblet of Fire)
Totally original and exhilarating, fresh, dazzling and often hilarious! (The Hitchhiker's Guide to the Galaxy)
...Sheer exhilaration...show-stopping...moving...breathtaking...stunning... (Rent)
As exciting as Seven and Silence of the Lambs...A genuine rollercoaster...
Paycheck – Paycheck is an exhilarating roller-coaster ride of a thriller in the rare tradition of Hitchcock. (Saw)



6. EARL DITTMAN
Always wanted to put a face to the name, didn't you? The Ditt had his lightest year under the Watch in 2008. Since his last Whore of the Year award in 2005 (back-to-back with 2004) when he had 36 quotes, Earl has only had 42 in the last three years. Just nine quotes this year alone and only three down the back half. I know he's still active. I saw him for the first time in person at this year's Toronto film festival (along with other junket invitees to a screening of the abhorrent RocknRolla) but even the tween shall not meet, as Dittman was gone before I could get up to introduce myself. And after that crap, believe me, I was up pretty fast. Quite spry for a big man, I guess. Or maybe he's getting better and realizing he just can't provide praise for any ol' film that comes along. He hasn't completely learned the lesson yet.

Smart (Nick and Norah's Infinite Playlist)
The creators of the Matrix trilogy have revolutionized moviemaking. (Speed Racer)
**** Enchanting, charming and hilarious…Penelope is simply irresistible. (Penelope)
It's hip...and...hilarious... (First Sunday)

A total knockout! Sensational! (Never Back Down)
Sensational...****...A must see. (88 Minutes)

An electrifying, cat-and-mouse thriller. (Untraceable)
Samuel L. Jackson like you've never seen him before. (Lakeview Terrace)
Twilight is the movie to see over and over again. (Twilight)


5. JAMES THOMAS
James Thomas busted into 2008 like a Tazmanian Devil Whore. Giving good love to a couple January releases from Screen Gems, he just kept going and nowhere knew where this random name from KDNL-TV in St. Louis would go. Partly because you can't find a listing for this guy anywhere online except through the quotes he's given. No website. No news station that lists him as a regular contributor. Certainly nowhere we could find him. Sony wasn't making up another name, were they? Not unless they were sharing the pseudonym with New Line and Warner Bros. Alas, after giving Sony's Screen Gems some further ink on the multi-year delayed Al Pacino nonsense, 88 Minutes, James Thomas has been no more. But the legacy of whoredom he left in just a few short months was enough to find him placement in the Top 5. This is just a stunning display of suckage.

The first laugh-out-loud comedy of the new year. (First Sunday)
Untraceable is the Silence of the Lambs for the internet age. (Untraceable)
Eva lights up the screen! Hilarious! Don't miss this one! (Over Her Dead Body)
Epic (10,000 B.C.)
Al Pacino is electrifying. A heartpounding thriller that keeps you guessing till the end. (88 Minutes)


4. SHAWN EDWARDS
2007's Whore of the Year fails to repeat in 2008. Giving up his crown, at least for now, Shawn Edwards is still the model of consistency amongst the whores and the sluts. Outside of Travers, Lyons Sr. and Pete Hammond, nobody has amassed as many quotes at Criticwatch as Edwards has and this marks the sixth consecutive year that he's ranked in the Top 5. He is the proverbial cockroach that seemingly can't be stopped. He shrugs us off in interviews, continues to play a racial bias no matter how ordinary or downright awful a film is and is simply downright shameless. Whatever, he has to live with himself and the reputation he's built. Those of us with respect for many of our colleagues know him to be one of the true punchlines of our profession, only you rarely hear anyone he's been in contact with come to his defense other than Christopher Hearne at the Kansas City Star. 23 quotes for Edwards in 2008. 16 of them rotten at R.T. Anyone who calls Twilight "one of the best vampire movies ever" needs their own pulse checked, because they sure don't have one of someone that's supposed to know movies. Check 'em out and let's leave this stain behind.

Classy. (Leatherheads)
Honest and brave (Stop-Loss)
Intelligent and intense. (Vantage Point)
Intense! Samuel L. Jackson is brilliant. ****! It grips you and never lets go. (Lakeview Terrace)
You won't sleep for weeks. Unbelievably scary! (The Strangers)

Genuinely funny! Ghost Town is a sophisticated, witty and charming comedy. (Ghost Town)
Insanely funny! Will Ferrell delivers another winner. (Semi-Pro)
Totally hilarious! Martin Lawrence has never been funnier! (Welcome Home Roscoe Jenkins)
Awesome! The freshest and funniest comedy in a long time. (Drillbit Taylor)
Fabulous, fun and fresh! Anna Faris' charm is infectious. (The House Bunny)
Funniest movie of the summer! (Get Smart)
The funniest movie of the year. Vince Vaughn and Reese Witherspoon are terrific. The perfect holiday treat. (Four Christmases)
It's Superbadder than any comedy this year. (Sex Drive)

**** An American classic. (Appaloosa)
**** An instant classic! It's visually awesome, totally fun and tremendously entertaining. (Horton Hears a Who)
Electrifying! The most exhilarating movie of this year! Eagle Eye is an action packed thrill ride that puts the pedal to the metal. (Eagle Eye)
One of the best movies of the year. (The Express)
Magnificent! A movie experience everyone will love. One of the year's very best. (The Secret Life of Bees)

****!...Hilarious…An all out fun experience that will make you fall in love with the magic of movies. (Nick and Norah's Infinite Playlist)
Matthew McConaughey and Kate Hudson are this generation's most engaging on-screen couple. (Fool's Gold)
Wonderful! Delightful! Enchanting! Penelope is the most charming and irresistibly romantic movie you'll likely see all year. I loved it. (Penelope)
A refreshingly cool, sophisticated and completely romantic film... (Definitely, Maybe)
****! Epic! One of the best vampire movies ever. Sexy, stylish and altogether the coolest movie of the year. (Twilight)



3. JIM FERGUSON
A few months back one of my radio icons, Jonathon Brandmeier, could only find one name who recommended Mike Myers' The Love Guru. Like the rest of us, he heard nothing but abysmal things about the comedy, but as he was years ago when we took down one shill together on the air and again when he sought out the illustrious Mose Persico for calling Deuce Bigalow: Male Gigolo "insanely funny", he wanted to know more about this Jim Ferguson who was quoted on the DVD cover as calling The Love Guru "hilarious." Naturally I sent Johnny B. a ton of info on one of Criticwatch's most obvious whores, but his producers had nothing but trouble tracking Ferguson down and getting him on the phone. Always ironic when a guy who will sell his self-promoting soul to be on a film ad won't seek out free air time. Ferguson is one of the Board of Directors for the Broadcast Film Critics Association, a group that houses only a handful of legitimate critics and whose standards and criteria are far more amusing than anything in The Love Guru.

From the BFCA Website

Our standards: All film reviews represent the unique and honest opinion of the authoring member. Any attempt to influence a review beyond providing information is a violation of BFCA standards. `Quotes' may only be provided from reviews that have been, will be or are intended to be broadcast or printed, and cannot be altered in any way without the expressed permission of the reviewer.

Criteria for membership: To apply for membership, a broadcast film critic must regularly provide a large television, radio or Internet audience with subjective assessments of the quality of motion pictures being released theatrically.

You can try and find Ferguson's reviews at the KGUN-TV Website that his BFCA bio page lists. Good luck. You can see him on stage here at last year's Critic Choice Awards to the left of Sam Rubin with the envelope. (All the BFCA whores went on stage to present the Best Picture award and then STAYED behind the team of No Country for Old Men while they accepted it.) Does Jim have an itch down there or something? I know most critic groups require its members to provide samples of their writings to reapply each year. How does the BFCA keep track of every three-minute segment some of these toolbags get on a daily news segment? Do they really slap down a member if they discover they just gave a quote to the studio; one that will never find its way to air in any shape or form? What if the studio writes it for them, as Criticwatch has exposed time and time again? Does that tie-in to the copout that said quote can be altered as long as it is out of the mouth of the "subjective" reviewer? Seems there's not enough room in some of their mouths for actual words to come out.

Ferguson did it 10 times in 2008. But we have chosen to go further. To fully appreciate how deep Ferguson's throat goes, we are including a recap from 2003-08 of Ferguson's choice recommendations. I've been waiting weeks and months for the right moment to package up this info for you all. And here it is – Jim Ferguson, the #3 whore of 2008.

(2004) Magnificent! (Miracle)
(2004) Magnificent! (The Alamo)
(2004) Troy is a masterpiece. Brad Pitt's portrayal of Achilles is magnificent. (Troy)
(2004) A magnificent performance! Jude Law is Alfie. (Alfie)
(2006) Powerful script, magnificent cast, a winner on all levels. (Inside Man)
(2004) Friday Night Lights has all the elements of a great American drama. (Friday Night Lights)
(2004) This fairytale has it all! (The Princess Diaries 2)

(2005) It will have parents laughing as hard as their kids. (Kicking and Screaming)
(2007) Both adults and kids will laugh and scream during this hilarious comedy. Steve Carell, lots of animals and Morgan Freeman as God, you can't ask for anything more in a comedy! (Evan Almighty)

(2003) An action comedy for the entire family! (Kangaroo Jack)
(2003) Finally a great movie for the whole family. (What a Girl Wants)
(2004) The perfect summer comedy for the whole family. Hilary Duff makes the perfect Cinderella. (A Cinderella Story)
(2004) A holiday treat for the whole family! (Fat Albert)
(2003) The holiday film we've all been waiting for! (Brother Bear)
(2004) A remarkable adventure for kids of all ages! (Lemony Snicket's A Series Of Unfortunate Events)
(2005) Fun for all ages! (The Pacifier)
(2003) Fun, fun, fun for kids of all ages. A hilarious comedy. (Johnny English)
(2003) Fun Fun Fun! A very funny summer comedy! This is vintage David Spade (Dickie Roberts: Former Child Star)

(2004) More than a sports film – it's a classic! (Miracle)
(2005) Beautiful! An instant classic. (Corpse Bride)
(2007) A classic! A must-see! (Evening)
(2003) A family must-see! (Holes)
(2008) A must-see (Eagle Eye)
(2005) A must see. (The Sisterhood of the Travelling Pants)
(2007) A must-see! (Enchanted)
(2007) The perfect date movie for the holidays. (P.S. I Love You)
(2007) A must-see for the holiday season. (National Treasure: Book of Secrets)
(2004) Outstanding directing and acting; a must-see on any night! (Friday Night Lights)

(2003) Bigger and better than the original. (Lara Croft Tomb Raider: The Cradle of Life)
(2004) Bigger and better than the original! (Resident Evil: Apocalypse)
(2006) Bigger and better than the original. (Pirates of the Caribbean: Dead Man's Chest)

(2005) A comedy that really rocks! Hollywood's oddest pairing sizzles! (The Man)
(2003) This sequel rocks! (Lara Croft Tomb Raider: The Cradle of Life)
(2003) In a summer of sequels, finally a ride worth taking. LXG is the most original action-adventure of the summer. (The League of Extraordinary Gentleman)
(2004) An incredible movie with great action! Stephen Sommers takes the genre to another level with an amazing vision. Hugh Jackman is a hero for the generations. (Van Helsing)
(2004) A fantastic rollercoaster ride for every generation. (Sky Captain and the World of Tomorrow)
(2004) Explosive fun! You'll love the ride! (Taxi)

(2007) (1) Utterly hilarious. (2) Fresh, exciting and utterly original. (Meet the Robinsons)
(2004) Udderly hilarious (Home on the Range)
(2007) Entertaining, wild fun! (Wild Hogs)
(2006) Double the fun. (Garfield: A Tale of Two Kitties)
(2006) 16 Blocks of excitement! (16 Blocks)
(2007) Make a reservation for the feel-good romance of the summer! (No Reservations)
(2006) Sylvester Stallone has a knockout with Rocky. (Rocky Balboa)
(2004) The perfect match. (Wimbledon)
(2008) A slam dunk! (Semi-Pro)
(2008) A sure hit! (Leatherheads)
(2005) Stripes is the Seabiscuit of all zebras! (Racing Stripes)

(2006) The best family film of the year. (Flicka)
(2008) The best comedy of the year! (Yes Man)
(2003) The best romantic comedy of the year. (Alex and Emma)
(2004) Without a doubt, the year's surprise hit comedy... (In Good Company)
(2005) This film is one of the year's biggest surprises. One of the best films of the year. (The Sisterhood of the Traveling Pants)
(2007) One of the best films of the year. (Elizabeth: The Golden Age)
(2003) A smart, funny film you'll remember for a long time. Ridley Scott proves his directing prowess again and delivers one of the year's best films! (Matchstick Men)
(2007) Rob Reiner directs two super stars in one of the best films of the year. (The Bucket List)
(2003) One of this year's very best. Kevin Costner has done it again. A must-see. (Open Range)
(2004) Hilarious! Jackie Chan does it again! (Around the World in 80 Days)
(2006) Adam Sandler does it again – Hilarious! (Click)
(2004) Spectacular! Fantastic! Roland Emmerich has done it again! (The Day After Tomorrow)
(2004) The creator of The Sixth Sense & Signs has done it again. Fantastic filmmaking! (The Village)
(2003) Fantastic! Maybe the best Rugrats adventure ever! (Rugrats Go Wild)
(2004) Mystery Inc does it again. This time better than ever (Scooby Doo 2: Monsters Unleashed)
(2006) Best Rocky Ever! (Rocky Balboa)
(2008) One of the most exhilarating movies you'll ever see. (Speed Racer)

(2003) The final Spy Kids adventure is pure joy. (Spy Kids 3-D: Game Over)
(2006) Pure entertainment. (Take the Lead)
(2006) Sensational (Superman Returns)
(2006) Sensational! (Lady in the Water)

(2004) Twisted will keep you guessing (Twisted)
(2007) Suspenseful & compelling! (Reservation Road)
(2005) Suspenseful! This is suspense like Hitchcock used to make. (Derailed)
(2004) A thought-provoking thriller you don't want to miss. (The Village)
(2006) Don't miss this wonderful, unique and inspirational film. (Lady in the Water)
(2007) Don't miss this wonderful holiday film. You'll enjoy this film right along with the kids. (Mr. Magorium's Wonder Emporium)
(2008) A wonderful family film! (Beverly Hills Chihuahua)

(2008) A wild, coming of age comedy reminiscent of the early John Hughes films. (Nick and Norah's Infinite Playlist)
(2006) A rare and unique love story. There should be more movies like this one! (The Lake House)
(2007) A love story for the ages. A beautiful adaptation of Jane Austen's life. (Becoming Jane)
(2006) A story that needs to be told. (Home of the Brave)
(2004) This story has heart and soul. (Against the Ropes)
(2004) It explores the heart and soul of being perfect. (Friday Night Lights)
(2003) A truly remarkable film that touches your heart. (The Last Samurai)
(2005) Inspirational fun and funny for all! (Racing Stripes)
(2008) An inspirational Story of Hope with an outstanding cast. This is one special movie! (Henry Poole Is Here)
(2004) If you liked The Ring, you're going to love The Grudge. This one is special. (The Grudge)

(2005) An outstanding, real adult love story. (Shopgirl)
(2005) Outstanding drama with terrific writing and acting. (The Sisterhood of the Travelling Pants)
(2006) Outstanding! (The Guardian)
(2004) Excellent. A summer blockbuster. Outstanding! (I, Robot)
(2006) Outstanding! A taut, intelligent action thriller. (Firewall)
(2006) A heist thriller like you've never seen – outstanding! (Inside Man)
(2007) The Reaping an outstanding supernatural thriller. (The Reaping)
(2004) A fascinating thriller with several psychological layers. (Suspect Zero)
(2007) The best psychological thriller in years. (Mr. Brooks)

(2003) Hilarious (Calendar Girls)
(2005) A winner! (Kicking and Screaming)
(2006)...A winner. (Click)
(2003) Holes is another Disney winner. (Holes)
(2006) Hilarious! A sure winner! (Man of the Year)
(2004) Hilarious. Ben Stiller and Jennifer Aniston are supported by a great cast which makes Along Came Polly a winner. What a great way to start the new year. (Along Came Polly)

(2008) Hilarious from start to finish. If you're in for a big laugh say yes to Yes Man. (Yes Man)
(2008) Hilarious! One big laugh from beginning to end! (The Love Guru)
(2005) You'll laugh from beginning to end. (Just Friends)
(2003) Nonstop fun and laughs. (The In-Laws)

(2003) Smart (Out of Time)
(2006) Funny (Failure To Launch)
(2005) Action, explosions, romance but most of all, it's funny. (Sahara)
(2004) When it comes to comedy, Renee Zellweger leaps to the top. She is the best - truly hysterical. (Bridget Jones: The Edge of Reason)
(2007) Jackie & Chris have never been funnier. (Rush Hour 3)
(2004) Truly one of Billy Bob's best performances. (Friday Night Lights)
(2005) Will Smith gives another outstanding performance. (Hitch)
(2006) Robin Williams gives a brilliant performance. (Man of the Year)
(2007) Joaquin Phoenix and Jennifer Connelly give award-worthy performances. (Reservation Road)
(2008) Eva Longoria (Parker's) performance surpasses her beauty, and that's hard to do. (Over Her Dead Body)

JIM FERGUSON, LADIES AND GENTLEMEN!

And now, the winner of 2008's Kevin Thomas Sloppy Seconds Award

PETE HAMMOND
Just one year ago, Criticwatch was celebrating the firing of Pete Hammond by Maxim Magazine when they decided to dump one boob in favor of several others. Apparently Hollywood.com didn't get the multiple memos that everyone believes Hammond to be a first-class suck-up and all-around suck, so they hired him to review movies and as a result have got their name in some 40+ ads this year. In an interview with Rotten Tomatoes soon after, Hammond attributed his popularity, so to speak, as running counter to other critics being snobby and trying to "out-intellect" one another. God, what a horrible thing. "Reviewing movies isn't about Pete Hammond's ego," he said as he speaks in the third person to get his name into quotation marks. The extent of Hammond's bullshit can be seen spread throughout a piece I wrote earlier in the year entitled "War, Peace and Every Man In Between" and while he didn't come close to last year's record-setting total of 88(!) quotes, he still managed 47 despite being out of commission for the first six weeks or so. Behind only his fellow Pete (Travers), Jeffrey Lyons, Roger Ebert and USA Today's Saturday-guaranteed quotemeister Claudia Puig, Hammond's recommendations were wide-ranging enough to put him back into the Top 10 after being awarded last year's Bag O'Douche for shattering the quote record.



"I don't think you have seen my name on the true crap Hollywood churns out."



Oh really, Pete? 11 quotes in 2008 for films that registered a 70%+ negative response on Rotten Tomatoes, including praise for the remake of The Women (10% positive), Universal's straight-to-video The Scorpion King 2 (following your recommendations of the DTV American Pie sequels) and Everyone Wants To Be Italian which is currently rockin' an 0-for-18 tally at the site. ZERO PERCENT. Oh right, you said the true crap that "Hollywood" turns out. That indie crap doesn't count. Fair enough. Then how about Drillbit Taylor, Meet Dave, The Longshots, Igor, How to Lose Friends & Alienate People and Miracle at St. Anna? Nothing more truer than that. And nothing more false than you.

Ravishing and breathtakingly beautiful! (Before the Rains)
Fills the theatre with laughs! Amy Poehler's a riot! Catherine Keener is perfection. (Hamlet 2)
A movie every father and son should be required to see together. Jim Broadbent's towering performance should be remembered at awards time. Colin Firth is perfect. (When Did You Last See Your Father?)
Hits the bullseye…One of Oliver Stone's best. The stuff Oscar nominations are made of. (W.)
Brilliant, funny, complicated and fascinating! (Frost/Nixon)
A nerve-rattling political thriller. (Nothing But the Truth)

Outrageously entertaining. An insanely clever thriller. Nobel takes the prize. (Nobel Son)
It's the…prescription for what ails you: loads of laughs! (Charlie Bartlett)
An absolutely hilarious, rousing and joyous celebration that will have you dancing in the aisles and smiling for days. What a movie! A guaranteed cure for the summertime blues. You'll want to line up and see it again the minute it ends. (Mamma Mia)
The Longshots scores! A big winner for the whole family. Ice Cube is at the top of his game. (The Longshots)
Swing Vote is a landslide comedy winner. It's smart, witty and a non-stop laugh machine. Kevin Costner is pitch-perfect in the one movie that is so inspiring you'll stand up and cheer. (Swing Vote)
This is the sleeper surprise discovery of the summer. Smart, witty and genuinely human comedy…The entire cast is wonderful. (Actual Grammar - NY Times 07/06/08) (Diminished Capacity)
The adult comedy surprise of the year. Smart and riotously funny with DeNiro's best screen work in years. (What Just Happened?)

Fascinating! A unique tale turned into a terrific film. This remarkable portrait of a most unusual man resonates strongly and tells a whopper of a story! (Surfwise)
A role of a lifetime for Keira Knightley. She gets to be funny, strong, gorgeous – and ultimately a woman of power and dignity. (The Duchess)
A remarkable and inspiring true story about a man with unbelievable grit, determination and heart. You'll be rooting for him all the way. (Flash of Genius)

Brilliant! The must-see movie of 2008. Kristin Scott Thomas' moving and luminous performance has raw power that almost indescribable. This transcends acting. It's life. (I've Loved You So Long)
Lakeview Terrace burns up the screen…The incomparable Samuel L. Jackson is riveting to watch! (Lakeview Terrace)
Frank Langella as Nixon and Michael Sheen as David Frost are equally superb. (Frost/Nixon)
Exciting and powerful. The entire cast is superb. (Miracle at St. Anna)
An unforgettable motion picture experience. Powerful and moving beyond words. (The Boy in the Striped Pajamas)
A remarkably accomplished and moving film. An unforgettable experience you don't want to miss. (Fugitive Pieces)

Insanely funny! The Coen Brothers have done it again. The dream cast is to die for. George Clooney and Brad Pitt get big laughs. John Malkovich is outrageous. A delightful, devilish and delightfully funny movie. (Burn After Reading)
Hilariously spoofs the movies we love and gets big laughs all the way. It's as if Bill Murray and Dan Aykroyd morphed into Beavis and Butt-Head. You've got to see it to believe it. (Be Kind Rewind)
Smart & entertaining…It will have you laughing from start to finish. (How To Lose Friends and Alienate People)
The biggest and best of the series. Sensational! Pure entertainment from start to finish. (High School Musical 3)
The comedy you don't want to miss this holiday season. (Yes Man)

"Hilarious" (WALL-E)

A wonderful film that will touch your heart and lift your spirits. (Last Chance Harvey)
Big laughs with a lot of heart. (Drillbit Taylor)
Awesome! Hilarious! More laughs, excitement and heart than any other comedy this year. The perfect holiday film. (Bolt)
An animation triumph! Thrilling, funny, charming and inspiring. (Kung Fu Panda)
Ben Stiller is a riot. Chris Rock is in top form. Sasha Baron Cohen steals the show. (Madagascar: Escape 2 Africa)
Igor is monstrously funny and clever…genuine fun for the whole family. (Igor)
A timeless classic that ranks with the very best of animated films. (The Tale of Despereaux)
Fly Me to the Moon soars, taking the 3D experience to brand new heights. (Fly Me To The Moon)



Again - WALL-E – just "Hilarious"



A triumphant return to Narnia! It's magical and fun. Perfect for all ages. (The Chronicles of Narnia: Prince Caspian)
This Journey is a roller-coaster ride – Hang on for a great time at the movies! (Journey to the Center of the Earth)
Mega-tons of fun. This super-powered summer movie adrenaline blast will have you leaping out of your seat. This time the Hulk really IS incredible. (The Incredible Hulk)
The most visually inventive, trailblazing film of its kind in light years. The heart-stopping, extreme summer action movie of your dreams. (Wanted)

Just to recap. Light years measures distance and not time. Opening on the same day, Wanted is "trailblazing" and WALL-E is simply "hilarious."

Pulse-pounding. Heart-racing excitement from start to finish. Hands down the best suspense thriller of the year. (Valkyrie)
A relentless suspense thriller with a jaw-dropping twist that will leave you on the edge of your seat. This year's Bourne Ultimatum. (Traitor)
A masterful triumph! Ed Harris and Viggo Mortensen are a dynamite screen pairing. A classic in the spirit of Unforgiven. (Appaloosa)
Really funny…with great dialogue and actors to make it sing. Reminded me of the kind of filmmaking Billy Wilder, Stanley Kubrick have done in the past. Recalls movies Dr. Strangelove and Wag the Dog. I love this kind of cynical, acerbic moviemaking and seeing it reminds me just how much this kind of thing is missing today. (War, Inc.)
You are going to love this movie! One of the year's most entertaining films, like the discovery of another Sideways or Little Miss Sunshine, just as unexpected and just as good. A pure delight! (Bottle Shock)
A real charmer! In the tradition of My Big Fat Greek Wedding. (Everybody Wants to Be Italian)
Gorgeously entertaining! Tops Sex and the City in every way. Hilarious flat-out fun…see it! (The Women)

Yes, Pete, we're all so jealous that we didn't get quoted with such amateurish, uninspired, bottom-of-the-parakeet cage rubbish. Unless Hollywood.com comes to their senses, I'm sure next year you are going to compete again for the top spot. But in 2008 that honor belongs to another.

This year's Peter Travers Whore of the Year IS………………………………….


MARK S. ALLEN
Marky Mark S-for-Shithead Allen has been hanging out on the fringes of Criticwatch for a while. Three previous spots on the Top 10, but never rising above the sixth spot, Allen has always been a reliable whore (especially for Warner Bros.) but has been a once or twice a month virus. 2008 he made it impossible for us to ignore him any further. And it took only a single word for us to sit up and say that this guy is in a gots-to-go situation. The word was "ever," a popular one that a whore can slip into a phrasing in order to draw attention to himself. As in, "one of the greatest films ever made" to describe I Am Legend. No, Allen never said that – despite it being a Warner Bros. film and all. No, no. This year, 7 of Allen's 15 quotes did come from the WB/New Line department, but its one of the two he provided for the Weinsteins that made him standout.

The Quote: "Perhaps the best buddy picture ever!"
The Movie: Soul Men

I don't care if he peppered it with "perhaps", Soul Men wasn't even the best buddy picture released that WEEK (Role Models). Hell, The Boy in the Striped Pajamas was a better buddy picture. Why are we even talking about what was better though? They ALL were. The more appropriate quote would have been "Perhaps the WORST buddy picture ever!" I could at least get behind that "perhaps" since it would take a few moments of discussion with respected colleagues to come up with films of that ilk worse than Soul Men. Best? Easy. Butch Cassidy and the Sundance Kid, Midnight Run, Lethal Weapon. Try it, it's fun. Use your brain the way Mark S. Allen doesn't.

Soul Men isn't the sole reason Mark Shitforbrains Allen is this year's Whore of the Year, although it certainly gave him a leg up. Other than Ben Lyons, he was the only other whore to get his own exclusive feature on him (Mark S. Allen – Don't You Have A Soul?), he called the X-Files sequel, a film that featured women getting abducted by gay organ thieves, one of whom was the victim of priest molestation – "Sexy" – and, do we really need another reason? He's the whore of the year. First we offer you his 15 quotes, culminating with a trifecta for Fox, and then a recap of Mark S. Allen's sins over the years


Will Ferrellicious! You'll laugh so hard you'll dribble. (Semi-Pro)
Funny and smart. Steve Carell brings it! (Get Smart)
The rare blend of hilarious and hot. (Made of Honor)
Everything a romantic comedy should be! (Fool's Gold)
The best date movie of the summer! (Sex and the City)
Fun and Hysterical! Zack and Miri is the best date movie of the season. (Zack and Miri Make a Porno)
The perfect family film. The most loveable movie this season. (Marley and Me)
This fall's must-see film! Beautiful, breathtaking and fascinating throughout. (The Duchess)
Amazing, remarkable chemistry and better than the original! (The Sisterhood of the Traveling Pants 2)
Epic. Glorious. Unforgettable. (Australia)
Spectacular! Visually stunning. It will blow your mind. (Speed Racer)
Amazing! Mind-blowing! (The Day the Earth Stood Still)
Thrilling. Smart. Sexy. Chiling, engaging. You'll be feeling this film long after you leave the theater. (The X-Files: I Want To Believe)
The most explosive cop drama in years. Brilliant in every way. (Pride and Glory)
Hysterical! Bernie Mac is at his absolute best! Perhaps the best buddy picture ever! (Soul Men)

MARK S. ALLEN – A RETROSPECTIVE
(2008) Fool's Gold - Everything a romantic comedy should be!
(2008) Zack and Miri Make a Porno - Zack and Miri is the best date movie of the season.
(2008) Sex and the City - The best date movie of the summer!
(2003) Alex and Emma – …the perfect summer date movie.
(2006) Trust the Man - The perfect date movie.
(2003) The Rundown – The Rundown is quite possibly the first perfect action movie!
(2003) S.W.A.T. – Intense, intelligent & the perfect cast!
(2003) Charlie's Angels: Full Throttle – The perfect mix of sexy-funny-rock-the-house action!
(2004) Harry Potter and the Prisoner of Azkaban - An awesome example of movie perfection
(2005) Herbie: Fully Loaded - Perfect family comedy.
(2008) Marley and Me- The perfect family film!
(2007) Mr. Magorium's Wonder Emporium - The perfect holiday film!

(2003) Dreamcatcher – Every bit the genius you would expect from Stephen King and Lawrence Kasdan
(2006) The Night Listener - Robin Williams is at his best.
(2003) The Haunted Mansion – Eddie Murphy at his best!
(2003) Hollywood Homicide – Harrison Ford is at his best
(2006) Firewall - Awesome! Harrison Ford at his best.
(2003) A Man Apart – Non-stop explosive action!
(2004) National Treasure - Thrilling and jam-packed with edge-of-your-seat action!
(2004) Spongebob Squarepants: The Movie - Over the top-under the sea action and non-stop laughs.
(2005) The Dukes of Hazzard - It's out-of-control action and laughs.

(2004) Mean Girls - Fall on the floor funny and the most honest slice of high school since Fast Times at Ridgemont High
(2004) The Girl Next Door – This season's best comedy. Funny and charismatic. Risky Business Meets American Pie
(2004) Anchorman - Side-splitting, gut-busting laughs. The movie you'll be quoting for the rest of the summer. The funniest movie you'll see this summer!
(2006) You, Me and Dupree - The funniest movie you'll see this summer!

(2006) Superman Returns - Undoubtedly one of the best movies you'll see this summer!
(2006) The Prestige - This season's most thrilling movie!
(2005) Because of Winn-Dixie – The best family film of the season!
(2007) August Rush - The feel-good movie of the season!
(2007) P.S. I Love You - Funny, thoughtful and the most heart-felt movie you'll see this season!
(2006) Unaccompanied Minors - Hysterical and heartwarming

(2008) Zack and Miri Make a Porno - Fun and Hysterical!
(2008) Get Smart - Funny and smart. Steve Carell brings it!
(2003) Alex and Emma – Funny, sexy & smart
(2006) Trust the Man - Smart, funny and refreshing!
(2004) The Princess Diaries 2 - Funny, fun and fabulous!!
(2005) Mr. & Mrs. Smith - Very hot! Thrilling and totally [br]satisfying! Like its stars, the movie is flawless and fabulous! The most sizzle you'll see this summer!
(2005) Herbie: Fully Loaded - Herbie is hot and fully entertaining!
(2008) Made of Honor - The rare blend of hilarious and hot.

(2008) Australia- Epic. Glorious. Unforgettable.
(2007) Pirates of the Caribbean: At World's End - Epic and amazing! Awesome!
(2007) 300 - An epic and awesome experience.
(2003) The Matrix Reloaded – Awesome
(2004) Harry Potter and the Prisoner of Azkaban - An awesome example of movie perfection
(2003) The Rundown – Awesome, fun, funny…
(2006) Firewall - Awesome!
(2004) A Cinderella Story - Awesome.
(2005) Bad News Bears - Awesome! This summer's must-see!
(2006) Poseidon - Awesome! The most amazing images you'll see on the big screen this summer!
(2004) Scooby Doo 2: Monsters Unleashed - Zoinks, this movie is awesome!
(2004) Home on the Range - One of Disney's finest. Awesome for everyone!
(2007) Evan Almighty - Awesome fun for thy whole family! Elephant sized laughs! Divine! Thou shalt laugh a lot!

(2005) Chicken Little - You'll fall for Chicken Little!
(2004) The Alamo - This is The Alamo to remember!
(2004) A Cinderella Story - This is the Cinderella to remember.
(2004) The Princess Diaries 2 - Royally entertaining!
(2005) Constantine - One hell of a good time!
(2008) Semi-Pro - Will Ferrellicious! You'll laugh so hard you'll dribble.
(2006) The Shaggy Dog - Tim Allen shows his comedic pedigree!
(2007) Underdog - See this movie, do not fail! You will leave with a wagging tail!

(2003) Radio – Run, don't walk to this phenomenal film.
(2005) Chicken Little - Run! Don't wait! Like no other movie you've ever seen!
(2007) Surf's Up - One of the most original animated films ever.
(2008) Soul Men- Perhaps the best buddy picture ever!

(2005) Batman Begins - A masterpiece!
(2004) Harry Potter and the Prisoner of Azkaban - A masterpiece!
(2004) Sky Captain and the World of Tomorrow - A masterpiece
(2004) The Phantom of the Opera - A masterpiece!
(2004) The Village - Brilliant! A Masterpiece! [br]
(2004) Barbershop 2: Back In Business – …A comedic masterpiece that touches the heart.

(2007) Smokin' Aces - The most sophisticated, smartest, coolest action movie in years!
(2007) The Kingdom - The most riveting, provocative, engaging movie experience in years.
(Both Universal releases. Same year. One In January. The other in September.)

(2006) The Prestige - Amazing!
(2005) Sin City - Amazingly entertaining!
(2007) Pirates of the Caribbean: At World's End - The best Pirates yet!
(2003) Spy Kids 3-D: Game Over – The best Spy Kids movie yet!
(2004) Raise Your Voice - irresistible...best film yet...
(2003) What a Girl Wants – The best parent-daughter movie since The Parent Trap! (Which one, Mark?)
(2006) Ice Age: The Meltdown - Brilliant! Funny, action-packed and cooler than the first!
(2008) The Sisterhood of the Traveling Pants 2 - Amazing, remarkable chemistry and better than the original!
(2005) Miss Congeniality 2: Armed and Fabulous - Charming, funny and even better than the original

(2008) Pride and Glory - The most explosive cop drama in years. Brilliant in every way.
(2004) Lemony Snicket's A Series Of Unfortunate Events - Enchanting in every way! Diabolically hilarious.
(2004) The Polar Express - The most remarkable film you'll see for years to come.
(2005) Harry Potter and the Goblet of Fire - The most remarkable movie you'll see this year.
(2005) Sin City - Remarkable in every way!
(2003) Matchstick Men – One of the best movies in years! Remarkable and award-worthy in every way.
(2004) The Phantom of the Opera - Visually breathtaking and stunning in every way.
(2008) Speed Racer - Spectacular! Visually stunning. It will blow your mind.
(2005) The Hitchhiker's Guide to the Galaxy - Mind-blowingly brilliant!
(2008) The Day the Earth Stood Still- Amazing! Mind-blowing!
(2008) The Duchess - This fall's must-see film! Beautiful, breathtaking and fascinating throughout.
(2007) Meet the Robinsons – Exciting! Spectacular! Funny…and absolutely breathtaking from beginning to end!
(2003) The Rundown – Awesome, fun, funny with action sequences that will leave you breathless, but gasping for more.
(2003) Terminator 3: Rise of the Machines – Leaves you gasping for more! See this one again and again!
(2003) Charlie's Angels: Full Throttle –You will see this again and again!

(2003) Beyond Borders – The most powerful and compelling film you will see this year.
(2007) The Kingdom - …a movie that will grab you, lock you in and not let go till the credits end.
(2007) Premonition - You'll be talking about it long after the end credits…
(2008) The X-Files: I Want To Believe - You'll be feeling this film long after you leave the theater.
(2006) Blood Diamond - An extraordinary film that will leave you changed.
(2006) The Holiday - You will fall in love with this movie.
(2004) The Polar Express - Your heart will soar and you will believe.
(2007) August Rush - Your heart will be singing and your spirit will soar!

(2007) Disturbia - Intense, smart and very cool!
(2003) Identity – An instant classic. The most unique, intense, satisfying film this year!
(2003) S.W.A.T. – Intense, intelligent & the perfect cast!
(2006) Firewall - Intelligent! Satisfying!
(2007) Premonition - Intelligent, thought provoking and intense beyond measure.
(2004) Twisted - Suspense and intrigue beyond your wildest dreams!

(2003) Matchstick Men – Very funny and relentlessly suspenseful!
(2006) Firewall - Intense and relentlessly suspenseful!
(2005) The Hitchhiker's Guide to the Galaxy - Fascinating, funny and relentlessly awe-inspiring.
(2005) The Cave - Not since Alien has a movie held an audience in such relentless suspense and shock!
(2003) Dickie Roberts: Former Child Star - Relentlessly funny and full of surprises!
(2006) You, Me and Dupree - Funny, charming and relentlessly honest!




FIVE TO WATCH IN 2008



TED BAEHR
Once famously part of the leaders of the protest of Martin Scorsese's The Last Temptation of Christ, DOCTOR Ted Baehr came to found Movieguide.org (http://www.movieguide.org/), part of Good News Communications. Their mission statement is to "redeem the values of the mass media according to biblical principles by influencing media executives to adopt higher standards imbued with Christian and traditional family values, and by informing and equipping moral people in America and around the world, especially parents, families and Christians, to make wise media choices based on the biblical worldview." That's a mouthful, ain't it? Want some scripture to go along with that?

"To commend those who do right. . ." (1 Peter 2:14); and, "to expose. . . the fruitless deeds of darkness. . ." (Ephesians 5:11). Finally, brothers, whatever is true, whatever is noble, whatever is right, whatever is pure, whatever is lovely, whatever is admirable -- if anything is excellent or praiseworthy -- think about such things." (Phil. 4:8).

All from the Movieguide website. You have to love a bio that states Baehr is "armed" with over 20 years of research. Plus, what would a religious-based website be without a double-standard rating system. On the one hand you have the traditional 1-to-4 star rating (from Poor to Excellent.) But then you have the one that really stands out:

+4 EXEMPLARY: Biblical, usually Christian, worldview, with no questionable elements whatsoever.
+3 MORAL: Some minor questionable elements.
+2 GOOD: Moderately questionable elements.
+1 WHOLESOME: Discernment required for young children.
-1 CAUTION: Discretion advised for older children.
-2 EXTREME CAUTION: Discretion advised for adults.
-3 EXCESSIVE: Excessive sex, violence, immorality, and/or worldview problems.
-4 ABHORRENT: Intentional blasphemy, evil, gross immorality, falsehood, evil worldviews, and/or destructive, horrendous worldview problems.

Now, if I were a parent I wouldn't mind seeking out some advice on what films might be good to take my children to. Especially with a movie like Marley and Me, which while I enjoyed, is not just the cute and rambunctious doggie movie the ads make it out to be. But as I've stated in the past, I'd much rather go to Jim Judy's ScreenIt or Nell Minow, The Movie Mom, for such opinions. I may not always agree with their critical assessments but at least I'm not feeling the weight of thousand of years of religious hypocrisy shoved down my throat. Example: Gus Van Sant's Milk, despite getting the highest 4-star rating at Movieguide, it also gets the lowest moral rating of "ABHORRENT." Now why would you ever trust a movie critic like that? Particularly one that states Frost/Nixon is "Boring and Tedious" while The Day the Earth Stood Still is "Exciting, Emotional, Intriguing"? Here is where Movieguide expanded with quotes in 2008.

Family fun! (Igor)
Funny & heartwarming. A winning combination. (Meet Dave)
Entertaining, heartfelt and funny. One of the best movies of the year! (The Longshots)
A fantastic epic adventure. A very exciting, fantastic epic that re-imagines the book's story. (The Chronicles of Narnia: Prince Caspian)
Heroic. Thrilling. (10,000 B.C.)


RAFER GUZMAN
Newsday certainly sounds like a legitimate outlet, doesn't it? I'm sure at one time someone said the same thing about Rolling Stone Magazine. Kinda sounds like Newsweek, right? David Ansen is their movie critic. Newsday has Rafer Guzman. His bio at the site reads:

"Rafer Guzman has covered pop music for Newsday since 2002. He also writes a weekly column, "With The Band," that focuses on artists and events in Long Island's local music scene. Before coming to Newsday, he covered travel and tourism at The Wall Street Journal. He has also written for Rolling Stone, The San Francisco Bay Guardian and the dearly departed Option magazine. Rafer earned a master's degree in journalism from Columbia University and a bachelor's degree in English literature from U.C. Berkeley."

Did I miss the words "film" or "movie" in there? Another critic transplant from another medium or beat? 16 quotes in 2008. I don't know, just something says he's a little too loose with his praise. Something he learned over at Rolling Stone, perhaps?

***1/2 (The Boy in the Striped Pajamas)
***1/2 (JCVD)
***1/2! Thoroughly entertaining! Think Dangerous Liaisons…filled with down-and-dirty lovemaking and harrowing psychodrama! (The Last Mistress)
***1/2 Fast, lively and packed with sharp performances – this is how true-life movies should be done. (Cadillac Records)

A fast moving, brain teasing mystery. (Roman de Gare)
****! Illuminating and unflinching! (Standard Operating Procedure)
Plenty of eye-popping moments! (The Forbidden Kingdom)
Crackling entertainment. (Death Race)

An unforgettable experience. (Blindness)
Flash of Genius is inspirational. (Flash of Genius)
Smart, funny, and poignant! (The Wackness)
A smart, charming, sports-themed romantic comedy. Leatherheads has an irresistible charm and intelligence. (Leatherheads)
A clever summer comedy. (Swing Vote)
Easily the summer's best comedy. (Tropic Thunder)
Hilarious! No one makes movies like Joel and Ethan Coen. (Burn After Reading)
Flat-out hilarious. Sandler's funniest film in years. (You Don't Mess with the Zohan)


SCOTT HOFFMAN
Every time I hear the name of Hoffman's website, MoviePictureFilm.com, the first thing I think of is MurderDeathKill from Demolition Man. Coincidence? When Lions Gate first began throwing up quotes for their Spirit ads, they were taking a cue from Disney this year when the commercials for College Road Trip stated "One fun ride. Hilarious. Heartwarming. The first must see comedy of 2008" while no name was attributed to them. That's taking the David Manning experiment to another level. Alas though a name did eventually find its way to "Brilliant! Jaw dropping! One of the best films of the year! It will blow you away." (http://moviepicturefilm.com/index.php?itemid=2051) prompting one of my colleagues to state that he was at least right about the "it will blow" part of his review. Speaking of which, there only appear to be four of them at the site for 2008 theatrical releases and that's a loose term to describe them. None of them are for Scott's two other quotes this year for Sex Drive and Cadillac Records. Glad to know this guy got an invite when most of the Chicago Film Critics Association couldn't be early enough to give a quote, let alone write a review. By now you know a true whore's definition. Just spouting superlatives with no review to back it up grants you instant whore status. Hoffman did manage to write a review for The Spirit working in his choice adjectives and phrases.

- "It's over the top, off and the wall and brilliant. Most people will just not understand it."
- "Full of jaw dropping moments, including Sam Jackson in a nazi uniform"
- "Not your average superhero film- but something much, much more special and unique, "The Spirit" is one of the best films of the year."
- "Go in expecting a fun, uncommonly stimulating action movie full of, you guessed it, spirit- and in turn it will blow you away."

That's about a sixth of his 445-word coverage of The Spirit. Think he wrote it before he gave the superlatives to the studio or afterwards and found a way to pigeonhole them in after he saw the ads and linked it to his blog? Putting the lame Sex Drive in the same sentence with Superbad is awful enough, but closing out his brief run with all this Spirit shenanigans earns Scott Hoffman a place on the Watch list for 2009.

The Superbad of 2008! (Sex Drive)
A sensational end-of-the-year surprise! (Cadillac Records)
Brilliant! Jaw dropping! One of the best films of the year! It will blow you away. (The Spirit)




SANDY KENYON


Kenyon was an easy one to dismiss early on – even after we discovered the Sandy who recommended Sex and the City was a man and not a woman. But after only two quotes the entire year, MR. Kenyon got another two the weekend of Nov. 7 for Madagascar Deux and the wretched Soul Men. He backed up those less-than-stellar recommendations with another pair of quotes for Oscar contenders Doubt and The Reader. Nice try. But Doubt ain't no masterpiece, The Reader isn't one of the best pictures of the year, no respectable male (or anyone with mere good taste) loved Sex and the City and Soul Men was most definitely NOT the one comedy we needed to see this fall. Particularly when Role Models opened the very same weekend. It's enough to put him on watch for 2009.

One of the best pictures of the year! (The Reader)
A masterpiece in every sense of the word. Great acting combines with great writing and great directing to create a triumph. (Doubt)
Great family fun. Hilarious! (Madagascar: Escape 2 Africa)
Intriguing…Fascinating. (Bloodline)
You will love this movie! (Sex and the City)
Hilarious! The one comedy you must see this fall. (Soul Men)




BRAD MISKA / BLOODY-DISGUSTING.COM


When The Boston Herald's Stephen Schaefer called out Bloody-Disgusting.com for getting quoted on the ads for The Ruins (one of many films not screened for critics this year), Miska fought back, citing excuses about "test" screenings and Schaefer not knowing how the industry works. Miska also left out the part about sucking up to any studio that lets you see a movie early, even if it's below-par. When it came to the 26th movie not screened for critics this year, Quarantine, Miska was quoted as saying it was "Quite possibly the best horror film this year. It's terrifying and frightening!" To which I wrote:

"Holy SHIT! Terrifying AND frightening! No one can be scared at such two distinct speeds at the same time. How will we survive? Just reading it you'll end up like Gael Garcia Bernal in Blindness. (No, not in a bad movie.) I have to admit though, I haven't seen Quarantine yet. (You know why, because they DIDN'T SCREEN IT FOR CRITICS!!!) But I will sometime this week. Do I really need to though? I've already seen [Rec], the (somewhat overrated) Spanish horror flick that the film is a straight remake of. Considering they seem to be using many of the exact same shots in the trailer, including (unforgivably) seemingly giving away the ending, what could they have possibly done with the new version that would make it the best horror film this year? I highly doubt that Mr. Miska, horror aficionado that he is hadn't seen the original. Of course he has. Here's his review. "One of the best Spanish horror films in recent memory." Back to the seemingly shot-for-shot remake though, it's funny that Miska actually dissed The Strangers earlier this year by saying "The real problem is that there's absolutely nothing original here and it's obvious they tried to take what works and recycle it." Isn't that what Quarantine does? Or is it just a little easier to stand out with praise when you're one of the select few being invited?"

I eventually did get around to seeing Quarantine and I'll admit it was no worse or no better than the film it was remaking. But the best horror film this year? Admittedly, not a lot of choices in the theatrical department this year. But to say Quarantine, a near shot-by-shot remake of a film, was better than Cloverfield, The Strangers or the year's best horror entry, George A. Romero's Diary of the Dead (Heck, even The Dark Knight was more frightening) is a bit nutty. And I don't know if I'm going to listen to a critic or a website that got quoted for FOUR films that the studio didn't even have enough faith in to show to critics. That's more than Earl Dittman ever did in a calendar year. OK, Rambo kicked ass and sometimes Lions Gate isn't aware of what they have (as seen with Crank and yet screening Good Luck Chuck and The Spirit.) Still though – The Ruins, Quarantine and Pathology? Watch those three back-to-back and tell me how far you can trust them? Plus we have a Mark S. Allen-esque alert here as Miska called the decent, but wholly unspectacular Timecrimes as "Probably one of the best time travel movies of all time." Yeah, no. Tell me Timecrimes is better than Back to the Future to my face and you'll draw back a smack for being stupid. Timecrimes? Better than Time Bandits, Star Trek IV, 12 Monkeys, the Back to the Future sequels? Even films that kinda utilize it like The Terminator series, Pleasantville or Groundhog Day. You want to put Timecrimes up there with those? Sorry guys, we're not buying it or these quotes.

Rambo is back with a vengeance! (Rambo)
Guaranteed to make you squirm and scream. (Teeth)
Intense, Disturbing, and gut-wrenching. (The Ruins)
A fun-filled ride! Destined to become a cult classic! (Pathology)
Quite possibly the best horror film this year. It's terrifying and frightening! (Quarantine)
Probably one of the best time travel movies of all time. Truly a gem to behold. (Timecrimes)

(EDITORIAL UPDATE: According to Brad Miska who got in touch - "Rambo isn't my quote and I even e-mailed Lionsgate and asked them to stop using it. Apparently it was Arrowinthehead.com's quote and it was supposed to be corrected when the DVDs went to print." Also we will be doing a full interview with Mr. Miska soon so stay tuned.)


THE MICHAEL MEDVED "BAG OF DOUCHE" AWARD
LOU LUMENICK

Pete Hammond, Ben Lyons, Rod Blagojevich. A lot of D-Bags strutted their stuff in 2008. Turns out, ol' Blagojevich may have only committed the second greatest crime regarding a certain seat and the Chicagoan currently sitting in it.

After spending eight days in Toronto for the annual film festival, I don't know which was odder. The fact that New York Post Lou Lumenick took to whacking Roger Ebert in the middle of a press screening or that it took most of us some five days to hear about it. I had a lot of close colleagues at the festival. Some of them were AT that screening. Surely, by even some six degrees of separation someone would have said something to someone and I wouldn't have had to hear about it through Rush & Molloy. But it did happen and in case YOU didn't hear, let me give you a quick refresher.

At a screening for Danny Boyle's Slumdog Millionaire, Mr. Lumenick felt a tap-tap-tappin' on his shoulder to which he responded "Don't touch me!" Along came another tappity-tap-tap followed by a stern "I said – don't touch me!" When a third tap was administered, Lumenick apparently jumped up from his aisle seat and smacked the perpetrator on the knee in retaliation. As I've already spoiled the surprise ending as to who the tapper was, there are probably still any number of thoughts leaping to your mind. Why was Ebert bothering this poor critic just trying to do his job? Why didn't Lumenick just punch Ebert in his surgically-repaired jaw instead of giving him a lovetap on the knee?

Or maybe you're contemplating what you would have done had you been in the vicinity? If you knew all the facts and saw it all go down would you have leapt up from your own seat, acted as Roger's voice and started beating Lumenick the Chicago way? Roger has his own voice though, as he always has, with the written word and doesn't need our help to administer justice on some inconsiderate East Coaster. Ebert has gone the Obama route on the whole matter, trying to defuse the situation before a bigger deal is made of it. You can read his response HERE. If you're looking for Lumenick's, you're not going to find one. At least not yet. But maybe never. You see, not-so-sweet Lou is what we call a damned position. If he do, if he don't, the window has passed for a public apology. We know why Roger was tapping him, as he had more reason than most to be bothered by an obstructed view of a film subtitled for at least two-thirds of its running time. But there's a greater question that speaks to Lumenick's sense of general decency of humanistic qualities then why he would hit a respected colleague, no matter the condition he was in. With the spirit of Danny Boyle's brilliant film in mind, I'll pose the question to you now

When you are tapped on the shoulder, wherever it may be, your first instinct is to:

A) Say "Don't touch me!"
B) Ignore the tapper completely.
C) Break their finger like Alec Baldwin in Miami Blues
D) Turn around to see why you are being tapped.

If you answered "A", "B" or "C" then you are a major asshole. If you correctly answered "D" then congratulations, you are in line with 99.99999999999999% of the world's population. Maybe Lumenick was the victim of one too many tap-switcheroos in his time. (You know the game. Playfully tap someone on one shoulder, move out of their sightline until they realize the tapper is now on their other side.) Or maybe Lumenick is the kind of asshole many of us critics encounter on the festival circuit. Sense of entitlement. Inconsiderate to others whether it be through constant checking of their bright mobile devices, talking out loud during the movie or leaning so far over to one's side that its impossible for the person behind you to see a damn thing. "Don't touch me" is what a child might say. Anyone familiar with Bill Cosby's standup knows this. And anyone familiar with Criticwatch knows that we started handing out Bag O'Douche awards for a reason. It may only be September, but Lumenick is well out in front. Nothing short of Pete Hammond setting fire to a puppy factory or Shawn Edwards pissing on Pauline Kael's grave will be able to save him. Of course I guess it all depends on how many episodes the new incarnation of At the Movies airs.

Not enough apparently. This year's Bag O'Douche goes to Lou Lumenick.

THE BEN LYONS "NEW GENERATION" WHORE AWARD
MANNY "THE MOVIE GUY" DELA ROSA

Man, did we have some fun discovering Manny "The Movie Guy" this year. And when we decided to introduce the new Ben Lyons "New Generation" Award, given to a young critic who shows no discernable ability for film criticism as well as a promising future in blurbing the hell out of crap, Manny ended up going toe-to-toe with Scott Hoffman. Aside from their websites being frighteningly similar, they both managed to get a trifecta of quotes in 2008. Manny was quoted on some serious crap though. Plus when you compare their outputs, Manny is way more out there and committed. Lets revisit what we wrote about him a few months back as we celebrate Manny De la Rosa is the inaugural recipient of the Ben Lyons New Generation Whore Award.

A thrill-a-minute action adventure. Jason Statham is Hollywood's new action hero. (Death Race)
A timeless triumph of love. (Nights in Rodanthe)
You'll howl with laughter! (Beverly Hills Chihuahua)

Doing Criticwatch offers me up few pleasures. It's often depressing and always infuriating to know that film criticism has been infected with such whore spores, substituting actual thought for the same ol' blurbs often written directly by studio publicists and handed down for these empty craniums to plaster their names all over. Back in August though, the name of Manny dela Rosa popped up on our radar, delivering this quote on Death Race:



"Jason Statham is Hollywood's new action hero."



Yeah, the man who debuted as an action hero with The Transporter back in 2002 was now "new" with Death Race. It wasn't even his first action movie of 2008 (In the Name of the King: A Dungeon Siege Tale, The Bank Job) but it did turn out to be Manny's first quote of the year. There he was again popping up on Nights in Rodanthe calling it "a timeless triumph of love." But it was the next week that caught my interest when someone was telling us that we will "howl with laughter" at Beverly Hills Chihuahua. Now, on the radio I've had the moniker of Erik the Movieman. My colleague, Peter Sobczynski, is known on the air as Pete the Movie Guy. In the whore world there's already Chuck Thomas who refers to himself as "The Movie Guy". So who in the hell, pray tell, is this MANNY THE MOVIE GUY?

Could it be? Is it possible? There aren't two guys named Manny sullying up the world of criticism, right? Didn't take much research to find out, either. You see, unlike a lot of quote whores who fly under the radar, maybe (MAYBE) seen on a local news outlet but usually hiding out with the kind of anonymity that doesn't mesh with their insistence on getting their name on a movie ad, Manny "The Movie Guy" dela Rosa has his own website. And if you don't fall in love with this guy immediately, you have no soul.

Not literally. I don't expect you to go to this guy for your movie info. I'm talking love in the way that political comics love Dubya or Sarah Palin and the moron-speak they project when making their points. Every moronic syllable out of their mouths is comic gold and Manny the Movie Guy is no exception. "It's about two unhappy people brought together by a STORM!" He doesn't give out stars. He gives out kisses. You want your Ed Wood/Orson Welles moment? Check out his priceless interview with Tommy Lee Jones over the ending of No Country for Old Men and how TLJ looks like he just wants to slap him at the end.

"I think this ending will be one of the most debatable ending this year at least in cinema history."

Do you have hope after watching that for the state of film criticism? The contingent of Criticwatch readers who still don't understand the difference between a whore and someone who just had poor taste in film, all you need to do is go back to Manny's review of Death Race. Apart from him just discovering Jason Statham, he called it "a thrill-a-minute action adventure." While a separate investigation needs to be done on what constitutes "action-packed" as that would imply (or Todd McCarthy from Variety contending that this weekend's Body of Lies features "a shootout, chase or big explosion every 10 minutes or so", which it most certainly does not after the first half-hour – or so), Manny's words are quite clear. A…THRILL…A…MINUTE. Now before we begin contemplating Manny getting all excited for the expository scenes or Joan Allen swearing, all you have to do is watch his video review of Death Race to see how full of shit this guy really is.



"The first half of this movie is BORING and predictable."



You don't have to be a second grade level of mathematics to piece that together, but allow me to craft a formula for the next SAT test. If you have a 105-minute movie traveling along at 24 frames per second and the first 52 minutes and 30 seconds are boring AND predictable, then how in the shit do you qualify it as "A THRILL A MINUTE!!!" Manny needs to jump on that train running the other direction into the Clint Eastwood ravine. Got anything to say, Mr. Kisses?

"I give studios quotes right after watching an upcoming film. Some of my quotes are half-hearted but they're all coming from my heart -- I stand by each and everyone of them!...I was proud EVEN THOUGH Universal used my real name, and not my affable moniker, Manny the Movie Guy! Oh well, at least my name's out there, and it made my mommy happy. I said, "Death Race" is a thrill-a-minute action adventure, and Jason Statham is Hollywood's new action hero. And guess what? I truly meant those words, and oh yeah, they were not half-heartedly written"

Except they were, Manny. Maybe not the half that was boring and predictable, but half-hearted to say the least. You want to like crap like Death Race, be our guest. But make sure you qualify your words. You can't be like Toni Senecal on this week's At the Movies Critic's Round-Up and say you "really, really liked" Nick and Norah's Infinite Playlist and then give it a "Rent It." If you want us to believe that you really did "write" those words about Death Race and didn't have a studio publicist do it for you, then be a little more careful about what you say in your video reviews. Or better yet, just shut up completely and kiss off. I'm sure your mother is really proud.

And now a final recap of the year in quotes.
DISCLAIMER: Just because a film or a quote is listed here doesn't automatically qualify it for ridicule. As always Criticwatch uses quotes from respected critics and films to differentiate between the legitimate and the pathetic excuses for critics.



REMIND ME AGAIN…


Miss Jolie shows why she is one of the great actresses of her generation… (Changeling) - Jeffrey Lyons
The Lucky Ones offers a reminder of what a great young actress we have in Rachel McAdams. (The Lucky Ones) – Patrick Goldstein, Los Angeles Times
Frances McDormand reminds us why she's an Oscar winner! (Miss Pettigrew Lives for a Day) – Mark McGarry, Life and Style
Stallone proves again why he's a legend. (Rambo) – JoBlo.com

Reminded me of the kind of filmmaking Billy Wilder, Stanley Kubrick have done in the past. Recalls movies Dr. Strangelove and Wag the Dog. (War, Inc.) - Pete Hammond
A reminder of the mighty power of cinema. (City of Men) – Jeff Craig
This is a film that reminds you why you love movies. (Brick Lane) - Kirk Honeycutt, The Hollywood Reporter
This is why you go to the movies! (Valkyrie) – Doug Meehan, FOX-TV
This is what going to the movies is all about. (Cloverfield) – Ben Lyons
You'll laugh. You'll cry. You'll remember why you loved going to the movies. (Australia) – Lauren Sanchez, Good Day L.A. KTTV


PERFECT IS THE ENEMY OF THE GOOD
I believe Voltaire speaks for himself.

Perfectly cast and skillfully directed. (Caramel) – Maria Gareia, Film Journal International
A comedy that's smart, funny and perfectly cast. (Swing Vote) - Leonard Maltin
His leading actors are absolutely perfect. (A Thousand Years of Good Prayers) - Leonard Maltin
The performances are perfect! (Roman de Gare) - Jeffrey Lyons
Perfectly played… (Flashbacks of a Fool) – Sky Movie
Richard Gere and Diane Lane have perfect chemistry. (Nights in Rodanthe) - Leonard Maltin

Amy Adams gives a perfect performance! (Miss Pettigrew Lives for a Day) - Steve Oldfield
Colin Firth is perfect. (When Did You Last See Your Father?) - Pete Hammond
Jack Black is perfect! (Kung Fu Panda) - Leonard Maltin
DeNiro is perfect (What Just Happened?) - Jeffrey Lyons
Steve Carell is perfect. (Get Smart) - Bill Bregoli
Kevin Costner is the perfect movie star. (Swing Vote) – Glenn Whipp

Kevin Costner is pitch-perfect... (Swing Vote) - Pete Hammond
A pitch-perfect sendup of Hollywood with a marvelous cast. (What Just Happened?) – Peter Rainer, Christian Science Monitor
***** Pitch-perfect… (Momma's Man) - David Fear, Time Out New York
Pitch perfect, smart and moving. (Humboldt County) – Mark Savlov, Austin Chronicle
Pitch-perfect. (Smart People) - Paul Fischer
Pitch-perfect...Goes for the jugular! (Nobel Son) - Peter Travers

Near perfect. (The Edge of Heaven) – Steven Rea
Comes close to perfection (The Edge of Heaven) - Ann Hornaday
Has executed each moment to perfection. (A Thousand Years of Good Prayers) Kim Voynar, Cinematical
Catherine Keener is perfection. (Hamlet 2) - Pete Hammond
Abigail Breslin is spunky perfection. (Kit Kittredge: An American Girl) - Lou Lumenick
Rickman is droll, dazzling perfection. (Bottle Shock) - Peter Travers
Sex and the City is absolute perfection. (Sex and the City) - Sandie Newton

The perfect way to kick off the summer! (Kung Fu Panda) - Jeffrey Lyons
The perfect start to the summer. (Iron Man) - Christy Lemire
The perfect summer movie. (Get Smart) – David Viggiano, FOX-TV
Existentialism and carnal desire; the perfect antidotes to summer heat. (Elegy) – New York Magazine
The perfect holiday film. (Bolt) – Pete Hammond
The perfect holiday treat! (Four Christmases) – Shawn Edwards
The perfect Christmas movie for those that hate Christmas movies. (A Christmas Tale) – Lou Lumenick

Perfect for all ages. (The Chronicles of Narnia: Prince Caspian) - Pete Hammond
Perfect family fun! (Bedtime Stories) – Rachel Smith, FOX-TV/Las Vegas
The perfect family film. (Marley and Me) - Mark S. Allen
This is the perfect family movie. (College Road Trip) - Bryan Erdy

One of the most beautiful things you are likely to see on film. Clearly the best movie of the year so far, the only one this year I've considered a perfect 10. (Man On Wire) - Edward Douglas
A perfect 10. (Chicago 10) – Sara Cardace, New York Magazine
On a scale of 1 to 10, I give it a 10. (A Previous Engagement) – Gloria Cianelli, Shallwedine.com
This is a 10! (Over Her Dead Body) - Luis Munoz, CBS-San Antonio/KENS-TV

Perfect! (Choose Connor) – Las Vegas City Life
The perfect thriller. (Tell No One) – Cosmo Landesman, The Sunday Times (UK)
A perfect date movie! (Shelter) - John Hartl
The perfect date movie (Twilight) - Kevin Steincross
Elegant, tight and brilliant with no loose ends – a perfect film. (Timecrimes) – Harry Knowles, AICN
…it is just about as perfect as a film predicated on the joys of projective vomiting and explosive diarrhea can be. (Poultrygeist: Night of the Chicken Dead) - Nathan Lee


BAWLING AWAY LIKE A TWIST
Think Ben Lyons knows what film that's from?

Funny, twisted and immensely entertaining. (Choke) – FilmSchoolRejects.com
Sick. Twisted. Disturbing. (The Happening) - Ben Lyons
**** Uniquely twisted. (Mister Foe) – David Fear
One of those rare films that's both smart and twisted! (Pathology) – John Campea, The Movie Blog

A smart, funny twist on Beauty and the Beast. Adorable. (Penelope) – David Germain
…A surprising, dark twist that packs quite a mean punch. (Tre) – Caroline Stanley, Gen Art Pulse
The two best actors alive at the top of their games, with a twist at the end that will blow you away. ****! (Righteous Kill) - Larry King
A relentless suspense thriller with a jaw-dropping twist that will leave you on the edge of your seat. (Traitor) - Pete Hammond
Scully & Mulder are back with plenty of action and plot twists to satisfy. (The X-Files: I Want To Believe) – John Donnelly, KRIV-TV, Houston
Boldly sardonic. More twists than a designer pretzel. (Nobel Son) - Variety


DID YOU HEAR ABOUT THE NEW RIDE?
Mom, I wanted to go to Six Flags, not a Paul W.S. Anderson movie!

An enjoyable ride. (Burn After Reading) – Bradley Jacobs
A shamefully enjoyable ride. (Australia) – Ann Hornaday
You're in for a helluva ride. (What We Do Is Secret) - Film Threat
A ride to remember! (Paranoid Park) – David Wiegand, San Francisco Chronicle
What a ride! (Cloverfield) - Scott Mantz
A fun ride…with Bruce charm on full blast. (My Name Is Bruce) – AICN
A fun-filled ride! (Pathology) - Brad Miska
Street Kings is an arresting ride. (Street Kings) - Joe Neumeier
Bonneville's a sweet ride! (Bonneville) – Neil Cohen, Echo Magazine

A terrific roller-coaster ride! (Cloverfield) – Jane Horwitz, The Washington Post
This Journey is a roller-coaster ride – Hang on for a great time at the movies! (Journey to the Center of the Earth) - Pete Hammond
A thrilling roller coaster ride. (The Day the Earth Stood Still) – Paul Fischer

An off-the-rails thrill ride…. (Timecrimes) – Laura Kern, Film Comment
Eagle Eye is an action packed thrill ride that puts the pedal to the metal. (Eagle Eye) - Shawn Edwards
A full-throttle thrill ride. (Street Kings) – Chloe Houser, KPOX-TV
A full-on thrilling ride to hell and back! (Hell Ride) – Alex Billington, Firstshowing.net
A taut, tense and thrilling ride! (The Bank Job) - Dennis Dermody
Hold your breath. Vantage Point is a nonstop thrill ride! (Vantage Point) - Rex Reed
An unpredictable thrill ride! (Nobel Son) – Eli Cross, AICN
A high-octane, adrenaline fueled thrill ride. (Death Race) – Tim Estiloz, CN8 The Comcast Network


ONLY A GRINCH…
Can the Young@Heart chorus win hearts all over the world? Yes, they can-can. (Young@Heart) – James Verniere
The Secret Life of Bees has the intelligence, craftsmanship and heart to win over both critics and regular movie-goers. (The Secret Life of Bees) – James Berardinelli
Interested in the mysteries of the human heart. (The Pool) Sheri Linden, Hollywood Reporter
It's that rarest of things – a film about affairs of the heart that doesn't require you to check your brain in at the door. (Definitely, Maybe) – Wendy Ide, The Times
A delight for the eye, a thrill for the spine, a laugh for the belly, a message for the heart, a bonbon for children and a captivating pleasure for adults. (The Tale of Despereaux) – Gene Shalit

Hilariously funny! A big-hearted comedy. (Ghost Town) - Kyle Smith
Defiantly partisan and exuberantly big-hearted… (Saving Marriage) - Jeannette Catsoulis
A blissfully entertaining comedy with a lot of heart! (Miss Pettigrew Lives for a Day) - Scott Mantz
****! Filled with humor and heart. (A Thousand Years of Good Prayers) - Jeff Craig
Eddie Murphy is at his best in this very funny family comedy full of heart, wit and captivating fun. (Meet Dave) - Film Advisory Board
Penelope is a fun, modern-day fairy tale with a heart of gold. (Penelope) – Vee Vitanza, Hollywood Previews
A special film with a big heart. (The Secret Life of Bees) - Ben Lyons

Heartwarming! (Miss Pettigrew Lives for a Day) – Mark McGarry, Life and Style
A heartwarming, fish-out-of-water family comedy. (Breakfast with Scot) – James Rocchi
Funny & heartwarming. A winning combination. (Meet Dave) - Ted Baehr
Hilarious. Heartwarming. (College Road Trip) – NO ONE!!!

Rousing and heartbreaking. (Rachel Getting Married) - Dennis Dermody
It will break your heart! (Gardens of the Night) - AICN
Heartbreaking and poignant. (Flash of Genius) – Steven Rea

Rosemarie DeWitt is superb…and a heartfelt Bill Irwin. Hang on for an emotional powerhouse. (Rachel Getting Married) – Peter Travers
…A potently acted powerhouse that sticks in the mind and the heart. (Appaloosa) – Peter Travers
A different kind of thriller, one with a mind and heart. (Nothing But the Truth) – Peter Travers
The film takes us inside the minds and hearts of soldiers and is a powder keg with no agenda except the human one. It's the real deal. (Stop-Loss) – Peter Travers

…An impressive and affecting superhero adventure with as much heart and soul as sound and fury. (Hancock) – Joe Leydon
A remarkable and inspiring true story about a man with unbelievable grit, determination and heart. (Flash of Genius) – Pete Hammond
A winning mix of toughness and heart. (What Just Happened?) – Ann Hornaday
A movie with guts, content, laughs and heart. (War, Inc.) – Tim Robbins
Eastwood, at the peak of his artful powers, tightens the screws of suspense without ever forgetting where the heart of his film lies. (Changeling) – Peter Travers
It will touch you heart and take your breath away! (The Boy in the Striped Pajamas) - Bessie Tsionis, CN8, The Comcast Network
A wonderful film that will touch your heart and lift your spirits. (Last Chance Harvey) – Pete Hammond
Touches your heart. (Red Roses and Petrol) – Rebecca Redshaw, Hollywood Insider

Pulse-pounding. Heart-racing excitement from start to finish. Hands down the best suspense thriller of the year. (Valkyrie) – Pete Hammond
Magnificent. Heart-pounding, thrilling. Exquisite. (Australia) – Paul Fischer
A heartpounding thriller that keeps you guessing till the end. (88 Minutes) – James Thomas
Heart-stopping, knee-buckling and transcendant, (Man On Wire) - Carrie Rickey
Heart-stopping. Chilling. (Eagle Eye) - Chuck Thomas
The heart-stopping, extreme summer action movie of your dreams. (Wanted) – Pete Hammond

Brimming with humor and heart. (Milk) – Peter Travers
Like Juno – it's a movie with big laughs and a lot of heart. (Charlie Bartlett) - Rachel Smith
Hardcore hilarious and the movie also has a heart. (Pineapple Express) – Peter Travers
Big laughs with a lot of heart. (Drillbit Taylor) – Pete Hammond
More laughs, excitement and heart than any other comedy this year. (Bolt) – Pete Hammond

A heartfelt documentary. (Anita O'Day: The Life of a Jazz Singer) – Hilton Als, The New Yorker
A moving, clever, heartfelt examination of the marathon. (Spirit of the Marathon) – Jessica Reaves, Chicago Tribune
Mesmerizing…Deeply moving…Heartfelt. (Paranoid Park) – New York Magazine
Heartfelt and captivating. (Bonneville) - Prairie Miller
Entertaining, heartfelt and funny. (The Longshots) - Ted Baehr
The Visitor is a heartfelt human drama that sneaks up and floors you. (The Visitor) – Peter Travers
Searing, heartfelt and brutally honest (Pride and Glory) – Peter Travers
Hilarious! Heartfelt and achingly true. (Then She Found Me) – Peter Travers
Hilarious and heartfelt! (The Wackness) – Peter Travers
Heartfelt and hilarious! (Happy-Go-Lucky) – Peter Travers
The Dukes is a gem, hilarious and heartfelt… (The Dukes) – Peter Travers
Hilarious and heartfelt. (Vince Vaughn's Wild West Comedy Show) – John Black, BostonNOW


GENUINE PRAISE?
What does Pete Hammond and Shawn Edwards know about being genuine?

The year's first genuine must-see film. (The Visitor) - Ann Hornaday
A quiet genuineness and clarity rare these days in cinema. (Alice's House) – David D'Arcy, Screen International
A genuine holiday feast. (A Christmas Tale) – David Ansen
A genuine discovery. (Kabluey) – Stephen Farber
…genuine fun for the whole family. (Igor) - Pete Hammond
Plenty of genuine laugh-out-loud moments (My Name Is Bruce) – Papermag
A genuine heartfelt romance. (Nights in Rodanthe) - Rex Reed
It feels totally original and genuine. (Flash of Genius) - Ben Mankiewicz

The biggest pleasure is watching DeNiro deliver one of his most understated and genuinely affecting performances in recent years. (What Just Happened?) – Ann Hornaday
Genuinely funny! (Ghost Town) - Shawn Edwards
One of the most genuinely enjoyable films out of Australia in years. (The Black Balloon) – Megan Lehmann, The Hollywood Reporter
Genuinely enjoyable. The horror is expertly crafted and often very funny. One thing is certain: The man hasn't lost his ability to entertain. (The Happening) – Glenn Whipp
Smart, witty and genuinely human comedy…The entire cast is wonderful. (Actual Grammar - NY Times 07/06/08) (Diminished Capacity) - Pete Hammond

RARE GEMS
If there are so many, just how rare are they?

The Dukes is a gem (The Dukes) – Peter Travers
A gem. (OSS 117: Cairo, Nest of Spies) – William Arnold, Seattle Post-Intelligencer
A comic gem. (Smart People) - Paul Fischer
A completely adorable and satisfying gem of a comedy. (The House Bunny) - Paul Fischer
If you ever experienced the crushing effect of young love, you owe it to yourself to check out this gem. (The Wackness) Zack Haddad, Film Threat
An inspired deranged gem of a film! (Baghead) - Dennis Dermody
A real gem! (Year of the Fish)– Stan Glick, Asian Cult Cinema
Truly a gem to behold. (Timecrimes) – Brad Miska, BloodyDisgusting.com
A truly independent gem. (The Pool) Sheri Linden, Hollywood Reporter

Like The Lives of Others, I've Loved You So Long is that rare masterpiece of a film. (I've Loved You So Long) - Kim Voynar, Cinematical
It's that rarest of things – a film about affairs of the heart that doesn't require you to check your brain in at the door. (Definitely, Maybe) – Wendy Ide, The Times
A quiet genuineness and clarity rare these days in cinema. (Alice's House) – David D'Arcy, Screen International
…this is a rare spiritual journey. (Fugitive Pieces) - Jeffrey Lyons

It's the kind of movie I thought they didn't make anymore. (Ghost Town) – Leonard Maltin
Filmmaking of a type rarely seen anymore. (Frost/Nixon) – Kenneth Turan
This is the rare film that in visual and emotional scope lives up to the word epic. (Australia) – Richard Corliss
A rare satire with the danger left in… (War, Inc.) – Naomi Klein
…A rare comedy. (Run Fatboy Run) – Matt Zoller Seitz
The rarest of films. (Hounddog) – Gloria Steinem

A rare film that is equal parts entertaining, life-affirming and thought-provoking. (Happy-Go-Lucky) - Claudia Puig
Achieves that rare feat of delivering both the sort of movie you're supposed to see and one you'll enjoy. (City of Men) – Sara Cardace, Marie Claire
One of those rare films where one listens carefully to the dialogue as one laughs, weeps. (War, Inc.) – Gore Vidal
A rare feel-good movie that actually makes you feel good. (Slumdog Millionaire) - Scott Foundas
Get Smart is that rare action-comedy that delivers both thrills and chuckles. (Get Smart) – Jason Lynch)
One of those rare films that's both smart and twisted! (Pathology) – John Campea, The Movie Blog
The rare blend of hilarious and hot. (Made of Honor) - Mark S. Allen
A very well-done job of its kind, and that's a rare thing these days. (The Bank Job) – Bob Strauss



SEMAN & HYMAN
Now here's a movie duo to watch. We've got the two Bens, the two Petes and now the two Marks.

Even better than the first! (Madagascar Escape 2 Africa) – Mark Hyman
This dynamite cast delivers an explosion of laughs. (Get Smart) – Mark Seman
Solid gold fun! Fool's Gold will make you feel like you're on vacation! (Fool's Gold) – Mark Hyman, FOX-TV
The adventure comedy is back! (Fool's Gold) - Mark Seman, Sirius Satellite Radio


SPEAKING OF DIRTY
The ten dirtiest-sounding quotes of 2008.

10. The ensemble is stupendous – howlingly great – and the music goes deep. (Cadillac Records) – David Edelstein

9. …offers the pleasures you want from a royal-court soaper. Natalie Portman sparkles with deception, daring to flaunt passion as well as ambition. Few actresses know how to submit with the parted-lip sensuality of Scarlett Johansson. (The Other Boleyn Girl) - Owen Gleiberman

8. Existentialism and carnal desire; the perfect antidotes to summer heat. (Elegy) – New York Magazine

7. Mary-Kate Olsen is impressive! (The Wackness) – James Verniere, Boston Herald

6. It's almost a shock to see DiCaprio this exposed…. (Revolutionary Road) – David Ansen

5. The Fall sucks you in from the opening credits. (The Fall) – Juliann Garey, Marie Claire

4. Boarding Gate rocked me pretty hard. (Boarding Gate) – Glenn Kenny

3. …a bone-deep tour de force. Director Ron Howard pulls it off in style. (Frost/Nixon) - Peter Travers

2. It goes deeper and stays longer…. (Mister Foe) – Steven Rea

1. Hardcore fist-for-fist action. (Flash Point) - Maggie Lee, The Hollywood Reporter


RUNNERS-UP FOR THE DIRTY MIND
Superb…Gripping…Deeply rewarding. (Days and Clouds) – David Noh, Film Journal
A deeply satisfying catharsis. (Flawless) – Desson Thomson, Washington Post
…Deeply and profoundly human. (Live and Become) – John Griffin, Montreal Gazette
Lyrical, original, deeply felt. (The Curious Case of Benjamin Button) – David Ansen
Witness the resurrection of Mickey Rourke in Darren Aronofsky's deeply affecting film. (The Wrestler) – David Ansen
***1/2 Deeply affecting and profoundly observed. (Elegy) - Claudia Puig
Deeply, deeply affecting. (Stop-Loss) - Carrie Rickey

A galvanizing, humorous, deeply moving portrait that instantly takes its place among the great, iconic screen performances. (The Wrestler) – Todd McCarthy, Variety
A deeply moving film. You can't help but be uplifted. (The Visitor) - Claudia Puig
****! Deeply moving and incredibly timely. (Milk) - Lou Lumenick
Mesmerizing…Deeply moving…Heartfelt. (Paranoid Park) – New York Magazine
Deeply moving. (Stranded: I've Come from a Plane That Crashed On The Mountains) - Owen Gleiberman

An absorbing, deeply moving film. (Henry Poole Is Here) - Jeffrey Lyons
Amazing, deeply absorbing. (The Guitar) - Jeffrey Lyons
A remarkable, sweeping, deeply-absorbing epic. (The Children of Huang Shi) - Jeffrey Lyons
One of the most powerful, deeply emotional, and romantic dramas of this or any year. (Elegy) - Jeffrey Lyons


PITCH MEETING
So I've got this script…

A classic political thriller in the tradition of All the President's Men. (Nothing But the Truth) - Thelma Adams
A classic in the spirit of Unforgiven. (Appaloosa) – Pete Hammond
Great! Reminds me of Dr. Strangelove. (War, Inc.) – Bill Maher
It's in the same league as The Lovers and Last Tango In Paris. (Elegy) – Ruthe Stein
It's a David-and-Goliath tale that recalls Frank Capra's Mr. Smith Goes to Washington. Kinnear's performance is worth cheering. (Flash of Genius) – Peter Travers
In the style of classics such as Gone with the Wind & Lawrence of Arabia. (Australia) – Megan Lehmann, The Hollywood Reporter
Very cool…in the spirit of Seven and all the other great, creepy, intense movies. (Untraceable) – Steve Oldfield

…Mixes The Wizard of Oz, Baron Munchausen and other tall tales… (The Fall) – David Poland
Like Death In Venice meets The Great Gatsby on the Psycho lot. (Savage Grace) – Billy Norwich
Poultrygeist is as savage as Dawn of the Dead, as slapstick nutzoid as Evil Dead 2, as gag-on-your-popcorn gross as Pink Flamingoes… (Poultrygeist: Night of the Chicken Dead) - Owen Gleiberman
This is like if Superbad met Midnight Run and they had a baby, and then Pulp Fiction and True Romance met Freaks and Geeks and Undeclared and they had a ababy, and by some miracle those babies met – this would be the funny movie they birthed. (Pineapple Express) – Peter Travers

Cinderella set in a Chinatown massage parlor. (Year of the Fish) – Bruce Newman, San Jose Mercury News
…like the discovery of another Sideways or Little Miss Sunshine… (Bottle Shock) – Pete Hammond
****! Like My Big Fat Greek Wedding, but Italian. (Everybody Wants to Be Italian) – Karen Berg
A modern-day Grease. (High School Musical 3) – Christopher Tookey, London Daily Mail
The Superbad of 2008! (Sex Drive) – Scott Hoffman
The Notebook of 2008. (Nights in Rodanthe) – Shelli Sonstein, Q104.3 Radio NYC

It's E.T. as reimagined by the premier clown of Chinese cinema, Stephen Chow. (CJ7) – Jeannette Catsoulis
…the Silence of the Lambs for the internet age. (Untraceable) – James Thomas
A highly stylized and visually rich Moulin Rouge with soul. (Dark Streets) – Mike Scott, The Times-Picayune
It's Leaving Las Vegas done right. (Finding Amanda) - Ella Taylor

…American Beauty meets Juno. (Towelhead) – New York Daily News
Like Juno – it's a movie with big laughs and a lot of heart. (Charlie Bartlett) – Rachel Smith
It picks up where Juno left off. (Charlie Bartlett) - Rex Reed
Like Six Feet Under and Juno, it's the perfect antidote to the dopey, butter-cream-frosted teen flicks of John Hughes – Pretty in Pink with poison sauce. (The Babysitters) - Rex Reed
A wild, coming of age comedy reminiscent of the early John Hughes films. (Nick and Norah's Infinite Playlist) - Jim Ferguson
American Teen is the great Hughes movie that Hughes never made. (American Teen) - Bruce Handy
More entertaining than any high school movie. John Hughes couldn't have written a better script. (American Teen) – Alison Bailes

This year's Napoleon Dynamite! (Hamlet 2) – Dean Richards
The best thing of its kind since Napoleon Dynamite. (The Foot Fist Way) – Nathan Lee
It's like a cross between Ferris Bueller's Day Off and Napoleon Dynamite. (Charlie Bartlett) – Patrick Stoner, WHYY-TV "Flicks" PBS, Philadelphia
American Teen is as funny as Napoleon Dynamite, as touching as Juno and may even be better than The Breakfast Club. (American Teen) – Elliot Kotel, Moving Pictures Magazine
A modern day Breakfast Club that will make you stand up and cheer. (American Teen) - Ben Lyons
It's funny, smart…and today's version of Ferris Bueller. (Stop-Loss) – Andrea Vecchio, WKYC-TV

Disillusionment of Office Space…crassness of Bad Santa. (Hank and Mike) - Film Threat
A combination of Robinson Crusoe and Home Alone… (Nim's Island) – Ruthe Stein
It's Superbad meets School of Rock! (The Rocker) – Carrie Keagan
Cruel Intentions by way of Risky Business. (The Babysitters) – Eric Kohn, NY Press
Rocky by way of There's Something About Mary…– (Run Fatboy Run) – Matt Zoller Seitz
It's Bourne meets The Matrix (Jumper) – Total Film!
Shaun of the Dead meets Wedding Crashers! (Run Fatboy Run) – KOSI 101, Denver


ELECTRIFYING
Can we add this to the list of adjectives that need to be retired for 2009?

Electric! (The Air I Breathe) – Sean Edgar, Paste Magazine
An absolutely electric piece of cinema. (Frost/Nixon) – James Christopher, The London Times
Carrey and Deschanel are fantastic together. First-rate comic timing and electric chemistry. (Yes Man) – Alison Bailes
Al Pacino is electrifying. (88 Minutes) - James Thomas
Josh Brolin is truly electrifying. (W.) - Peter Travers
Electrifyingly funny! (In Bruges) – Kurt Loder, MTV.com
Electrifying. (Doubt) – Playboy
Electrifying. (Chicago 10) – Mike D'Angelo, Nerve.com
Electrifying! (Eagle Eye) - Shawn Edwards
Intense. Electrifying. (Eagle Eye) - Greg Russell
An electrifying, cat-and-mouse thriller. (Untraceable) - Earl Dittman
Changeling is the real deal, as good as any film Eastwood has ever made, and 10 times more electrifying than most. (Changeling) - Rex Reed


YELLING FIRE IN NOT SO CROWDED THEATERS
Joleen, one of Theron's best roles, is a firecracker… (Sleepwalking) - Kevin Crust
…a stellar Charlize Theron springs her own bolts from the blue…As for Will Smith, he's on fire. (Hancock) – Peter Travers
Penelope Cruz is a revelation-she's hysterically funny and on fire! (Vicky Christina Barcelona) – Mick LaSalle
Keira Knightley scores a knockout…There's a fire in her eyes that won't be extinguished. (The Duchess) - Peter Travers
Huge and Nicole set the screen on fire. (Australia) – Jan Wahl

Lively, Fiery, appetizing! (The Witnesses) – Johnny Ray Huston, San Francisco Bay Guardian
A fiery performance from Burstyn. (The Stone Angel) - Variety
A mesmerizing film that burns in the memory. (Changeling) – Peter Travers
Beyonce burns a whole in the screen. (Cadillac Records) - Owen Gleiberman
Lakeview Terrace burns up the screen… (Lakeview Terrace) – Earl Dittman

A simmering tale of jealousy, betrayal, adultery and murderous plans most foul. (Married Life) – Rex Reed
Steve Carell and Anne Hathaway spark off of each other. (Get Smart) - Peter Travers
Packed with high-voltage dance scenes to make any audience applaud. (Step Up 2 The Streets) – Elizabeth Weitzman
A slice of celluloid dynamite! (4 Months, 3 Weeks and 2 Days) – Peter Travers
The two leads are dynamite (Let the Right One In) – Peter Travers
Ed Harris and Viggo Mortensen are a dynamite screen pairing. (Appaloosa) – Pete Hammond
Brad Pitt is dynamite. John Malkovich has never been funnier. His slow burn is priceless. (Burn After Reading) – Peter Travers
This dynamite cast delivers an explosion of laughs. (Get Smart) – Mark Seman
A dynamite hit. (Vicky Christina Barcelona) – Elle
Javier Bardem and Penelope Cruz are combustible together. (Vicky Christina Barcelona) – Lou Lumenick
A combustible spy thriller. Gritty action laced with simmering drama. Crowe is a live wire. (Body of Lies) - Peter Travers
It's also killer smart, lacing combustible action with explosive gags. (Tropic Thunder) - Peter Travers
…it is just about as perfect as a film predicated on the joys of projective vomiting and explosive diarrhea can be. (Poultrygeist: Night of the Chicken Dead) - Nathan Lee

Explosive. (Milk) – Peter Travers
Explosive! (Shine a Light) - Peter Travers
Explosive (Body of Lies) – Ross King
Explosive. (Max Payne) - Max Rosenhaus, WJLB-FM/Detroit
Explosive and controversial. (Bloodline) – Elizabeth Snead, Los Angeles Times
The most explosive cop drama in years. (Pride and Glory) - Mark S. Allen

Expect fireworks! It is explosive. (Doubt) – Peter Travers
This film will explode. Mark my words. (The Signal) – Ain't It Cool News
It explodes off the screen. (Rocknrolla) - Ben Lyons


LAUGH-OUT-LOUD HYSTERICAL
I'm more a laughing-on-the-inside kind, I guesss.

Brad Pitt is hysterical. (Burn After Reading) - Larry King
Eddie Murphy is hysterical! (Meet Dave) – The Dove Foundation
Debra Messing is hysterical. (Nothing Like the Holidays) – Matt Sullivan, In Touch
Fun and Hysterical! (Zack and Miri Make a Porno) - Mark S. Allen
Zack and Miri is hysterical! (Zack and Miri Make a Porno) - Peter Travers
Hysterical! (Bolt) – Phil Boatwright, Preview Online
Hysterical! (Soul Men) - Mark S. Allen
Hysterical (The Love Guru) - Kevin Steincross

Penelope Cruz is a revelation-she's hysterically funny and on fire! (Vicky Christina Barcelona) - Mick LaSalle
Steve Coogan is pure bliss. He's hysterically funny. (Hamlet 2) – Philip Kennicott, The Washington Post
Hysterically funny! (College Road Trip) - Bryan Erdy
Hysterically funny! (Bedtime Stories) – Bryan Erdy

A laugh out loud comedy and a must see film! One of the most clever mockumentaries I've seen in quite some time. (The Doorman) – Gerald Wright, RottenTomatoes.com
I was laughing hard out loud! (The Doorman) – Jeralyn Gerba, Daily Candy
I loved it!...Laugh out loud funny… (Maldeamores) - Angie Romero, Latina Magazine
Consistently laugh-out-loud funny! (Role Models) - Christy Lemire
Plenty of genuine laugh-out-loud moments (My Name Is Bruce) – Papermag

The first laugh-out-loud comedy of the new year. (First Sunday) - James Thomas
…Laugh-out-loud funny! (Charlie Bartlett) – Rex Reed
Laugh-out-loud funny. (Semi-Pro) - Steve Oldfield
Laugh-out-loud funny! (Superhero Movie) – Sheila Roberts, Moviesonline.ca
Laugh-out-loud funny! (What Happens In Vegas) – Sara Edwards
Hilarious. Laugh out loud funny. (Welcome Home Roscoe Jenkins) - Steve Oldfield
Has you laughing out loud. (The Sisterhood of the Traveling Pants 2) – Jacki Garfinkel, iVillage.com


EITHER GET THEM A SANDWICH OR TAKE AWAY THE POT
Lively, Fiery, appetizing! (The Witnesses) – Johnny Ray Huston, San Francisco Bay Guardian
As smart and spicy as it is beautiful! (The Stone Angel) – The Globe and Mail
A cup of lemonade on a hot summer day! (Harold) – New York Magazine
A classy romantic cocktail… (The Other Boleyn Girl)
It's an unabashed pleasure that goes down as smoothly as a chilled cosmo. (Sex and the City) - Claudia Puig
…a delicious aperitif in a summer parched for adult entertainment. (Tell No One) – Stephen Whitty

A treat. (Pineapple Express) - Jason Lynch
A real treat. (Leatherheads) – Jim O'Brien, ABC-TV
A cinematic treat! (Caramel) - Claudia Puig
Horton is a cinematic treat... (Horton Hears a Who) - Claudia Puig
A veritable treat! (Miss Pettigrew Lives for a Day) - Claudia Puig
A treat to watch. (Nothing Like the Holidays) – Leonard Maltin
To hear Ben Kingsley is a treat. (Elegy) – Ruthe Stein
The summer's nicest treat! (Swing Vote) - Leonard Maltin
A real summer treat. (Kabluey) – Rex Reed
A holiday treat for the entire family. (Bedtime Stories) - Mose Persico
The perfect holiday treat! (Four Christmases) – Shawn Edwards

Nothing Like the Holidays is a Christmas feast you won't want to miss! (Nothing Like the Holidays) – Maria Salas
Delicious. A genuine holiday feast. (A Christmas Tale) – David Ansen
Has some delicious moments. (CSNY / Déjà vu) – Neil Genzlinger, The New York Times
…Deliciously romantic… (Made of Honor) - Paul Fischer
…smart, sassy and deliciously sweet. (The Secret Life of Bees) - Prairie Miller
A deliciously dry, dark comedy. (A Girl Cut In Two) - Dennis Dermody
A deliciously funny film. (The House Bunny) - Paul Fischer
There is something delicious about Anne Hathaway. (Get Smart) - Peter Travers
Keira Knightley scores a knockout…Impurely delicious… (The Duchess) - Peter Travers
A deliciously dark comedy! …the perfect antidote to the dopey, butter-cream-frosted teen flicks of John Hughes – Pretty in Pink with poison sauce. (The Babysitters) – Rex Reed


SINCE...SINCE...THAT LAST TIME
How many years since you saw a good movie?

Van Sant has created his most compassionate film about a lost boy since My Own Private Idaho. (Paranoid Park) – Melissa Anderson, Time Out New York
A triumph for Jonathan Demme – his best film since The Silence of the Lambs… (Rachel Getting Married) - Owen Gleiberman
It's Romero's best film since Dawn of the Dead. (George A. Romero's Diary of the Dead) - Nick Digilio, WGN Radio Chicago
Easily the best thing he's done since The Sixth Sense. (The Happening) – William Arnold

Jason Patric plays one of the nastiest dinner dates since Goodfellas. (Expired) – Anthony Brezhican, USA Today
Kevin Costner's finest performance since Bull Durham. (Swing Vote) - Scott Mantz
Fey and Poehler may well be the best female comedy duo since Lucy and Ethel. (Baby Mama) - Claudia Puig
The fiercest female foursome since Sex and the City. (The Sisterhood of the Traveling Pants 2) – In Touch
The most alarming cautionary tale for men since Fatal Attraction. (Teeth) - Kirk Honeycutt, The Hollywood Reporter

The most complete and moving film about the effect of war on youth since The Deer Hunter. (Stop-Loss) – Trey Ellis, The Huffington Post
The most anticipated novel-turned-movie to hit the screen since the Harry Potter franchise. (Twilight) – Sara Frederick, The Miami Herald
The best teen movie since Donnie Darko. (Ben X) – Brian Miller, The Village Voice
The best romantic comedy since Annie Hall. (Definitely, Maybe) – The London Times
The best comedy I've seen since Juno! (The Promotion) Scott Weinberg. Cinematical
The best thing of its kind since Napoleon Dynamite. (The Foot Fist Way) - Nathan Lee

This may be the best animated movie since The Incredibles. (Bolt) – Robert W. Butler, McClatchy Newspapers
The best popcorn flick since Spider-Man. (Iron Man) - Roger Moore
The best cop movie since Training Day. (Street Kings) - Jeffrey K. Howard
The most epic romance since Titanic (Twilight)- Emily Christianson, Hollywood.com
Not since The Matrix has an action movie made you repeatedly sit up and go, 'Whoa, I've never seen that before! (Wanted) - Dan Jewel


NOT HOLDING BACK THE YEARS
It's been years since a movie superhero was this fierce and this funny. (Iron Man) - Peter Travers
The Dark Knight is a more thrilling, intelligent, morally complex and masterfully crafted film than any summer blockbuster in years. (The Dark Knight) - Claudia Puig
One of the best Chinese exports in many years… (Lost in Beijing) – Dustin L. Nelson, Film Forward
One of the most genuinely enjoyable films out of Australia in years. (The Black Balloon) – Megan Lehmann, The Hollywood Reporter

One of the warmest and gentlest films in years. (When Did You Last See Your Father?) - Jeffrey Lyons
It's one of the best animated films I've seen in years. (Bolt) – Jeffrey Lyons
One of the best ensemble comedies of the last 20 years! (The Grand) Erik Davis, Cinematical
Sandler's funniest film in years. (You Don't Mess with the Zohan) - Rafer Guzman

Jonathan Demme directs his best film in years. (Rachel Getting Married) - Peter Travers
…one of the great female characters of recent years. (Summer Palace) – Steven Hunter, Washington Post
The biggest pleasure is watching DeNiro deliver one of his most understated and genuinely affecting performances in recent years. (What Just Happened?) – Ann Hornaday
DeNiro gives his best performance in years. (What Just Happened?) – Peter Rainer, Christian Science Monitor
Tom Cruise gives his best performance in years. (Valkyrie) - Bill Bregoli

A classic-in-the-making that will be talked about for years to come. (Let the Right One In) - K.J. Doughton, Film Threat
Zohan is a classic comedy character that audiences will love for years to come. (You Don't Mess with the Zohan) - Ben Lyons

Erupts on screen as one of the most wildly entertaining docs of recent years. (Man On Wire) Robert Koehler, Variety
The most explosive cop drama in years. (Pride and Glory) - Mark S. Allen
The most visually inventive, trailblazing film of its kind in light years. (Wanted) – Pete Hammond


NEVER EVER EVER…REALLY???
Call it the Mark S. Allen special.

Nothing if not the movie of the year. (Che) – Scott Foundas
Nothing on movie screens now can compare with the footage of Petit's performance. Awe-inspiring. (Man On Wire) – Colin Covert, Minneapolis Star-Tribune
How can you not love this film? [It] is nothing but pure pleasure. (A Previous Engagement) – Dianne Brooks, Writemovies.com
Nothing maybe about Definitely, Maybe. (Definitely, Maybe) - Rex Reed
Jeff Goldblum is nothing short of dazzling. Adam Resurrected – Joe Morgenstern
Cox's performance is nothing short of breathtaking. (Red) – Craig McPherson, Screenjabber.com

Bette Midler has never had a better role on screen. (Then She Found Me) - Leonard Maltin
Samuel L. Jackson like you've never seen him before. (Lakeview Terrace) - Earl Dittman
Penelope Cruz has never been more touching. (Elegy) - Leonard Maltin
Uma Thurman and Evan Rachel Wood have never been better. (The Life Before Her Eyes) – Ed Douglas, ComingSoon.net
John Malkovich has never been funnier. (Burn After Reading) - Peter Travers
Martin Lawrence has never been funnier! (Welcome Home Roscoe Jenkins) - Shawn Edwards

It grips you and never lets go. (Lakeview Terrace) - Shawn Edwards
It grabs you by the throat and never lets go. (Changeling) - Rex Reed
More intense than ever! (Rambo) – Craig Outhier, Orange County Register
Sex and the City is back, beautiful, and better than ever. (Sex and the City) – Neil Rosen
I'll probably never be as happy in a movie theater this year. (Mamma Mia) – Wesley Morris
Hands-down, feet-in-the-air, more thrilling than the best Dancing with the Stars could ever hope to be! (Planet B-Boy) – David Wiegand, San Francisco Chronicle
The saga of a little man's victory over a corporate giant will ensure that you'll never see your windshield wipers the same way again. (Flash of Genius) – David D'Arcy, Screen International
You'll never look at a donut the same way again. (Sex Drive) - Kevin Carr

Romantic & charming in every possible way! (Miss Pettigrew Lives for a Day) – Joyce Chang, People
An extraordinary movie in every way. (Momma's Man) – Peter Travers
Astonishing in the every way. (The Chronicles of Narnia: Prince Caspian) - Bryan Erdy
Brilliant in every way. (Pride and Glory) - Mark S. Allen
Tops Sex and the City in every way. (The Women) – Pete Hammond

An intelligent, tender, true-to-life drama, the kind we almost never see nowadays. (Then She Found Me) - Jeffrey Lyons
Cloverfield is a bold genre reinvention unlike anything we've ever seen. (Cloverfield) - Harry Knowles
Like nothing you've seen before or likely will again. (Adam Resurrected) – Kim Voynar, Cinematical
It's like nothing you've ever seen. (Be Kind Rewind) - Jeff Craig
Like nothing you've seen before! (Jumper) – Anne Craig, Good Day NY
You've never seen anything like it. (Speed Racer) - Bryan Erdy
…is unlike anything that has ever come out of Hollywood. (An American Carol) – Stephen F. Hayes, The Weekly Standard

As delicate, haunting and poetic a film as you're ever bound to see… (Let the Right One In) – Guillermo del Toro
One of the most inspiring films I've ever seen. (Blindsight) - Jeffrey Lyons
…one of the best films about lost childhood I've ever seen! (Gardens of the Night) – Scott Macaulay, Filmmaker Magazine
The best football movie I've ever seen. (Harvard Beats Yale 29-29) – J. Hoberman
The most terrifying film I've ever seen! (Funny Games) – Peter Eisenman, ICON
The most disturbing movie I have ever seen. Michael Haneke, I'm sending you my shrink bill! (Funny Games) – Missy Schwartz, EW.com
Hands down, the scariest movie I have ever seen! (The Strangers) - Chuck "The Movie Guy" Thomas
One of the most spectacular feats ever put on film. (Hellboy II: The Golden Army) - AICN
One of the most exhilarating movies you'll ever see. (Speed Racer) - Jim Ferguson
One of the most entertaining films you will ever see. (Sukiyaki Western Django) - Mariko McDonald, Film Threat
The greatest caper comedy you'll ever see! (Trailer Park Boys: The Movie) – Jay Stone, Vancouver Sun

Four stars simply aren't enough for the most entertaining movie I've ever labeled a masterpiece. (Slumdog Millionaire) - Lou Lumenick
One of the funniest and most offensive documentaries ever made. (Religulous) - Lou Lumenick
One of the best superhero movies ever! (Iron Man) - Scott Mantz
One of the hippest, best-written and best-directed superhero movies ever! (Iron Man) - Lou Lumenick
Every bit as good as Iron Man! The Incredible Hulk rules! Everything we've been hoping for. (The Incredible Hulk) - Harry Knowles

The best surf documentary ever made. Bustin' Down the Door – Chris Cote, Transworld Surf
The most hilarious gay film spoof ever made! (Another Gay Sequel) – Gay.com
The greatest Puerto Rican film ever made! (Maldeamores) – 97.3 WOYE-FM
It's Tyler Perry's best film ever. (Tyler Perry's The Family That Preys) - Karu F. Daniels, AOL Black Voices

One of the best action films ever! (Wanted) - Jeffrey K. Howard
One of the best vampire movies ever. (Twilight) - Shawn Edwards
Perhaps the best buddy picture ever! (Soul Men) Mark S. Allen
The best martial arts epic ever! (The Forbidden Kingdom) - Mike Sargent


THE TOP 20 DUMBEST QUOTES OF THE YEAR
At least, the twenty you haven't heard yet.

20. Who-Ray for Horton! (Horton Hears a Who) – Joe Neumaier

19. In this family, just about everybody's funny. (Welcome Home Roscoe Jenkins) – Chicago Tribune

18. The Buzz is out… (The Secret Life of Bees) – Prairie Miller

17. Super hilarious! Funnier than Spiderman and Batman combined! (Superhero Movie) – Steven Chupnick

16. Chimptastic! A barrel of fun families will enjoy. (Space Chimps) – Scott Rolfe, Dove Foundation

15. Crude, lewd, rude and very very very very funny. (My Best Friend's Girl) – Daily Star

14. A veritable Cluckwork Orange… (Poultrygeist: Night of the Chicken Dead) - Variety

13. This is the winner that will take it all! (Mamma Mia) - Ray Bennett, Hollywood Reporter

12. Semi-Pro puts the fun in funkedelic. (Semi-Pro) – Lisa Johnson, Filmstew.com

11. With great power come laughs. (Superhero Movie) – Staci Layne Wilson, Scifi Weekly

10. This year's Oscar race starts with Sleepwalking. (Sleepwalking) – Rick Bentley, The Fresno Bee

9. It rekindles the great Hollywood romances. (Twilight) – Richard Corliss

8. It's one of those movies audiences of the future will look back to…when they want to know something about how life was lived in America. (Stop-Loss) – Scott Foundas

7. Imagine what Michael Moore might produce if we forcibly administered truth serum to him. That would be Expelled. (Expelled: No Intelligence Allowed) – Joseph Farah, Washington Times

6. This is what Star Wars fans have been waiting for. (Star Wars: The Clone Wars) – Mike Sargent

5. Dempsey, with his relaxed charm, and Monaghan, with her soft and peachy sensual spark, rise to the challenge of making friendship look like the wellspring of true love. (Made of Honor) - Owen Gleiberman

4. It's the ingenious and inspired comedy that we remember from Airplane! (An American Carol) – Ain't It Cool News

3. A terrific film with an Academy Award winning performance by Greg Kinnear. (Flash of Genius) – Larry King



2. For the Christmas season, prepare to be baptized by the Basinger. (While She Was Out) -Pajiba.com

1. The most visually inventive, trailblazing film of its kind in light years. (Wanted) – Pete Hammond

OK, sorry, but we couldn't resist pointing out Hammond's quote as one of the dumbest ever printed on a movie ad or spoken by anyone on our Watch list. It's only appropriate then that we end this year's piece with maybe my favorite quote of the year, spoken by this site's own Rob Gonsalves. I believe it perfectly sums up Pete Hammond, Ben Lyons and all the whores and sluts we'll continue to keep an eye on in 2009.

"Light years measure distance, not time, you fucking clown shoe."
– Rob Gonsalves, eFilmCritic.com






link directly to this feature at https://www.efilmcritic.com/feature.php?feature=2638
originally posted: 12/31/08 05:30:05
last updated: 11/12/18 16:10:43

printer-friendly format