Films I Neglected To Review: Life's A Beach And Then You Die (Sometimes More Than Once).
By Peter Sobczynski
Posted 07/09/20 05:55:36

Please enjoy short reviews of "Archive," "The Beach House," "Inmate #1: The Rise of Danny Trejo," "Money Plane," "Mucho Mucho Amor: The Legend of Walter Mercado," "Palm Springs," "Relic" and "Volition."

Chicago's Music Box Theatre and the Gene Siskel Film Center are continuing their virtual cinema partnerships with independent film distributors to bring the movies that they normally would have been screening into homes via streaming arrangements and collect a portion of the proceeds as a way of helping to keep them in business during these trying times. At the Music Box, in addition to theatrical presentations (with limited seating) of Alfred Hitchcock's classic "Vertigo" in 70MM and the new horror film "Relic" (see below), the new virtual offerings include "One Small Step," a collection of family-friendly shorts from around the world, and "We Are Little Zombies," a highly stylized look at a group of Japanese tweens who meet as their parents are being cremated and eventually form a rock band to help channel their buried emotions. At the Siskel Center, the new arrivals are headlined by "Guest of Honor," the dreadful new film from Atom Egoyan revolving around an emotionally tormented food health inspector, his equally messed-up daughter and, of all things, deep-fried rabbit ears. "Ai Weiwei: Yours Truly" follows the famed artist and dissident as he transforms the infamous Alcatraz prison into an art installation meant to call attention to the plight of the unjustly imprisoned throughout the world. "The New Bauhaus" examines the innovative new art design movement that developed when Hungarian artist Lazlo Moholy-Nagy arrived in Chicago and whose influence can be found in everything from architecture to a bar of Dove soap. "The Tobacconist" features one of the last performances from the late Bruno Ganz in a drama set during the Nazi occupation of Vienna and centering on the friendship between a teenaged boy (Simon Morze) and Sigmund Freud (Ganz).

To order the Music Box titles, go to musicboxtheatre.com For the offerings from the Siskel Center, go to siskelfilmcenter.org/filmcenterfromyoursofa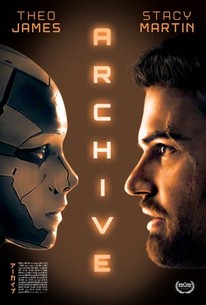 It is wholly appropriate, I suppose, that "Archive" is a film that offers viewers a story that is sort of a futuristic riff on the classic "Frankenstein" mythos—after all, it too is constructed almost entirely out of parts taken from other sources and it does not end well for anyone, the audience most of all. In the not-too-distant future of 2038, brilliant research scientist George Almore (Theo James) is nearing the end of a three-year-long project that has found him working to develop a new breakthrough in AI technology for a multinational corporation while in near-total isolation in a remote facility in Japan. Having already come up with two partially successful prototypes, he is just about to finish his most human-like creation to date, dubbed J3. What his superiors do not know is that George's real purpose is to use J3's technology to essentially reincarnate his wife Jules (Stacy Martin), who died tragically a few years earlier and whose consciousness has been preserved, albeit temporarily, through a process that allows communication via videophone. With both the project due date and Jules's shelf date both coming up very soon, George is under incredible pressure to see his dream come to life and his decision to inject parts of her thoughts and memories among the three robots begins to backfire--J2, for example, becomes jealous of the attention paid to J3 and tries to find ways of reasserting her former importance by any means necessary.

So yeah, "Archive" is not exactly overflowing with originality--if there is a scene in it that doesn't explicitly suggest another, and oftentimes better, sci-fi film, I somehow must have missed it. (You could literally make up bingo cards filled with titles like "AI," "Blade Runner," "Ex Machina" and "Astro Boy," to name just a few, and play along at home. My problem, however, is not so much with the lack of originality displayed by writer-director Gavin Rothery as it is with the fact that he pretty much fails to bring any kind of new spin to the material that might have helped it go down better. It seems to be building to some big statement on grief and loneliness and the elaborate subterfuges we try to construct for ourselves to avoid dealing with them but it never quite comes off, though to be fair, the block-of-wood acting stylings of Theo James do not exactly help matters much in this regard. Some of the visual concepts on display are intriguing, especially the evolving look of J3 as it grows closer to completion, but other than that, "Archive" is a movie that I can safely assure you is one that you will not need to revisit at any point in the future.

If you thought that your summer vacation has been transformed into a bummer by outside forces, wait until you see what happens to Emily and Randall (Liana Liberato and Noah Le Gros), the college couple at the center of the gruesome new horror film "The Beach House," which will be premiering exclusively on Shudder. The two have decided to make a final effort to patch up their troubled relationship by spending an off-season weekend at his family's beach house outside a nearly deserted town. Alas, no sooner have they arrived than they are joined by an older couple, Mitch (Jake Weber) and Jane (Maryann Nagel), old friends of Randall's estranged father who actually did ask him permission to use the house for the weekend. Deciding to make the best of it, the four sit down a dinner filled with plenty of wine, lots of expository talk and topped off by edibles that has them all tripping out. As the night goes on, a strange fog begins to envelope the beach that seems to give everything a sparkly purple tinge, which they initially assume is some kind of hallucination. As the next morning arrives, they all wake up feeling ill and without giving too much away, let it be said that things quickly grow very bad and very, very gloppy for the four of them and possibly the world as well.

Because "The Beach House" is coming out when it is, there will no doubt be the temptation to draw parallels between what happens in the film and the current Covid-19 crisis and in this case, one does not have to stretch too far to find some eerie similarities in the way that it is transmitted, how it affects people and how it hits older people quicker than their younger counterparts, who nevertheless are proven to be quite susceptible to it as well. Although these details do lend a certain frisson to the proceedings, writer-director Jeffrey A. Brown seems more interested in creating a slow burn of a horror film that plays as a drama about a relationship going sour for the first half that, like much of the cast, eventually mutates into something gruesome in the second. Although comparisons to the likes of "The Fog" and "The Mist" are inevitable, the film that I was most reminded of was Richard Stanley's recent adaptation of H.P. Lovecraft's "The Color Out of Space," though not quite as overtly wacko as that film--no an alpaca to be seen here. The end result is a movie that is good and reasonably satisfying--it is stylishly made, includes a number of nastily inventive gore sequences (including one involving a worm that has burrowed into someone's foot that is the big barf-bag moment) and has a strong performance by Liberato that helps to anchor the proceedings and prevent them from completely spinning off into chaos--but never quite goes any further than that. The first half is a little too slow for its own good and while the other characters are interesting and engaging enough, Randall is portrayed throughout as such a self-absorbed jackass (having dropped out of college himself, he belittles Emily for wanting to extend her studies) that when everything goes south and Emily has to take charge in their increasingly fraught fight for survival, you may find yourself wondering why she is bothering in the first place. (If "Midsommar" wasn't already up to about 37 hours long, this might make for an interesting second bill for a double feature.) These quibbles aside, "The Beach House" is a good and gruesome example of body horror that should make staying away from the beach for the time being seem like a very good idea indeed.

My guess is that if you are interested enough in film to be reading these words, you are probably familiar with Danny Trejo, the fearsome-looking hulk of an actor whose career grew from playing roles so incidental that the characters didn't even rate names to films that saw him acting up against the likes of Robert De Niro, Salma Hayek and Kermit the Frog to headlining his own action franchise as the star of the ludicrously violent "Machete" films. He has been in over 300 movies to date but as the new documentary "Inmate #1: The Rise of Danny Trejo" reveals, his life was on a much different path until he made a conscious effort to turn it around. As Trejo reveals in a bracingly forthright manner, he grew up on the streets of the San Fernando Valley in the thrall of a criminal uncle and elected to follow in his footsteps by robbing stores, selling drugs and developing a heroin addiction at the age of 12. As a result of all of this, he spent a number of years in prison, becoming both a boxing champion and a figure of fear throughout the entire prison system. After experiencing the luckiest break imaginable, he decided to change his life and when he got out of jail, he elected to go straight and work as a drug counselor. This led to a gig as an extra on the film "Runaway Train" (1985), where his presence caused such a stir that it led to a brand new career for him. However, even as his acting career began to flourish, he still felt compelled to repay his debt to society and to this day, he continues to speak to prisoners and students about the importance of sobriety and even drives around the same neighborhood where he grew up and still lives to give away toys to random people in the street at Christmastime.

Those expecting Brett Harvey's film to focus solely on Trejo's cinematic adventures may be put off at first by the fact that it is nearly an hour into the film before it even comes up. The first half is instead dedicated to Trejo's origin story and I promise you that it is more gripping and enthralling than a good number of the films that he has appeared in. Some of the most poignant moments involve his relationship with a cousin--the son of that aforementioned uncle-- who has been in prison for 38 years and who essentially represents what might have happened to Trejo himself if he had not made the necessary changes in his life. When the Hollywood stories do come, however, they are pretty entertaining as well--his anecdote about some friction involving a supporting actor on the set of "Death Wish 4" is almost worth the price of admission by itself and there is another funny bit when he talks about being on the set of "Con Air" with all the guys talking about how tough they were and Cage ending it by stating that Trejo was the only person among them who actually scared him. Yes, there are times when the film begins to flirt with being a hagiography and there is so much story to tell that the last half-hour or so winds up coming across as a little rushed in the effort to try to cram as much of it in as possible. Luckily, "Inmate #1: The Rise of Danny Trejo" is not only the rare documentary about a living actor whose life truly deserves such treatment, his story and presence is so compelling and uplifting that you will come away from it wishing that there was more of it.

For those of you who have been mourning the end of the "Sharknado" series and have been waiting desperately for another film to come along that could even begin to approximate its combination of a staggeringly ludicrous premise, astonishingly cheesy execution and a cast dotted with some familiar faces whose mere presence suggests that they are either very good sports or are paying off a wager gone sour, your prayers have been answered with the arrival of "Money Plane." Master thief Jack Reese (Adam Copland) has just returned from a failed heist of a valuable painting when he is summoned to see the man who hired him, a fearsome crime boss known as The Rumble and who is played, as you can no doubt guess, by Kelsey Grammer. Having bought up Jack's considerable debt, The Rumble insists that he and his team pull off a new job to wipe the slate clean or else. There is a top secret high stakes casino based inside of a luxury jet flying in international airspace and which caters to an elite list of high-stakes gamblers and international criminals who will bet on anything. ("You wanna bet on a dude fucking an alligator? Money plane.") Jack and his team are tasked with secretly taking control of the flight, hacking into the computer servers in order to drain a billion in cryptocurrency, nabbing the millions kept in the safe and parachuting to safety before anyone realizes what's up. You know--that old plot.

Obviously, no one should go into "Money Plane" expecting anything other than a big piece of cheese but in this particular case, the fromage in question is of an exceptionally stinky variety. You would think that a movie combining elements from the likes of "Money Train," "Con Air" "John Wick" and "Reindeer Games"--albeit with only a fraction of the budgets and intelligence that they possessed--would at least somehow manage to avoid being boring but even coming it at under 90 minutes, the whole thing is just staggeringly tedious. The particulars of the heist are incredibly slapdash and generate absolutely nothing in the way of tension or excitement. Meanwhile, back in the casino portion of the plane, the supposedly outrageous bets are not nearly as wild as promised--suffice it to say, there are no alligators on this flight--and the one promising idea that does come up, in which Jack's right hand man (Patrick Lamont Jr.), who is supposed to be keeping a low profile before slipping away to work on the servers, hits upon an improbable hot streak that makes him the unwanted center of attention, ironically fails to pay off. Although the ads for this film give top billing to Grammer, Thomas Jane and Denise Richards, they barely appear in it at all (none of them actually make it on the plane) and only Grammer registers thanks to the sheer awfulness of his turn--Jane literally phones in most of his part and Richards had more screen time and dialogue in her bit in "Love Actually" than she does here. Look, I do not object to the fact that "Money Plane" is trying to be the most self-consciously dopey movie of recent memory. What I object to is that the whole thing is too stupid and lazy to accomplish even that not-exactly-lofty goal.

If you were to propose a film based on the astonishing life and times of Walter Mercado, who rose from poverty to become an international sensation by delivering televised horoscopes, it would likely be rejected for being too improbable to be believed. Even as recounted in the engaging new documentary "Mucho Mucho Amor: The Legend of Walter Mercado," those who are not already familiar with the man may find themselves wondering if the entire thing is actually a super-elaborate joke. Nope, it is all true and in this case, the truth is far more fascinating than any fiction could hope to be. As a child growing up in rural Puerto Rico in the 1930s, he supposedly came across an injured bird and literally breathed life back into it--news quickly spread throughout the neighborhood as people came to him seeking answers for their own problems. Years later, while working as a telenovela actor and doing astrological readings as a side gig, he did an impromptu 15-minute live astrological reading on the air--still dressed in his elaborate soap opera costume--and it proved to be such a hit that he was soon given his own show. That show would become a national sensation and he even became famous in the U.S. as the result of appearances with people like Howard Stern and Sally Jessy Raphael. Millions adored his positive outlook and his constant message of peace and love and were thereby mystified when he suddenly disappeared from the airwaves. And yet, his impact was so significant that he remained a celebrated figure in both the Hispanic and LGBTQ communities for years afterwards.

Using an array of archival footage and new interviews with family, former co-workers, famous fans (including a clearly awestruck Lin-Manuel Miranda) and, most significantly, Mercado himself, co-directors Cristina Constantini and Kareem Tacsch present a cinematic portrait that is just as cheerfully flamboyant and ultimately uplifting as the man it chronicles. In interviews shot at his home in Puerto Rico, the film shows that there was little difference between the on-screen and off-screen Mercado--in both cases, he proves to be a one-of-a-kind personality whose zest for life and unabashed love for the entire world is so infectious that even those who think that astrology is the bunk are still likely to be caught up in his spell. Even when recounting the reasons for his disappearance from broadcasting--the result of a long legal battle with a former business manager who got him embroiled with the Psychic Friends Network and then got him to unknowingly sign off the ownership of Mercado's name and brand to him in perpetuity--he refuses to give in to anger and resentment. The film builds to a touching climax at a 2019 retrospective of his life in Miami that drew huge crowds eager to meet the legend, making what would prove to be his last public appearance, and tell him the ways in which he and his message of love impacted their lives. "Mucho Mucho Amor: The Legend of Walter Mercado" is a wildly entertaining and touching work that takes one of the most unique and distinctive personalities imaginable and fully does him justice.

The basic hook for the new comedy "Palm Springs" will undoubtedly sound so familiar to people that there is a possibility that some may just decide to skip over it entirely on the basis that they have seen it all before, an especially ironic notion in this particular case considering the film's concept. That would be the wrong move because while that initial premise may not be blazingly original at this point, it ends up as an intriguing, funny and occasionally thoughtful variation on that standard theme. As the film opens, Nyles (Andy Sanmberg) is going through the expected motions of a plus-one attending a wedding in Palm Springs--desultory and unsatisfying sex with his bridesmaid girlfriend (Meredith Hagner), lounging by the pool, downing a seemingly endless supply of beers--with the air of someone who has seen it all before and knows everything that is coming. Turns out that this is exactly the case--for longer than he can remember, Nyles has been caught in a mysterious time loop that has been forcing him to relive the same day over and over again and even if he kills himself, he wakes up in bed the next--well, same--morning for another round of the same. Unfortunately, during the iteration that makes up the opening section of the film, his meetup with Sarah (Cristina Milioti), the bride's messed-up sister and maid of honor, backfires when she accidentally gets sucked into the same loop and starts experiencing the same day over and over as well.

Obviously, the film is in the same basic vein as the likes of "Groundhog Day," "Edge of Tomorrow" and the "Happy Death Day" series but by putting two people in the live-die-repeat cycle, director Max Barbakow and screenwriter Andy Siara find a new twist by pitting Sarah's desire to find some method of escaping their predicament against Nyles's approach of accepting the inevitable and trying to figure out way of deriving whatever fleeting moments of happiness are possible in purgatory. This leads to a number of enormously funny moments but also inspires some moments of real emotional weight as well scattered throughout the silliness. The film also benefits from the nice byplay that develops between Samberg (who has never been better or more winning in a feature film) and Milioti and the strong supporting cast, led by the great J. K. Simmons in a role that I will leave for you to discover. "Palm Springs" may have a couple of rough patches where its ambitions do not quite pay off and there is a part of me that kind of wishes that it had ended maybe two minutes earlier than it does (though the climax does make epic use of Kate Bush's "Cloudbusting" on the soundtrack) but for the most part, it is very funny, occasionally wise and the kind of film that should have no problem standing up to repeat viewing.

As "Relic" opens, elderly Edna (Robyn Nevin) has gone missing and her daughter Kay (Emily Mortimer) and granddaughter Sam (Bella Heathcoate) have ventured out to her remote home to help look for her. Once inside, they see numerous Post-It note reminders that suggest that Edna is perhaps suffering from the early stages of dementia, which has already so thoroughly exhausted Kay's patience that the two have not spoken since a phone call weeks earlier when Edna insisted that something was moving things around in the house. While searching for Edna, Kay and Sam, whose own relationship is clearly a bit on the frosty side, begin to see and hear some strange things within the increasingly forbidding home. Then, as suddenly as she vanished, Edna reappears and while Kay tries to get her to talk about where she went and what happened to her, Sam is happy enough just to have her back. However, it doesn't take too long to realize that there is something different about Edna now and as things become stranger and more strained, Kay and Sam struggle to figure out whether her changes are a result of advancing dementia or something more sinister and supernatural in origin.

Considering that the film is being released by IFC's genre film offshoot, most viewers will probably figure out the answer to that question long before Kay and Sam but it is one of the key strengths "Relic" that by the time it finally takes the full plunge into conventional horror, Natalie Erika James, making her feature directorial debut and also co-writing the screenplay with Christian White, has already sucked viewers in. Utilizing a quiet and deliberate approach, she finds just the right eerie tone that unnerves without going over the time--she and cinematographer Charlie Sarroff do an especially good job of presenting the house in such rich and quietly creepy detail that it almost feels like a fourth member of the family. Of course, the big trick to making a movie involving people confronting a malevolent force inside their home is to figure out a convincing reason for making the characters stay when any sane person would go running. That is where the impressive performances from the three leads come in--amid all the weird goings-on, they create the kind of thoroughly believable familial relationship that makes you believe that they would not (or at least cannot) abandon each other despite their issues, leading to a final image that is both creepy and poignant. Admittedly, "Relic" gets a little less interesting once it makes the switch to full-on horror and James, although she does a beautiful and striking job of establishing and maintaining a tone of unease and dread throughout, is a little less sure when keeping the narrative moving along (the slow burn approach she uses is sometimes very slow). Those flaws aside, this is an effectively creepy and surprisingly emotional chiller and marks James as a potentially fascinating new voice in the world of horror cinema.

If the time-looping craziness of "Palm Springs" wasn't enough to completely scramble your brains, then the equally twisty "Volition" could well finish the job for good. The focus of the film is on James (Adrian Glynn McMorran), a seemingly ordinary lowlife schlub who possesses an extraordinary gift--he has a ability to sometimes receive psychic flashes of events that haven't happened yet and while he cannot change what he sees (if he sees himself getting a beating, he all but leans into it), he is able to take advantage of his abilities to sustain himself via sports betting and low-level criminal endeavors. A local crime boss (John Cassini) knows of James's gifts and hires him to plan out the transfer of some illegally obtained diamonds but when he gets to work, his vision seems to reveal him being shot and killed in the process. This sends him on the run, along with the diamonds and new girlfriend Angela (Magda Apanowicz), and lands him on the doorstep of his foster father (Bill Marchant), a scientist who has been trying to understand James's condition ever since encountering him as a young boy after his mother was killed in a car crash that he saw in his mind.

I will not hint at what happens from this point but, suffice it to say, things get very strange from this point on. And yet, no matter how complicated things get--and they get very complicated at times--director Tony Dean Smith handles the Philip K. Dick-inspired screenplay that he co-wrote with his brother, Ryan W. Smith, in as clean and efficient of a manner as one could possibly hope for so that viewers remain engaged with the characters and the storyline instead of mentally checking out in the face of all the narrative curlicues. I cannot say that it all adds up in the end--it is almost inevitable that a film dealing with the kind of subject matter employed here is going to leave behind a couple of dangling plot elements that don't quite make sense in the recounting. However, as the film is unfolding before your eyes, it keeps you engrossed and intrigued thanks to its dramatic ambitions, the nice low-key performances from the cast and the fact that it is a genre film that is driven more by its heady ideas than by visual pyrotechnics. The end result is a clever and reasonably ingenious genre sleeper that will make viewers want to look into the future for themselves in order to see what Smith comes up with next.