The Virtual Fantastic Fest Celebration of 2020
by

Erik Childress



After officially canceling their annual in-person event this year due to the ongoing pandemic, Austin's Fantastic Fest managed to pull one together for a virtual celebration of the films they are known to champion. A week of new films and collections of shorts were unveiled for audiences to tune in online and I was fortunate to be among them. Here is a sampling of some of their offerings.



(Reviews out of 4 stars

)

TEDDY

One of the things that has always confounded me as a fan of the genre is why there just aren't any really great modern werewolf tales. There are some good ones scattered far and wide (and yes I enjoyed Joe Johnston's The Wolfman) but none that have made us dethrone the great one-two punch of 1981 with An American Werewolf in London and The Howling. Has the simplicity of CGI taken the creativity out of the very thing that being the monster represents? There are at least as many internal struggles and still unexplored questions with the animalistic as there are with the romantic vampire. Especially today as toxic masculinity has become the raison d'etre for an entitled nation. Cut to the opening night film of the 2020 (virtual) Fantastic Fest that suggests a steer in that direction, but cannot steer itself from too many of the same tropes that have tempered so many attempts at the lore and winds up as just another stale log on the fire.

Teddy (Anthony Bajon) is a French teenager who takes care of his sickly aunt, has a job at a massage parlor, and enjoys time with his girlfriend, Rebecca (Christine Gautier), whom he's already making plans to build a house for. When not giving somebody the finger or avoiding the come-ons of his lady boss, Teddy ventures into the woods and gets bit by the wolf that has been leaving dead animals everywhere. You can pretty much take it from here. He develops a taste for raw meat, notices mysterious growths on his body and is more enthusiastic about sexed-up opportunities. I wish it got more complicated than that but this is a film content to go through the motions relying on occasional humor to deflect how uninspired it all is.

There are certainly a couple of choice body horror moments involving an eyeball and a moment that would make Steve Martin's Rigby Reardon think twice before going down on Kitty Collins. But the film goes shy of even a tenth of Cronenberg (despite the nail-peeling) and even when the finale is all setup for a glorious massacre, we only see the aftermath. That only puts more emphasis on a narrative that never sees any diversions and just a straight path to its inevitable conclusion. Jealousy in a committed relationship (especially when one is right) does not exactly equal toxicity. As events play out our sympathies align with him more than seeing a pattern worthy of condemnation. The boy is cursed. He goes through his curse. Some people get theirs and we get the same ol' werewolf movie we have seen so many times.

GIRL


[big]Girl is as generic as its title. There is no way to get away from the most obvious of criticisms but that is what I felt with each successive scene drawing me further away from whatever Southern Fried noir it was trying to draw me into. A film such as this can get away with keeping its secrets for a while, but eventually it is going to have to spill its guts and it shouldn't feel like its under tortuous conditions to do so even while its laying it all out under no threat with a word count that would not qualify for a second grader's first essay.

Bella Thorne plays the titular cypher known only as "Girl" in the credits. We first see her on a bus back to a hometown to find her father. So she can kill him, over the objections of the mother Girl believes was physically injured by him. When she shows up to his home, she discovers that someone has beaten her to it. Justice without the satisfaction (aka the definition of karma from Christopher McQuarrie's The Way of the Gun.) But then she encounters some other unsavory characters such as the self-described Charmer (played by writer/director Chad Faust) and the town Sheriff (Mickey Rourke) who believe her father is hiding a large stash of money somewhere.

The simplest of premises has led to the most thrilling of noirs in the past but no one is going to mistake this for any level of complexity. Introducing a mystery girl with a dangerous and vengeful motive brandishing her weapon of choice as a hatchet you have now made a promise to your audience. Faust is not up to delivering on that promise though in part by allowing himself (the actor) to try to out-ham the ham-handed once he leans into his character's purpose. Rourke at least brings more menace just by being him but there's nothing memorable about this town Sheriff other than he's being played by Mickey Rourke. Thorne is best early when she is silent and still an enigma. Once she gets tuned up though she just doesn't possess the necessary strengths of an actor to make her sympathetic, a character to root for or anyone you would want to hang out with more than three minutes. The twists to both the present and the backstory are not so much full-fledged shifts as they are the kind that wouldn't even automatically switch off your car's turn signal. Lacking even the most basic primal expectations one could hope for in a hillbilly noir, Girl is one that is in full hibernation mode once its cards are on the table.
FANTASTIC SHORTS
As every fest does, Fantastic Fest had a collection of programs dedicated to short films. Four of them in fact. While I have only made it to the first of them to date, I have to say this is as strongly a coordinated group of shorts that I have seen in one extended block. Fair enough that it actually begins with a short called "Blocks" (* * *) by Bridget Moloney about a mother stuck with the daily routine of picking up after her children until the nightmare of stepping on those Legos becomes a matter of regurgitating them. The sight of that itself is actually funnier than the nauseating thought of it and the way it continues to build into a surreal bit of finding your own peace is something any parent (or daily babysitter of nieces and nephews) will find truth in. The next short in the group, "I Love Your Guts" (* * * 1/2) is a lot of fun. David Janove's film begins with the unrequited crush that late shift fast food worker, Katrina (Allie McCarthy), has on her co-worker, Jacqui (Danielle Kay) that then builds to them having to fend off a drunk customer (Scott Shilstone) who has no car for the drive-thru. It's gleefully violent and you may even weirdly relate to the behavior of each character.

Next up comes perhaps my favorite of the lot (though its close) with Tuixen Benet's "Solution for Sadness" (* * * *) which manages to take on depression but with a surreal comic bravado that made me laugh harder the more it surprised me. It deals with a woman (played by Benet) who is constantly down in the dumps until one day receives a package containing a monkey mask with a message claiming this is all she needs to improve her mood. The mask alone is good for instant laughs, but everything that happens next is golden, particularly the manner in which Benet reveals the effect the mask has on the people around her. Things get a little more melancholy after that, but a solid pairing after 'Sadness' with Kantu Lentz's "Jack and Jo Don't Want to Die" (* * *). It stars Justin Kirk as an employee at a cryogenic facility who is preparing to freeze himself to numb the pain of a breakup. The same night he is made to unfreeze a young girl (Olivia Edward) with a terminal illness because her bill hasn't been paid. After nursing her back to reality they get to talking and realizes this young girl is an old soul and may have a better grasp on living knowing she cannot be helped. It's a somber, delicate piece with a bittersweet ending that is quite moving. After that was the first (minor) miss for me in Farbod Ardebili's "Forbidden To See Us Scream In Tehran" (* * 1/2). It starts as a solid mixture of humor, music and anger about an Iranian death metal band led by Sherin (Sarina Amiri) trying to stay under the radar of the police for breaking the law with their playing. That is when her bandmate suggests they calls the cops on themselves during their next concert in the hopes of becoming martyrs. It's a great setup that then hits its metaphors a little too hard, including Sherin's little sister being deaf and how things are destined to play out.

After that comes a film that might also be accused of hitting its points a bit too hard, but is one that absolutely needs to and is effectively realized in every infuriatingly satiric moment. KD Davila's "Please Hold" (* * * *) features Mateo (Erick Lopez) casually on his way to work, stopped by a police drone and arrested. He has to put on his own handcuffs, goes right to jail with no hearing and is forced to deal with an online help menu to secure a lawyer and discover the odds of his case - despite never being turned what the charges are. It feels a lot like Luke Wilson's fate in Idiocracy, but even while it is frequently playing up the humor of this outrageous predicament, we know all too well that its exaggeration comes from a real place about the racial insensitivity of the justice system. Lopez is particularly great taking us on this journey of frustration and most are likely to finish it not knowing whether to laugh or cry. I was someone in the middle of that with the block's final short, Phillip Chernyak's "(You'll Make It In) Florida" (* *) which tries (successfully in part) of creating a 1970s-ish promotional video complete with peppy spokesperson (Danny Burstein) trying to convince a woman (Emily Cass McDonnell) to uproot her humdrum life and move to the joy-filled world of Florida. Using purposefully shoddy effects to fly in an amusement park-like car through the world of warm weather and buffets, the experience becomes more of an annoyance than a pointed satire. I was not even sure what the whole premise was other than to reiterate that Florida is not all that which we can all do just by looking at the news anytime this millennium. The commercial feel of it works. Just not the humor.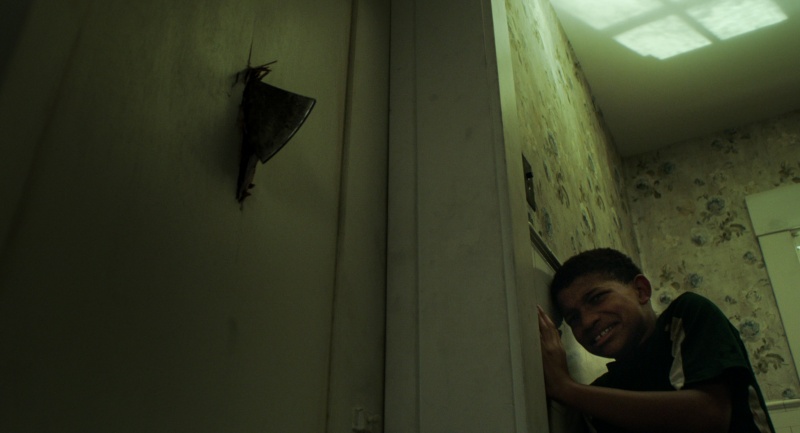 THE BOY BEHIND THE DOOR
Sometimes the way a film opens with a flash-forward can tell you all there is to know about the filmmaker's approach to telling their story. Tension can often be snatched away before it ever had a chance to get going because you know precisely where everything is headed. Those that can still surprise you without making it feel all like a cheat earn their place in genre lore and respect among its many fans. Directors David Charbonier & Justin Powell are not exactly creating a model of reinvention here - and certainly wear their influences in every stitch of their sleeves - but there is enough solid work to recommend The Boy Behind the Door is more than just another run-of-the-mill psycho thriller.

Danger is afoot from the get-go when young friends, Bobby (Lonnie Chavis) & Kevin (Ezra Dewey) are thrown into the trunk of a car. Quickly flashing back six hours to see how this could have happened we then catch up just as quickly and put the action where the filmmakers want us - in the house of the kidnapper. Though Bobby manages to escape he is not about to leave his friend behind thus setting up an elongated cat-and-mouse game where the why of it all hangs over all the duck-and-dodging to make it even more intriguing. Even if that aspect is not all we hoped it might be.

Charbonier & Powell are intent to keep our focus on keeping Bobby as undetected as possible. The first act is very effective in this manner providing a ticking clock that ends up feeling more like a red herring than a meaningful escalation of their situation. Time almost seems to be on the mind of the filmmakers as characters occasionally delay more realistic reactions to circumstances. That can be forgiven on the part of Chavis whose performance is good enough to remind us that he's a child and not an action hero with all the answers. Nevertheless the second act does lag a bit as it waits to deliver its one true reveal while making no bones about lifting not one, but two iconic scare scenes from Kubrick's The Shining. But the film sets right again with its own contributions and at least one solid "Hell Yeah!" moment directed at the perpetrator that should be enough to have its core audience looking forward to what sustained terror these guys have for them next.
LAUGHTER
Martin Laroche's Laughter is not the kind of film that one might associate with a fest that prides itself on genre discoveries generally from the horror, fantasy or anything with a good amount of bloodletting. This film does have its share of the latter but it is hardly anything to crack a smile about let alone full-on guffaws. Though elements of it can be compared to the roots of David Lynch and other reality-ignoring auteurs, this is a film about pain and the methods we hope to subjugate it with to stay on the road to healing. While there is horror within and perhaps even moments of fantasy, this is a film that any festival would be proud to include as part of its lineup.

A civil war in Quebec may sound like the first hint we're watching a fantasy, but it is very real and has taken on the appearance of the atrocities we tend to ignore. Valerie (Leane Labreche-Dor) is a survivor of a mass execution that took the life of her boyfriend. After the graphic details of her escape, we flash somewhere else in time where she now works as a caregiver at a retirement community. She has a new beau but the most important person in her life may be Jeanne (Micheline Lanctot), a member of the community, who shares her daily thoughts about what she reads and brings a few smiles to her days. But there also mysterious figures afoot like the businesswoman (Sylvie Drapeau) questioning the reality of her dreams, the bakery owner (an excellent Normand Daoust) who makes her uncomfortable and the woman (Emilie St-Germain) constantly curled up in a corner crying in their facility.

Laroche's screenplay is anything but straightforward as it is subtly keeping the audience off-balance if we're watching one person's reality or multiple characters' version of it. Some can leap right to Lynch's Lost Highway as they try to decipher a puzzle which may not even exist itself. Characters appear to make cameos into other timelines and it is easy to wonder if we're trapped within a Jacob's Ladder version of what-if dualities. It will certainly lead to some post-viewing discussion groups, but the power of Laughter resides within the emotional draw of Valerie's survivor's guilt. Labreche-Dor is terrific throughout but a pair of monologues she shares about her experience's aftermath and a scene she shares with Daoust are exceptionally powerful. Those looking for a mystery will find it as they debate along with characters questioning their own existence. But the overriding one about our reaction to tragedy and how we choose to view life and death through the experiences we can no longer share with others - or ever experience again - are the moments where we truly don't know if we should cry or laugh. That is the mystery we live with every day and Laroche has made a great film with a few more clues to consider.
HOW TO DETER A ROBBER
Dumb people doing dumb things will always have a place in comedy. Guess it depends on how many of them you have seen to ascribe your personal tolerance to being ready for another one. But there is also how far everyone is willing to take that dumb, if its different than the countless other layers of dumb we have seen, and just how funny it can all be. Three years ago at the SXSW Film Festival, a film called A Bad Idea Gone Wrong, told the tale of two thieves who trap themselves in the house they are trying to rob and then find a woman already in there who may have had the same idea. It was fitfully amusing and watchable without ever reaching a level that made it so memorable. In fact it took How to Deter a Robber to remind me since itself is a watchable and fitfully amusing film that may not take up much brain space once I finish this review.

The IMDB description of the film simply reads: "In a desolate town in Northern Wisconsin, a stubborn young woman and her naive boyfriend face off against a pair of amateur burglars. Hilarity ensues. One person dies." Thanks for the heads up, I guess. Vanessa Marano plays Madison, the stubborn young woman, who alove with her naive boyfriend, Jimmy (Benjamin Papac) break into a house to perform a seance and end up falling asleep. When they wake up in the morning they discover cops on the scene (including MST3K revival's Jonah Ray) and the house has been ransacked. In the hopes of clearing their names, they intend to catch the real culprits red-handed by booby-trapping their house with help from her uncle Andy (Chris Mulkey). So far, not bad, but with promise. The longer it goes on its still not too bad, but the promise of something better dissipates quickly.

The extended bit of them setting up the house for the intruders establishes a potential adult-oriented Home Alone where the consequences are match greater than the cartoonish nature of the Chris Columbus film. Alas it is more just a momentary goof on Culkin's war prep montage than something with darker and funnier long-term effects. Mulkey gets some laughs for basically playing a version of Parks & Rec's Ron Swanson, while Papac's Jimmy feels more like a caricature than an authentic brand of stupid. Marano is fine but is left to playing the one with fractionally more brain cells. If that "one person" who dies according to IMDB had come earlier, it would have reminded us of too many body removal situations to count, but at least would have left our protagonists with more to do than remain strapped to a chair for a full third of the film. How To Deter a Robber may keep a small smile on your face and produce a couple of decent laughs, but it's the film at a festival that fills in your schedule while you wait for something, hopefully, more memorable.
THE QUEEN OF BLACK MAGIC
There are a lot of routes horror films can go down. Some try to go down all of them at once. Others think if they drive one really hard it will draw enough attention to it by its loyal reviewers. They can lean on gore, mood, or pure shock & awe even if that relies heavily on loud stingers on the soundtrack. Usually when one tries to get by simply through gross and ugly, invariably it has little else to offer. Kimo Stamboel's The Queen of Black Magic has plenty of that to go around but manages to achieve a constant state of dread until it finally just explodes into madness.

Hanif (Ario Bayu) was raised in an orphanage. Now a family man with a wife (Hannah Al Rashid) and three children he has been given a tragic invitation back as the man who was instrumental in raising him and his best friends, Jefri (Miller Khan) and Anton (Tanta Ginting), is on his deathbed. When all of them return with their families to say goodbye, Hanif's youngest is told the tale of a caretaker who may have made a pact with a demon and carried her possession back to the orphanage where she had to be locked away until she killed herself. Now there are signs that she may have returned to enact revenge on the visitors and their legacies.

It may sound like your typical horror chestnut, but after a slow-starting first act the film begins to kick into gear and even when it slows itself down again we can hear the tires squealing just waiting to take off. There are certainly enough caterpillars wrecking havoc to make you never want to see one again and many of the practical makeup effects are quite impressive. Joko Anwar's script then begins to pile on the buried secrets of the orphanage and who knew what and when. Even the titular villain becomes more than just a shadowy presence amidst the chaos thus amplifying her malevolence at the best (or worst) possible time. The Queen of Black Magic never relinquishes once it gets going and the gross-out moments are used to supplement the growing sense that every man, woman and child may be doomed. That's a consistency I wish more true horror films would have and Stamboel has made one that the base should be drooling over in ghastly delight.
BLOODTHIRSTY
Fantastic Fest bookended its year with werewolves. Having already voiced by constant displeasure over a favorite sub-genre with the fest's opening night film, I won't waste any of that space here. Especially when there is far less displeasure. Amelia Moses looks to be a horror filmmaker on the rise. Before her debut, Bleed with Me, even premiered at festivals she was already getting press for her next film being part of the buyer's market at Cannes' virtual showcase for the industry this summer. Bloodthirsty was that film and as werewolf films go it does have some of the standard traits I had listed with Teddy, but comes from a darker place that is sure to get under somebody's skin more than just another curse.

Lauren Beatty plays Grey, a singer who has catapulted enough with her first album to be doing photoshoots. When she gets an invitation from record producer, Vaughn Daniels (Greg Bryk), to work with her on her next project, Grey travels with her girlfriend Charlie (Katharine King So) to his big cabin in the country. The singer has also been on medication to help suppress the animalistic dreams she has been having and when Vaughn suggests she get off them to help tap into a more personal side of her music, you can imagine where that is headed.

The palpable sense that Grey is about to give into a more primal side of her being comes second to the manipulation she experiences in trying to perfect her singing and her lyrics. This element is the strongest in how it explores a still dominant side of an industry where appearance and how the powerful can dictate the sound of a woman's voice. There are instances where I was hoping Moses would push on even further with this relationship as it is the real meat (no pun intended) of this story. Casting Bryk is practically a meta-move given he was the one to guide Laura Vandervoort's female werewolf through her first transformation on TV's Bitten. He has a better foil in with Beatty who imbues Grey with subtle turns of confidence in her abilities rather than outright physical or rageful triggers. The music actually isn't bad either even if it does start to sound the same and we don't hear much more than a single chorus per song. Moses' Bleed with Me (which I saw at Fantasia Fest) felt like a moody stepping stone filled with its own familiar genre beats but nevertheless was exploring deeply personal and mental influence. Bloodthirsty is another step and is certainly a step above the average werewolf entry.
THE WOLF OF SNOW HALLOW
Jim Cummings' Thunder Road was one of the revelatory surprises at South by Southwest in 2018. The story had the ring of a not-so-slow-meltdown by protagonists we've seen in the past but the anticipation of it and the reverberations left by it announced such a unique presence by the writer/director who also starred in the film. Jumping straight ahead into a werewolf narrative for his next project seemed like quite the flex but its arrival in 2020 feels prescient in a way that many are getting labeled because of their mirroring of the horrors of our everyday lives. The Wolf of Snow Hallow, much like Thunder Road, is chasing something more than monsters and its angry comic energy shows that Cummings is an artist that we can all use right about now.

Cummings' character in Snow Hallow (previously titled simply "The Werewolf"), Officer John Marshall also feels a few hours away from a nervous breakdown. He's a recovering alcoholic going to meetings and his dad (Robert Forster, in one of his final roles) is the Sheriff of a small Utah town trying to deny his own health issues. A brutal murder of a woman is committed and other than Officer Julia Robson (Riki Lindhome) he can't seem to get any competent help from those in his department. As the bodies begin to pile up on the nights of the full moon, the theories also mount of a werewolf being the cause (something that is less of a mystery to us) and John heads down a path of anger, drink and the struggle to protect his own college-bound daughter (Chloe East) from the evil out there.

While there is a mystery element still involved in who this creature could be, it really hits you in the end just how much of a MacGuffin that element really is. Some people may scoff at the resolution but there is so much more going on than just waiting for a transformation which itself feels like a metaphor. The Wolf of Snow Hallow is a hilarious manic feast about trying to slay problems that may be out of our reach. We've all been howling at the moon for the past four years on Twitter and, despite some minor victories, our daily lives have only plummeted into spells of helplessness and rage over obstacles of health, the violence towards women and those around us becoming part of the larger problem than a step towards a solution in a world where our eyes and ears can not be trusted anymore. Cummings gets a necessary assist in the editing, but his screenplay is damn funny and his performance here drives the absurdist behavior around him. Just thinking about the delivery of the line "When do I get to be right about something?" starts with a chuckle, develops into a hard laugh and its easy to then stop and wonder how that question will be solved. You might be thinking the same of how a werewolf film may turn out to be one of the defining films of this era.
link directly to this feature at https://www.efilmcritic.com/feature.php?feature=4269
originally posted:
10/03/20 05:46:08
last updated:
10/08/20 10:24:27
printer-friendly format